Mid May found me heading to the Brecon Beacons in South Wales with my good friends Gordon, Rick and Stu. We all have volunteered together with the homeless charity Crisis for nearly 20 years now and for a variety of reasons we are known as 'The Grumpy Old Men's Club'. We like to get away together once a year just to catch up and have a bit of fun (in our usual grumpy old way).
We camped by the Dan yr Ogof show caves in the lovely village of Glyntawe. On the Saturday morning we drove over to the car park in Taf Fechan Forest and walked up the track to the east of the Upper Neuadd resevoir onto the area known as 'The Gap'. On the map you will see this as Bwlch ar y Fan.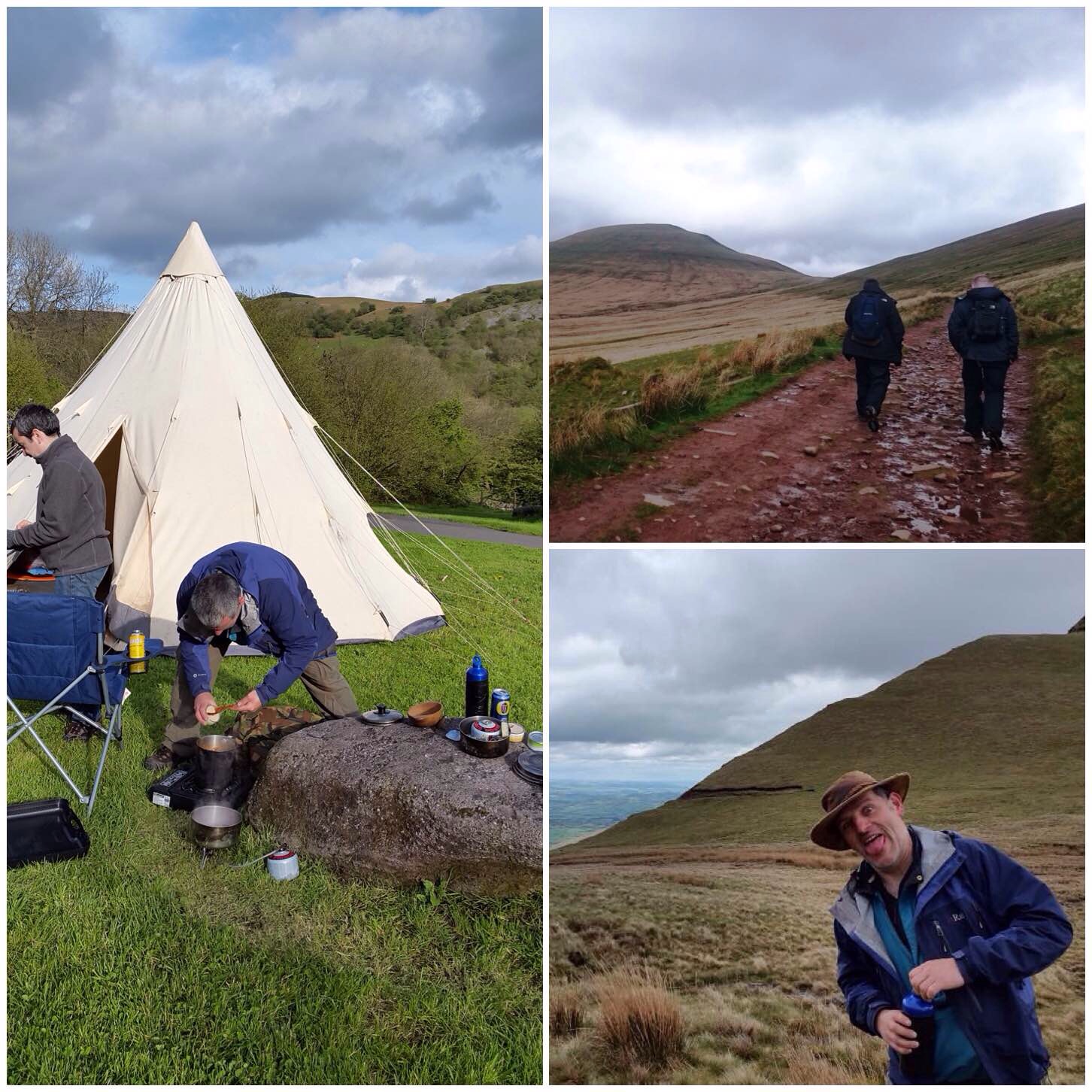 From The Gap we headed west around Cribyn and up onto Pen y Fan. There was little wind here and lots of cloud cover making excellent walking (I do not particularly like hillwalking in sunny conditions – must be a Scottish thing). We took our time but we were soon all at the top.
We did not hang around long and via Corn Du we headed South again by way of the ridge on Craig Gwaun Taf. This route has much less traffic on it and soon we were on our own again. The windswept peat banks made for a bit of fun along the way.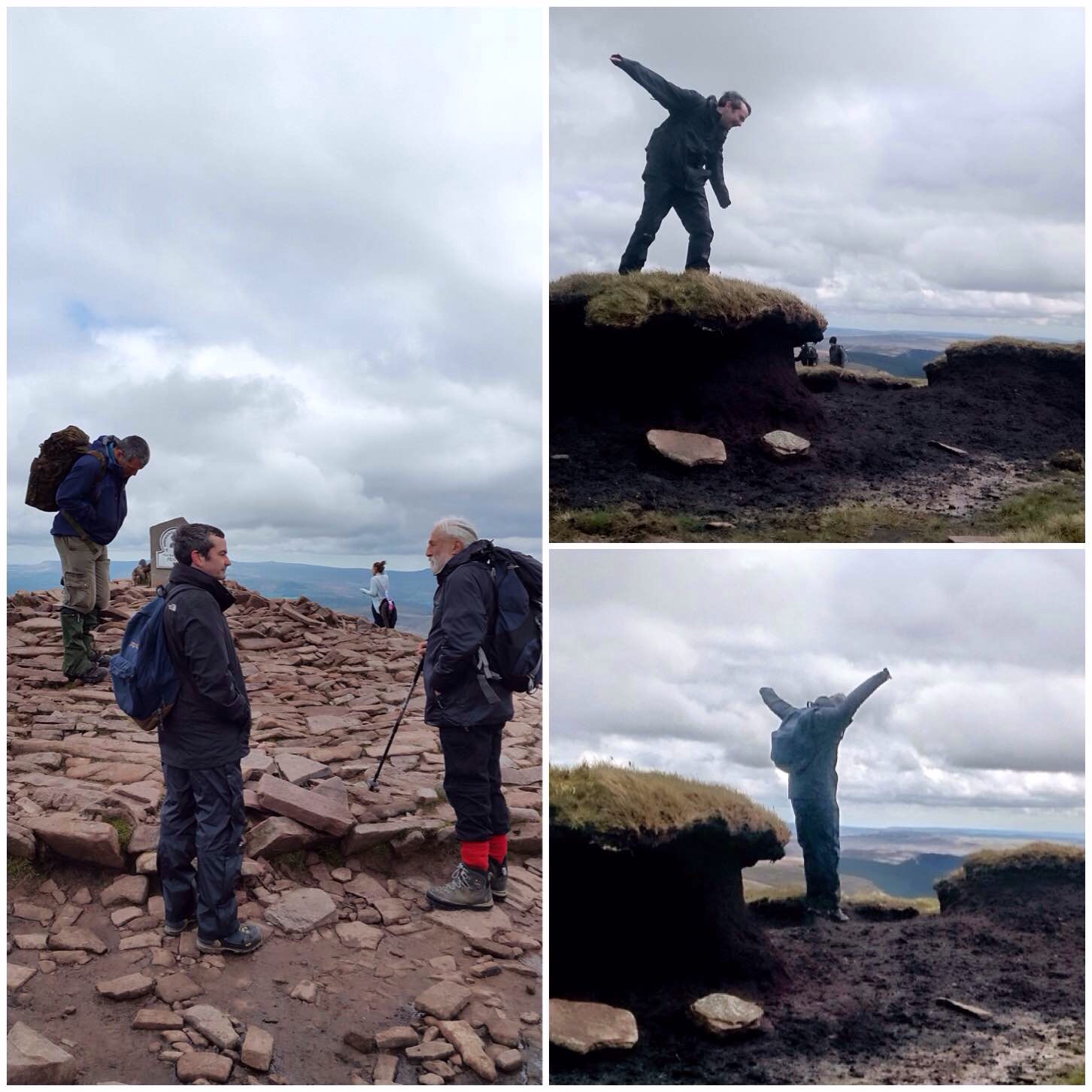 As we moved down Craig Gwaun Taf we could see clearly now the resevoir at Upper Neuadd. It looked as though someone had pulled the plug hole in it.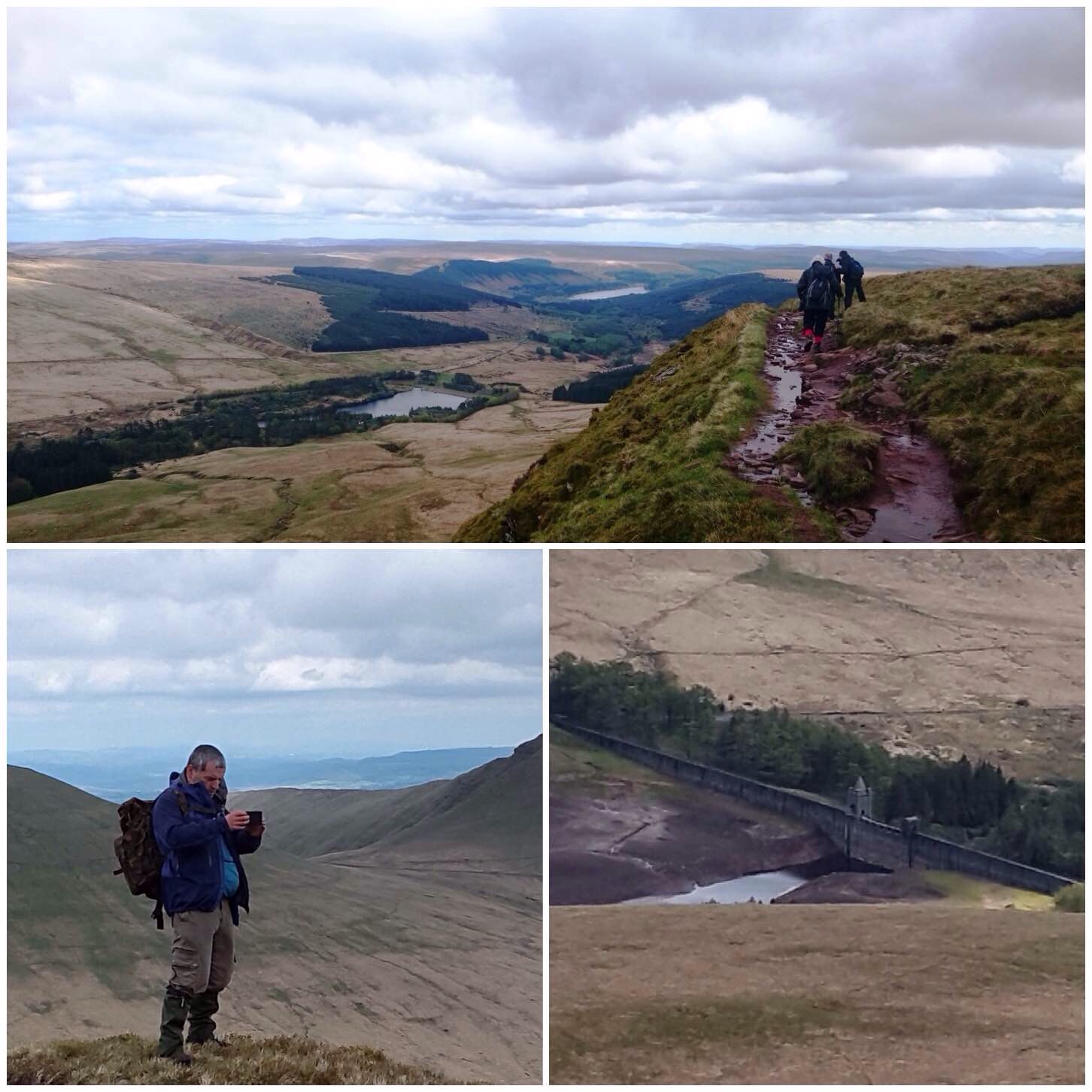 Further down the track near Twyn Mwyalchod (grid SO021176) we came across a Trig Point painted with a Welsh dragon and two little plaques dedicated to fallen soldiers from the Afghanistan war. Quite a moving site in such a beautiful location.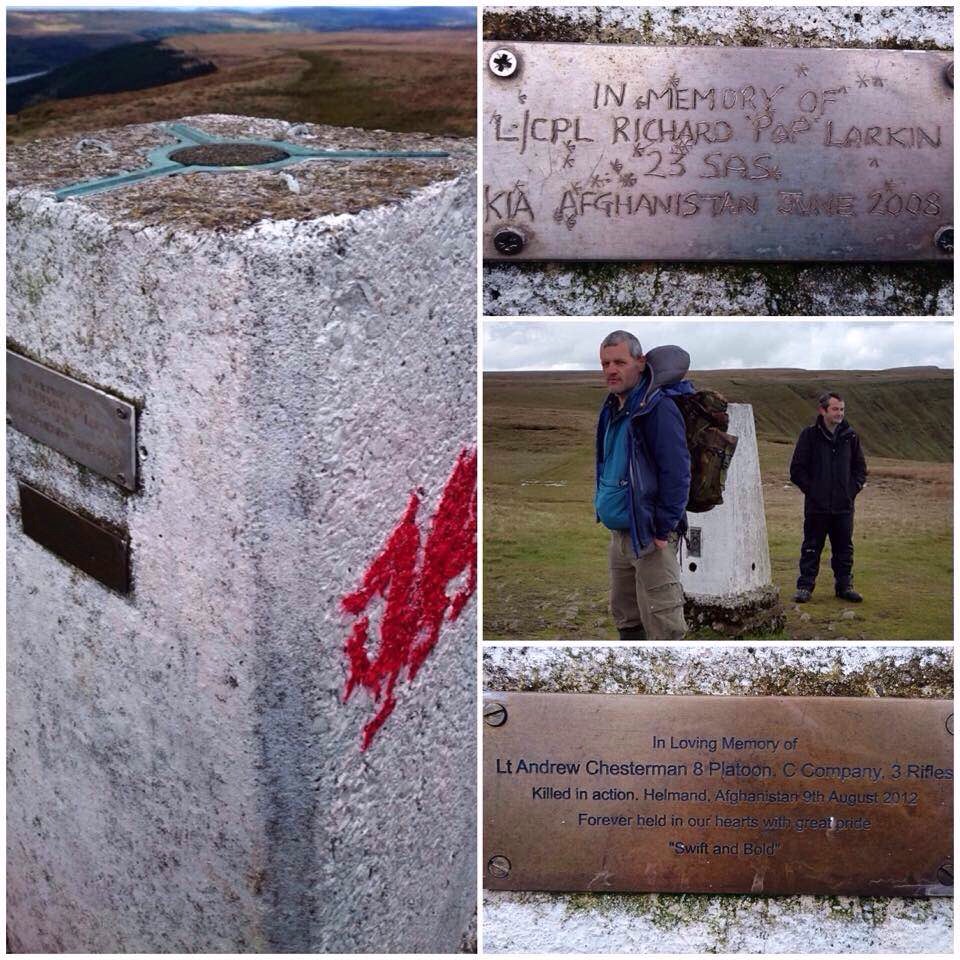 Our descent took us through a conifer plantation that had been felled a couple of years ago (there was significant re-growth). It was tricky going in places but we took our time and were soon by the Taf Fechan river (translates as the Little Taff).
We could not cross due to the high water level so we headed downriver to find a bridge near the road. By the road we came across an abandoned campsite that had been left in a poor condition. Everything had been bagged up but just left there. Also along the way we spotted that the billberries were coming through. Not ripe yet but definitely coming through.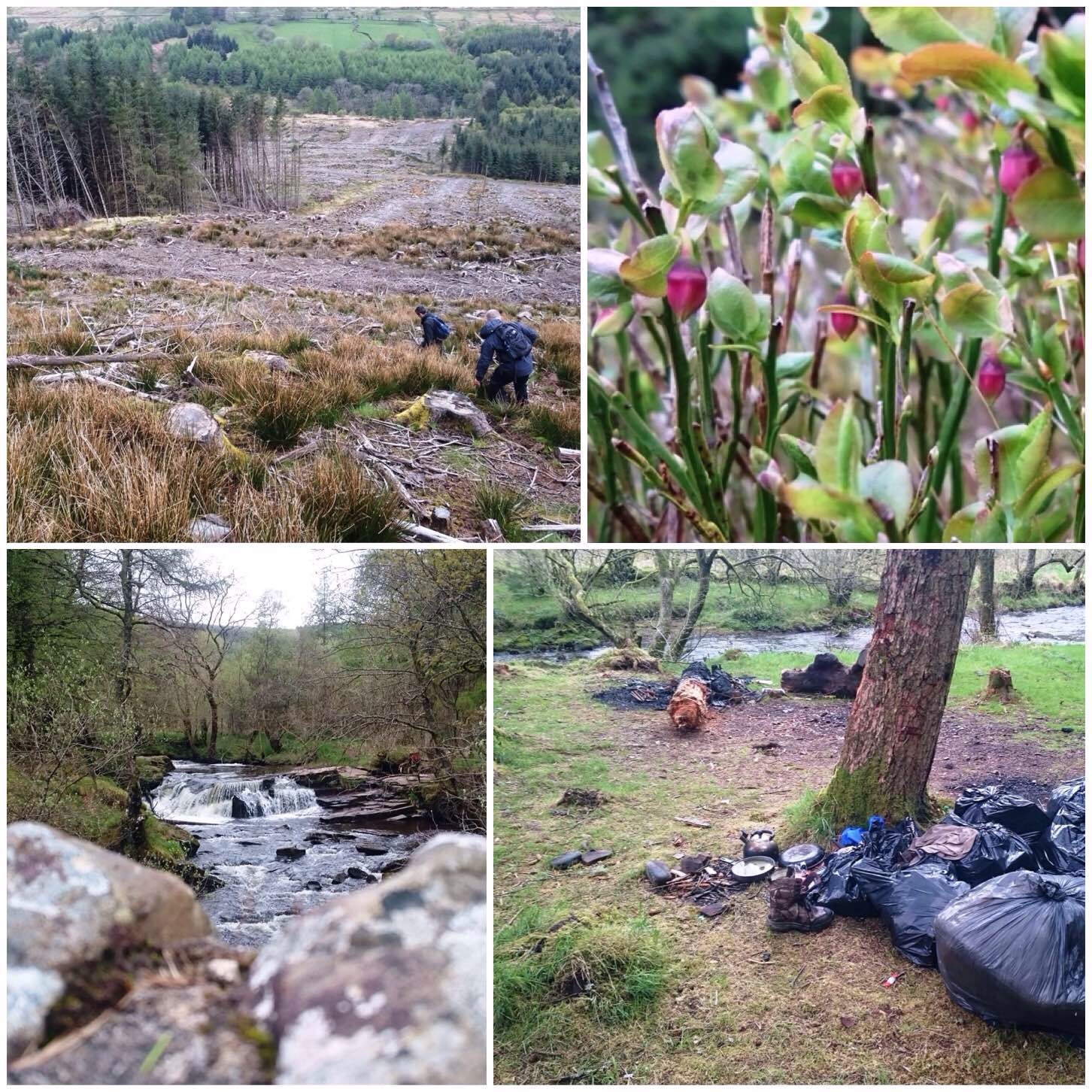 Needless to say there was plenty of time to sit and relax or as usual to stroll around and take pictures.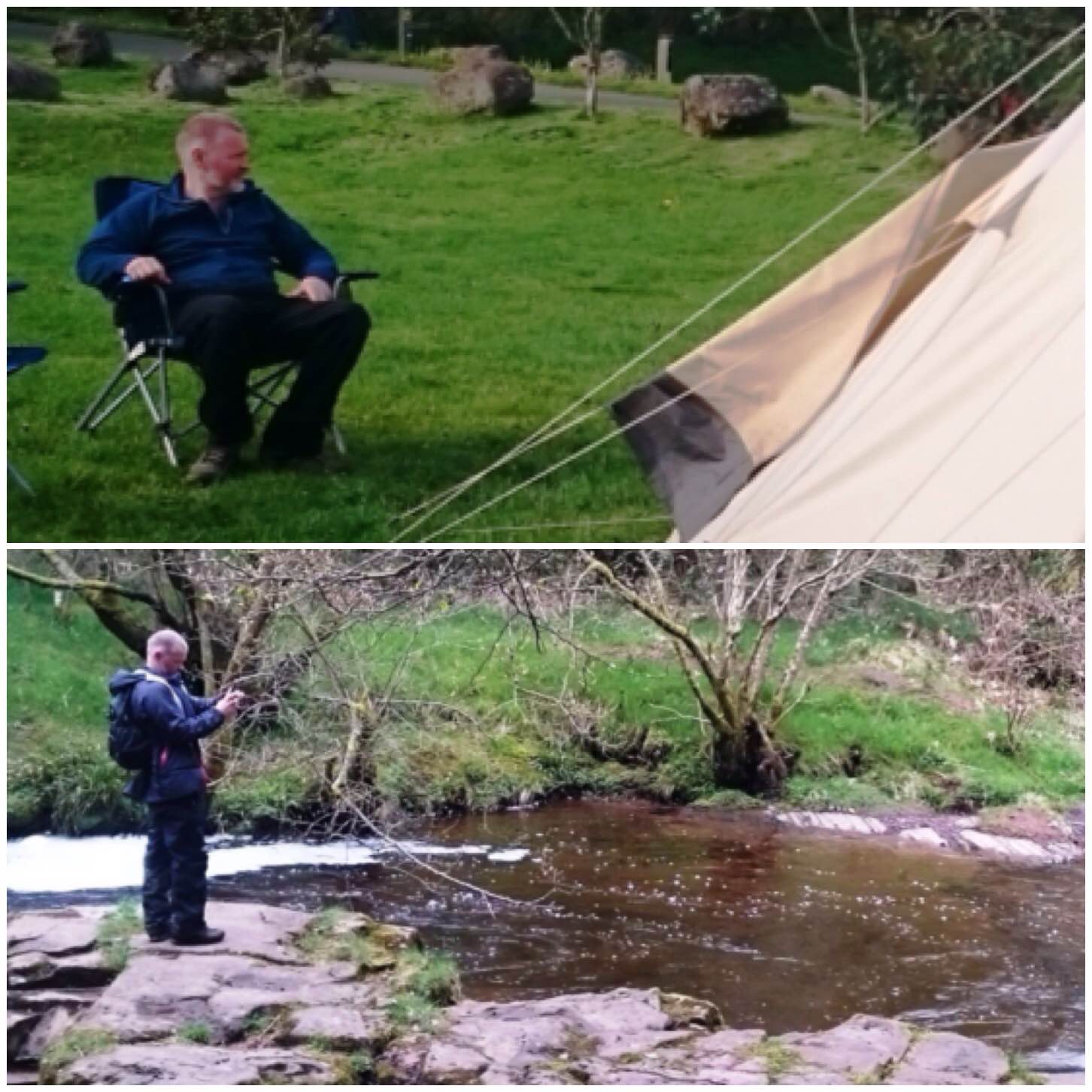 After an enjoyable evening and a night in my hammock (the other guys got the tipi) we packed up and drove over to Ystradfellte to walk the 'Along the Waterfalls' route.
As you can see the drive took us a little time but we were in no rush.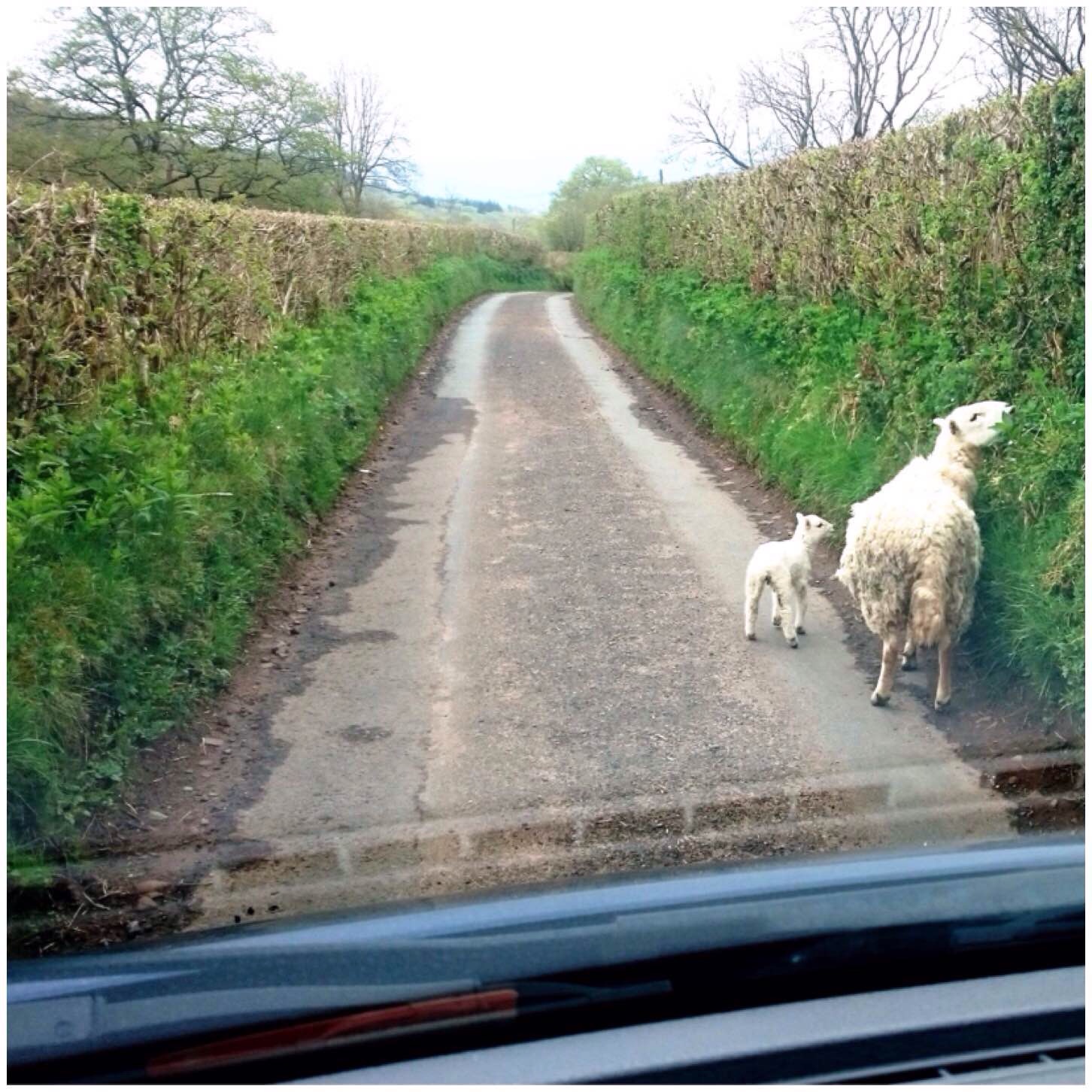 The spring flora was well displayed along the River Mellte. Wood anemones were in abundance ( top left below),' the ferns were just unfurling, the cuckoo flowers (bottom left) were everywhere and I was especially happy to spot an area of water avens (bottom right) along the river bank.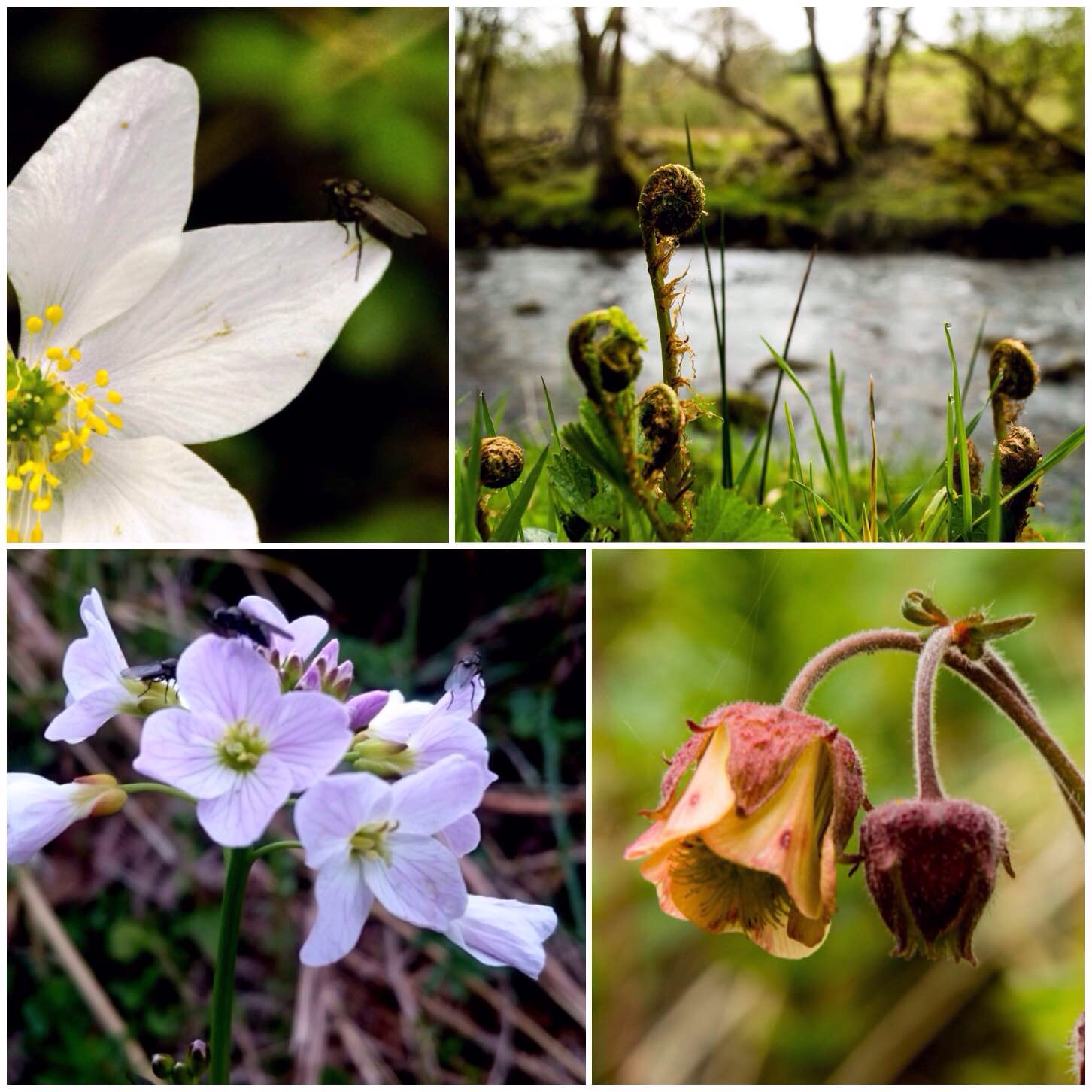 The biggest and most spectacular falls on the walk are to be found at Sgwd yr Eira (Waterfall of the Snow) and it is safe to walk underneath the overflow. When you near the falls you have to descend some steep steps and it was when we were nearing here we started to hear some shouting.
The shouting turned out to be a local Kyokushin Karate club doing waterfall training. They have been doing this since 1980 and come down every year. For a while we watched them doing training under the spray of the waterfall and then one by one, as you can see below, they jumped into the river. This type of training is common in Japan, apparently.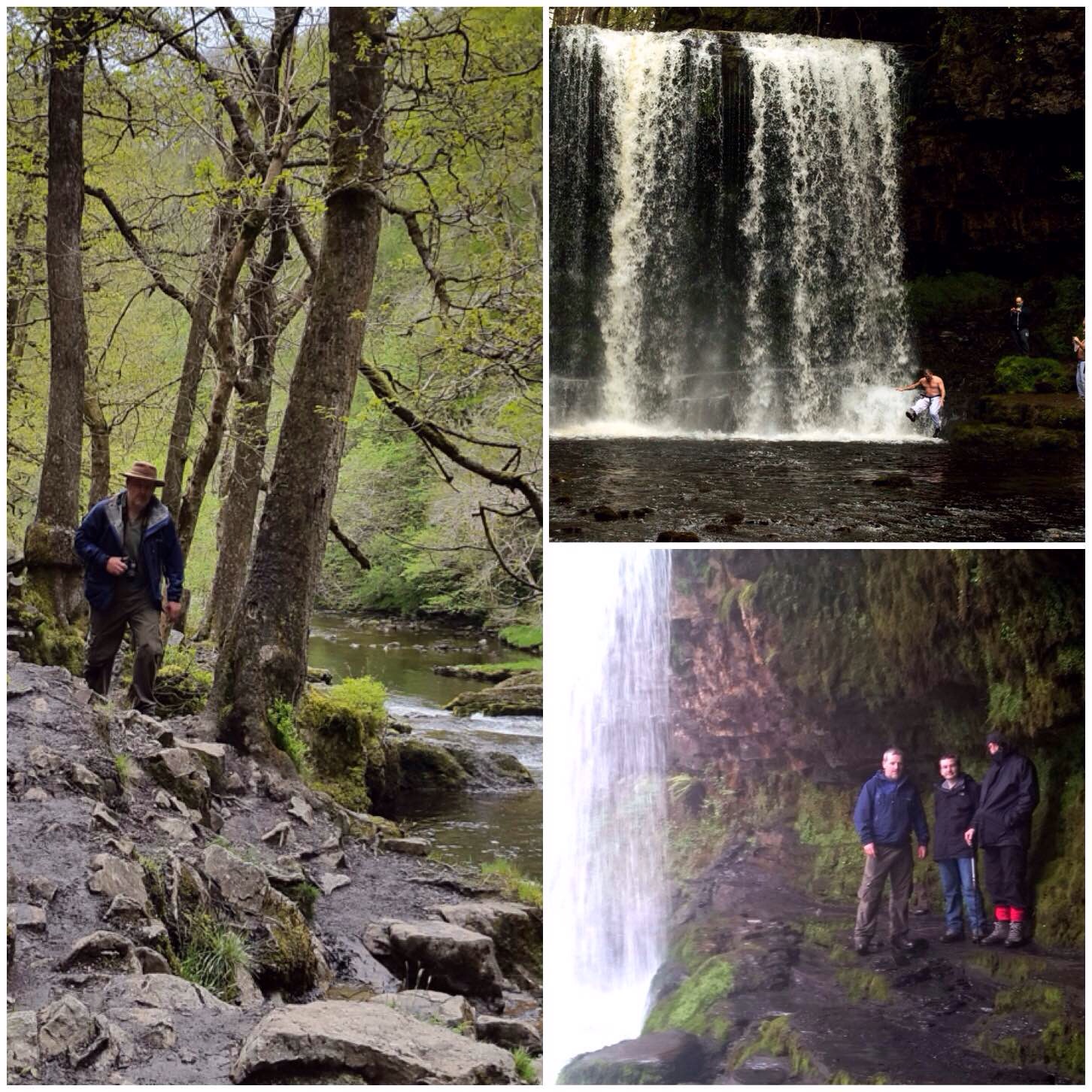 Once we had finished here it was a slow climb out of the ravine and we headed back upstream to find some of the other waterfalls.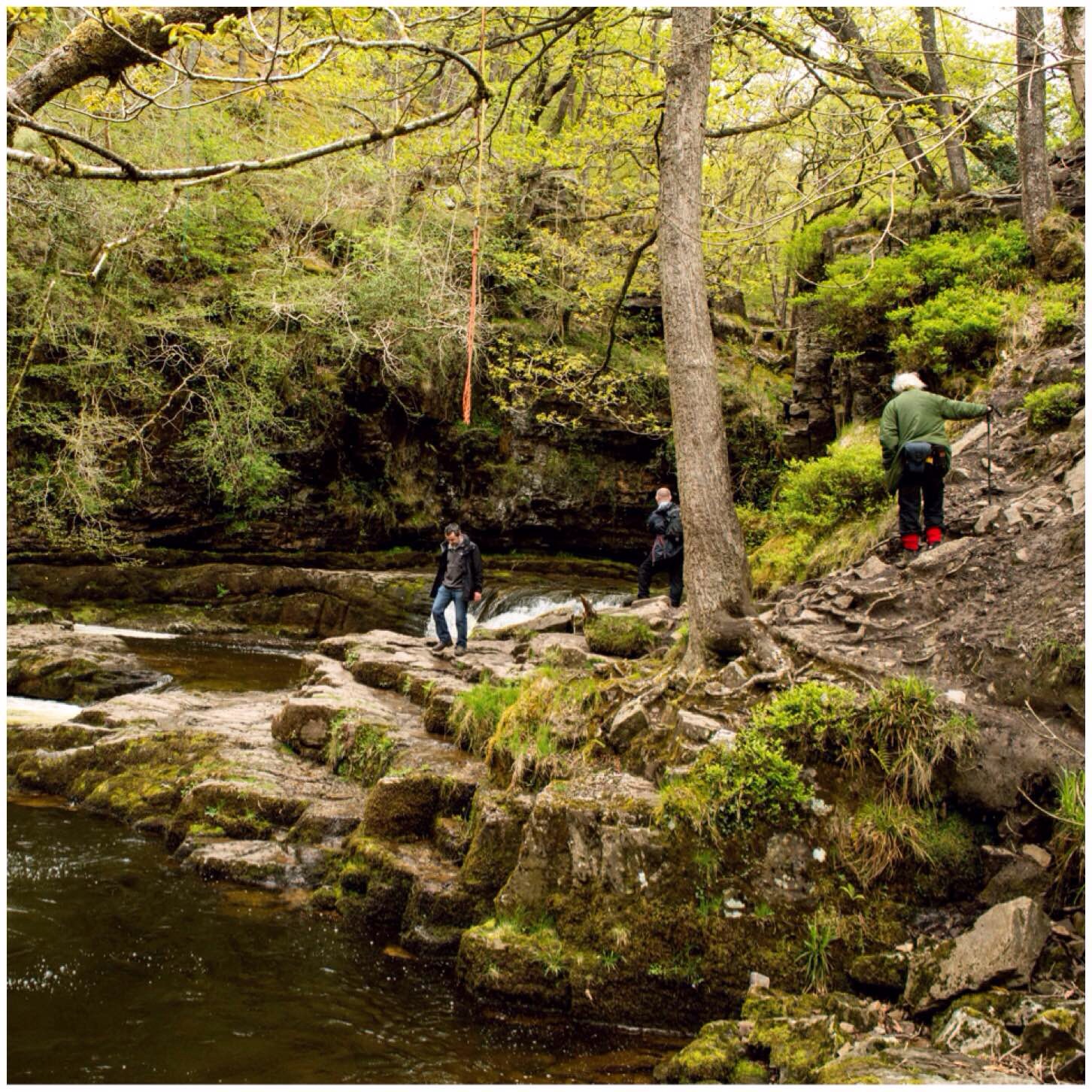 There are quite a number of waterfalls on the river and I normally come to Sgwd y Pannwr (Fullers Falls) to sit and have lunch. It has a lovely flat area of rock to sit on and you can paddle in some of the shallow areas. Today however there were a lot of outdoor groups canyoning and I got some fantastic pictures of the guys leaping off the side of the waterfall.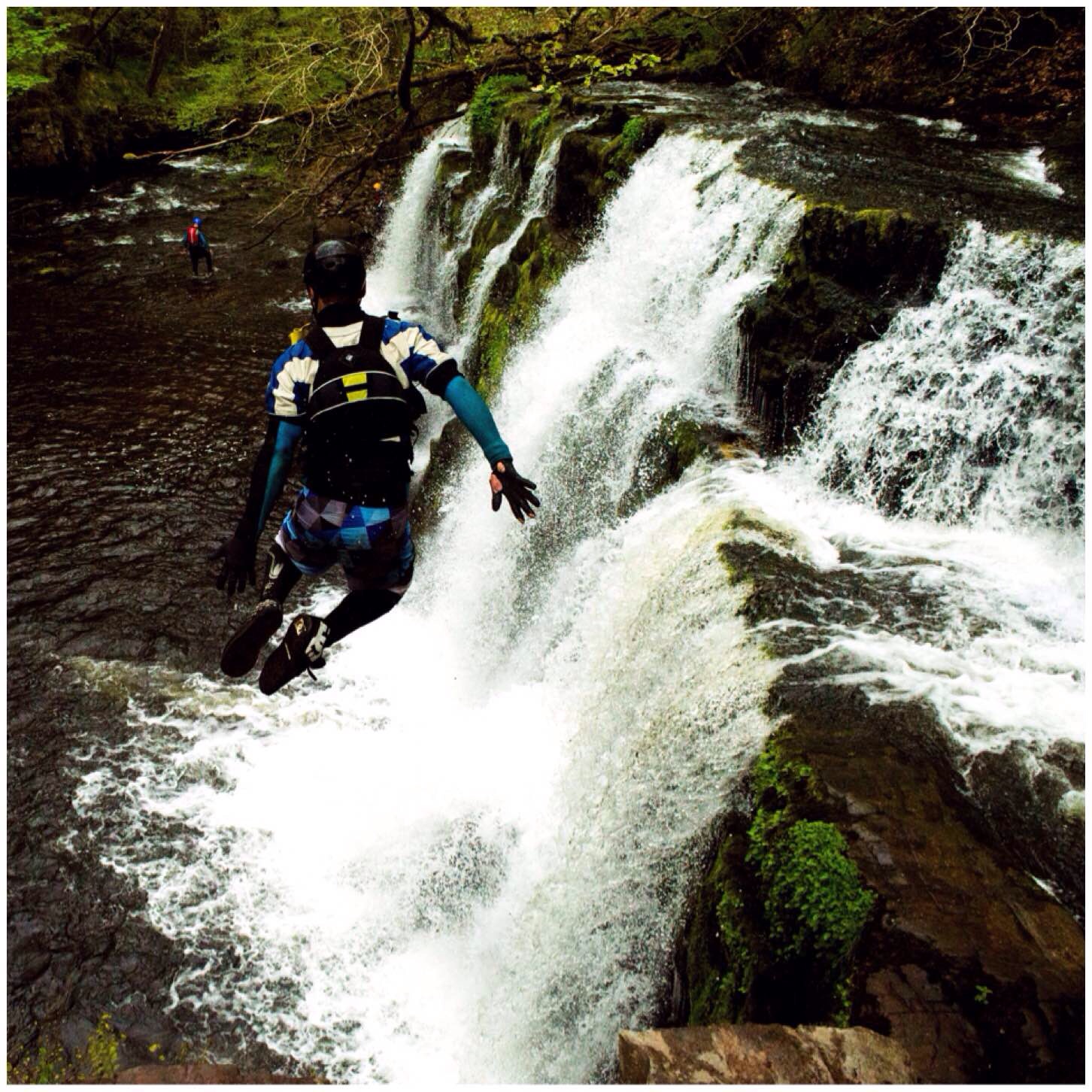 The last waterfall had a large group climbing down the side of it and when they got to the base of the falls, one by one they disappeared into it. We did not hang around to see them emerge, but as I heard nothing in the news all must have made it safely out 😉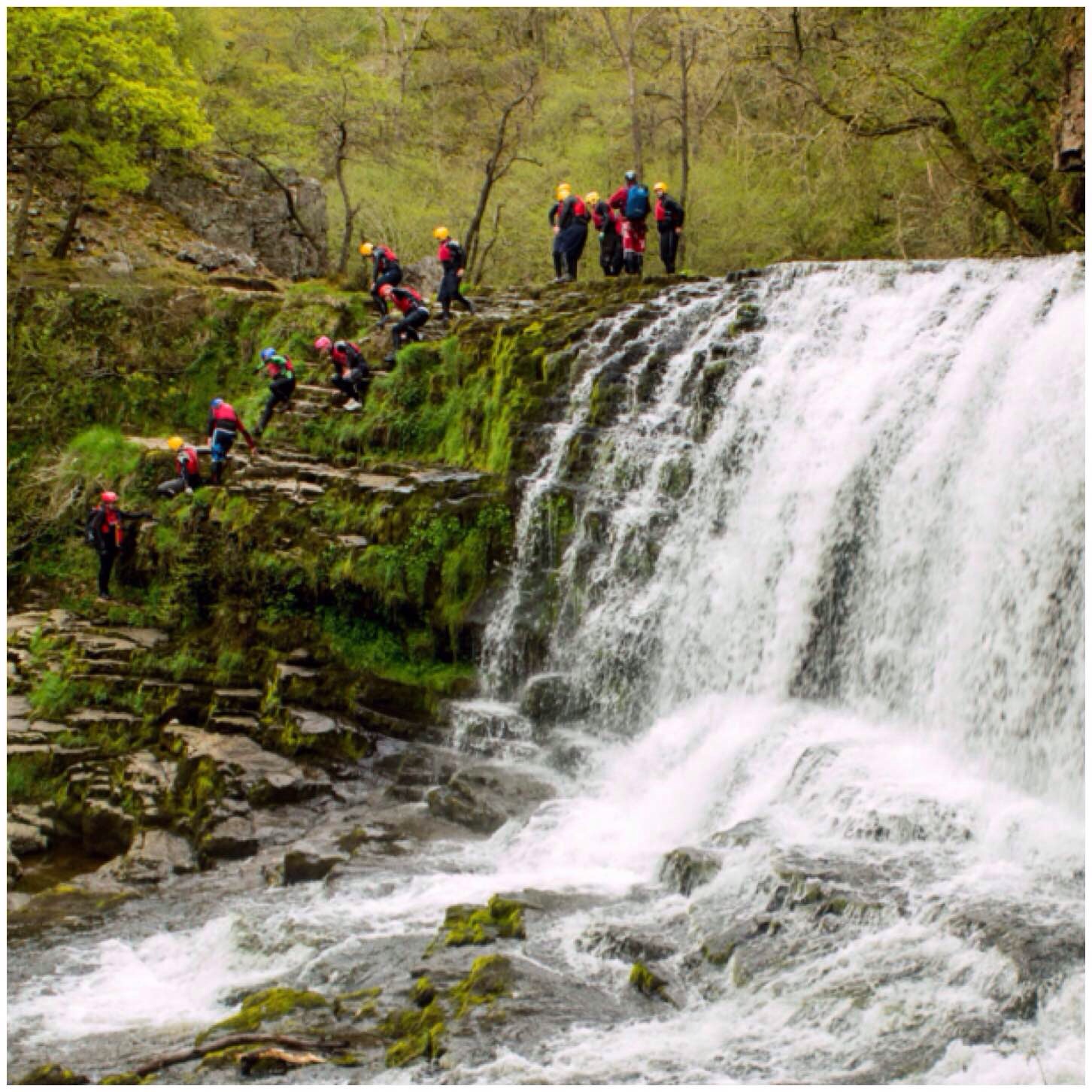 We were soon back at the car park ready for the trip home.
This was a great weekend with the Grumpy Old Men's club and I look forward to many more.
Cheers
George