Last August found my daughter Catherine and I making our way down to the Wilderness Gathering. Located near West Knoyle in the beautiful South Wiltshire countryside is the Bush Farm Bison Centre. I have been visiting this gathering for the last ten years.
The Wilderness Gathering has a commercial feel to it though it still maintains its bushcraft origins. I love the fact that it is so close to where I live, there are organised classes all day for my daughter, I get to meet lots of old friends, make new ones, learn new stuff and get some more kit. For the last two years I have been helping out Fraser Christian from Coastal Survival as he is a good friend of mine (I have added all the links at the end of the post). This helps me out a lot as I get a chance to learn lots of new bushcraft skills I can use with my Sea cadets.
The first thing Catherine headed for on arrival was the farm shop to get some ice cream but she soon got into the bushcrafting spirit, particularly keen on doing a bit of carving (this still scares me).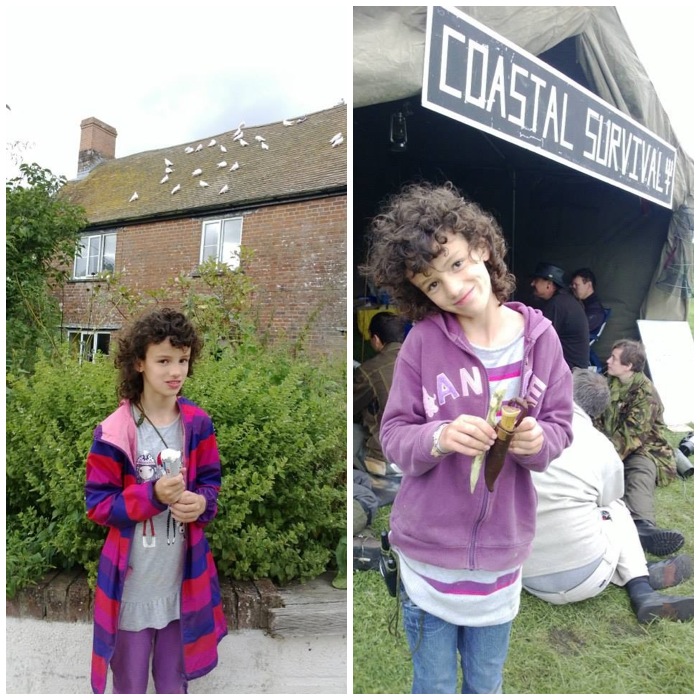 There are plenty of stalls to visit such as the Bushcraft Magazine, to chat at, to buy from and to get some great ideas.
Fraser runs courses for the Coyote Kids Club such as making shrimp traps made out of recycled materials.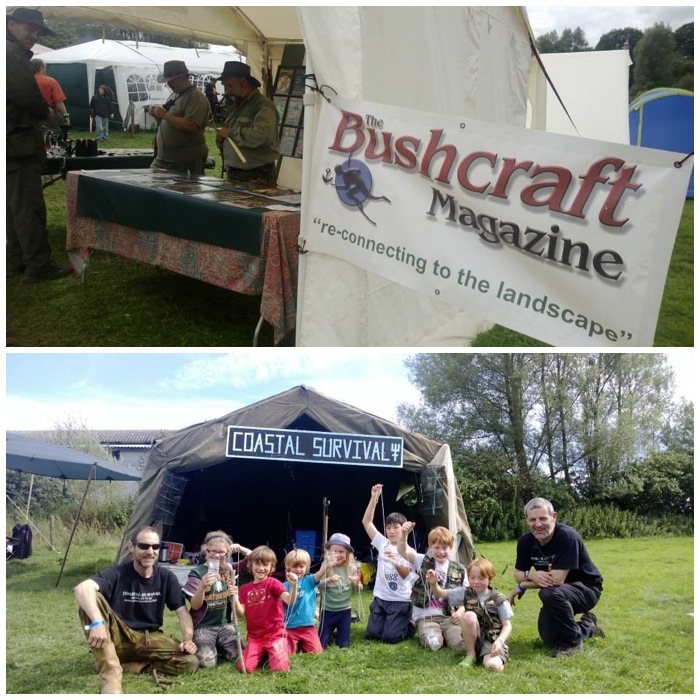 Like all the other visits I meet new friends such as the talented carver Jon Mac of Spoon Carving First Steps and good friends of old such as Phil and Ben Brown of Badger Bushcraft.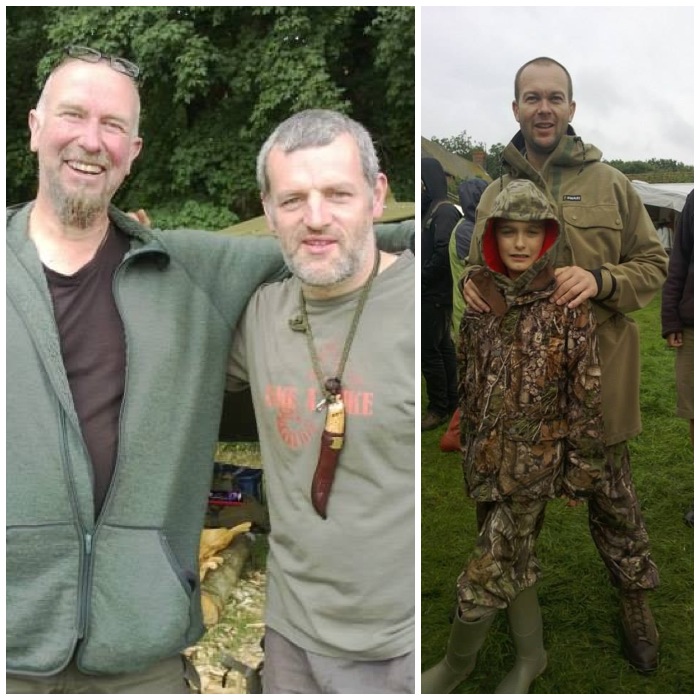 The boys from Silchester – Mark Beer (Lupus), Nick Currie and from the Bushcraft Magazine Paul Bradley. I have learnt a lot from these guys over the years. Always good to catch up, chat and share skills.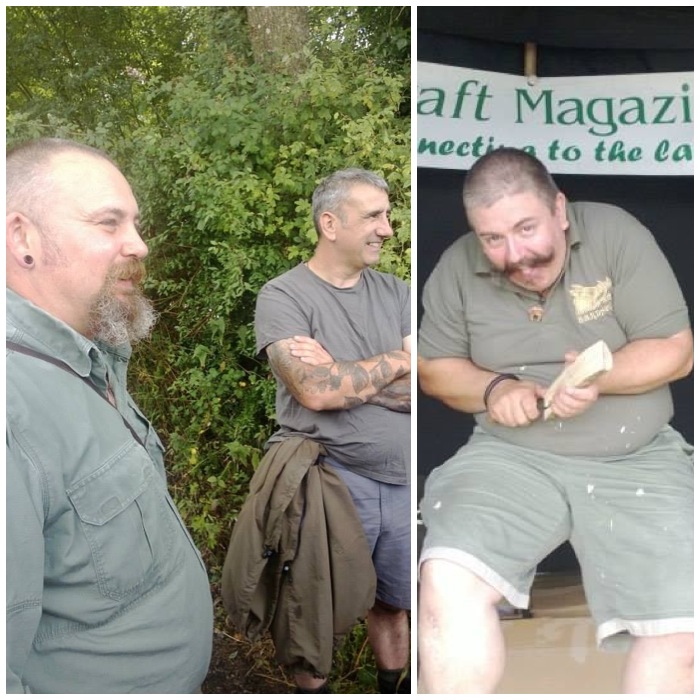 This year I helped Fraser run a course on making fishing spears and nets (well, took a lot of pictures really). The fish spears are easy to make and the net making was run as a Masterclass.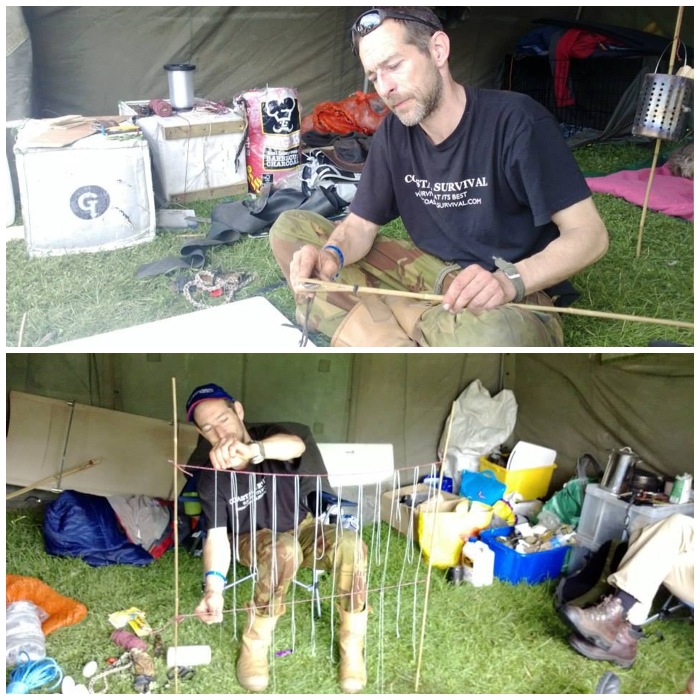 A very popular class Fraser ran was how to cold smoke a fish in a cardboard box. Due to the damp weather the smudge fire kept going out but after a few hours we managed to smoke the fish and it was added to an excellent stew.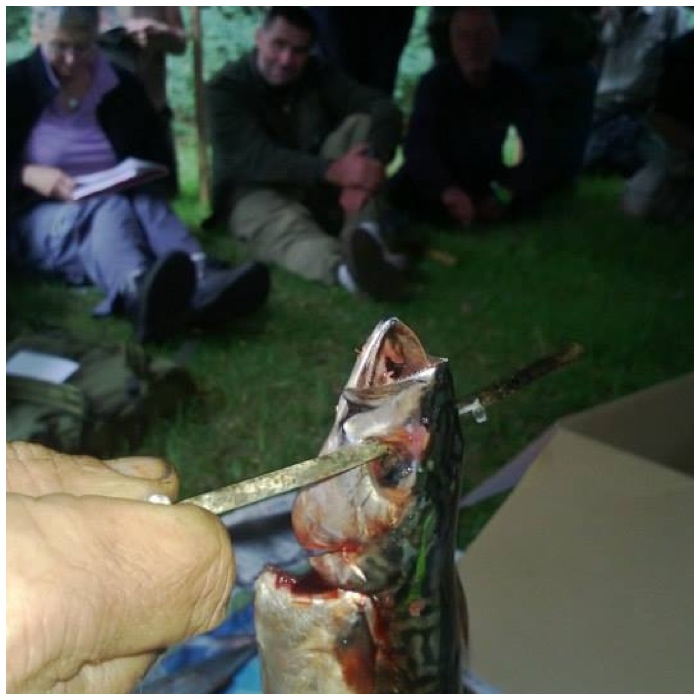 My daughter Catherine always has a great time at the Gathering as there is plenty for her to do with the Coyote Kids while I am working.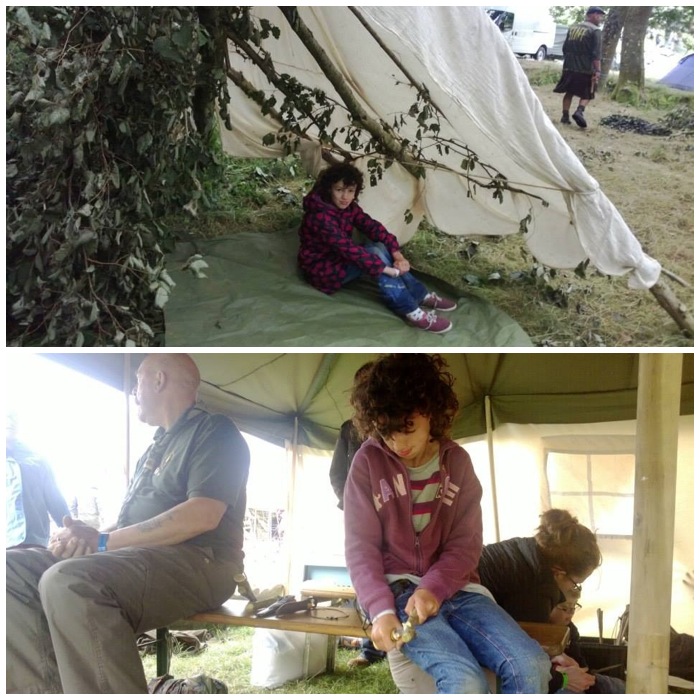 As per usual the food is good with Fraser cooking. I was trying out a new set up here on my fire pit using racks set at different heights for cooking different foods.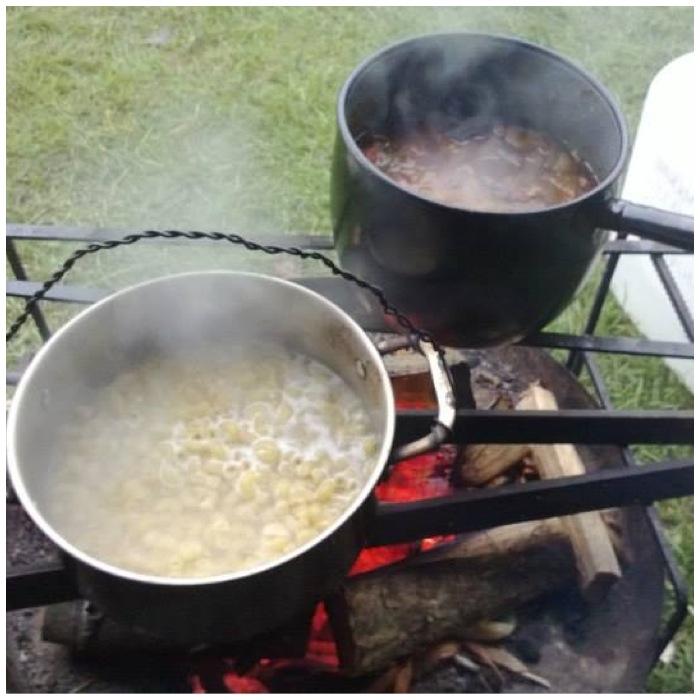 No big meals this time as we were kept too busy with classes but excellent all the same.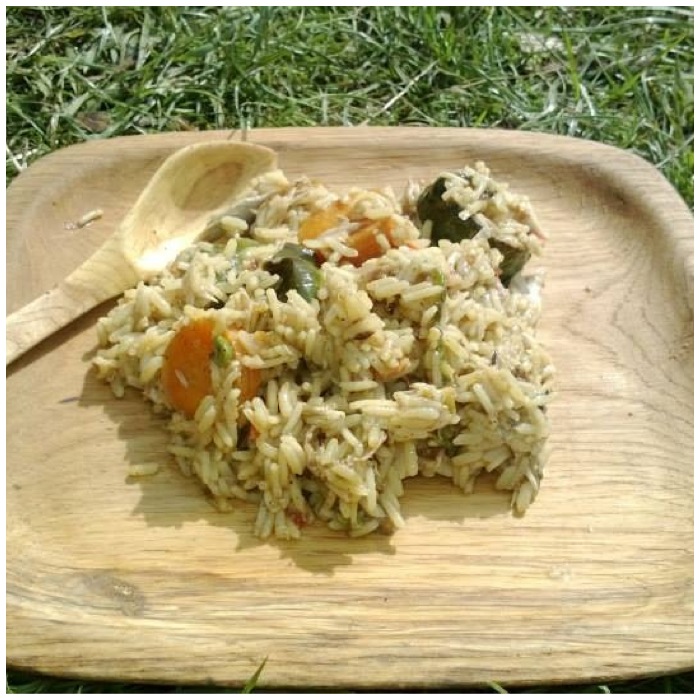 Caught this shot in one of the many showers this year, thankfully though most people just shrugged the rain off and got on with things.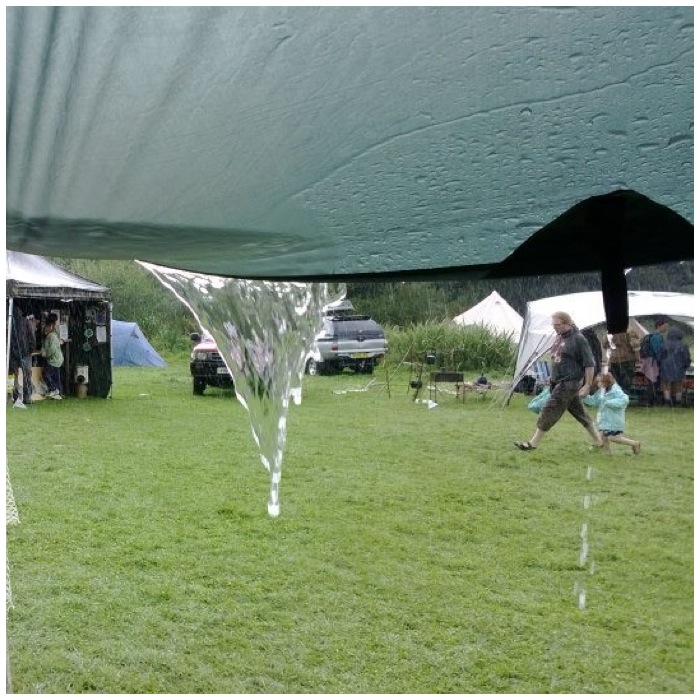 Over the road from our stand was my friend Jason Sears teaching some group bowdrill. Every time he got the sets out he always had a good audience as folk knew they could participate. Rain was no barrier to this bushcrafter when it came to lighting a fire.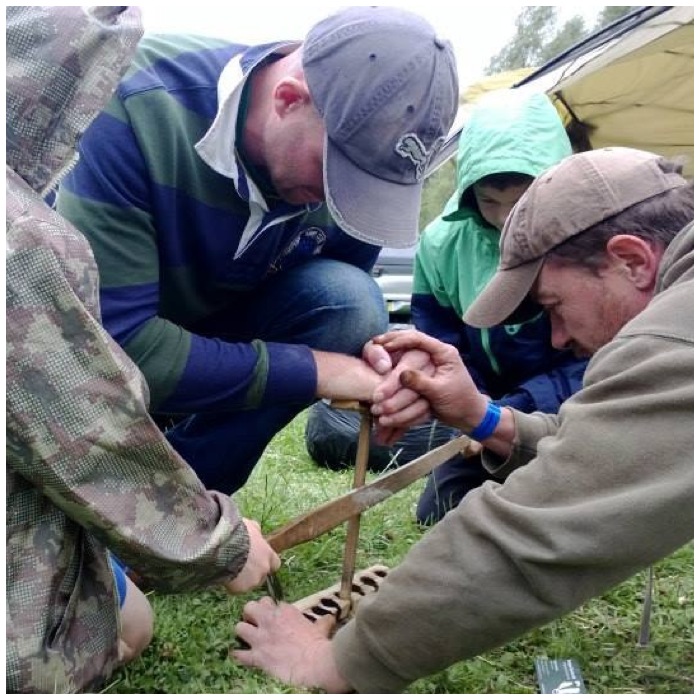 Other neighbours included Ben Orford demonstrating great green woodworking skills and JP from Woodlife Trails expertly taking the visitors through all the steps of creating fire by friction.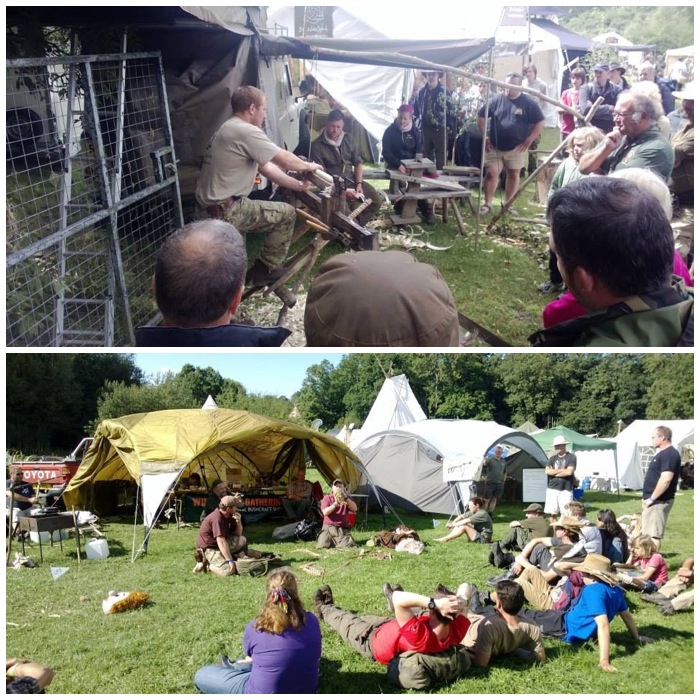 I try and get Catherine involved in as many activities as possible. She jumped at the chance to be a Pump Monkey for Dave Budd while he created some knives. I also got a present from my friend Stephen Herries of a burnt-out log – he claims I stole it off him 😉 – which gave me a chance to get my flint adze out and do a bit of primitive carving. The log is a rather nice long bowl now.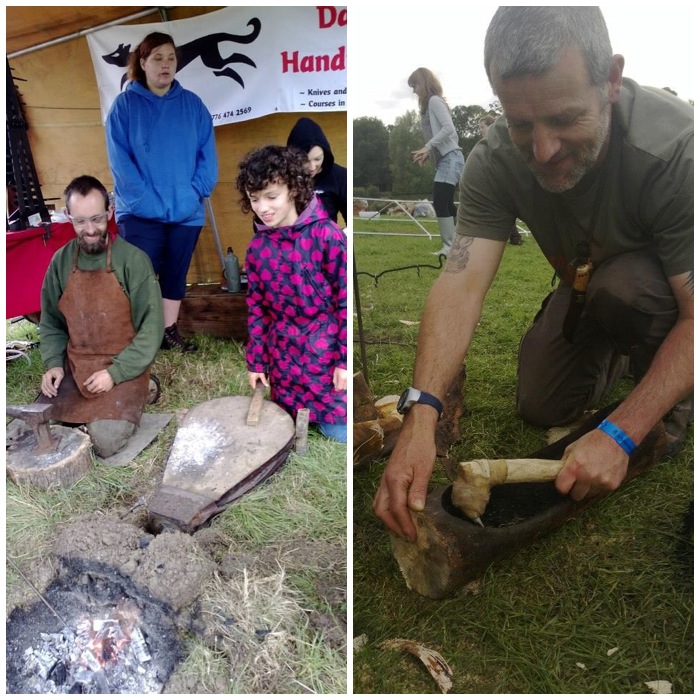 Steve Kirk of the Bushcraft Magazine ran an Atlatl making class this year which proved very popular. I learnt this skill at the gathering 10 years ago and have taught it to hundreds of people since then. The shooting of these darts make for some great pictures.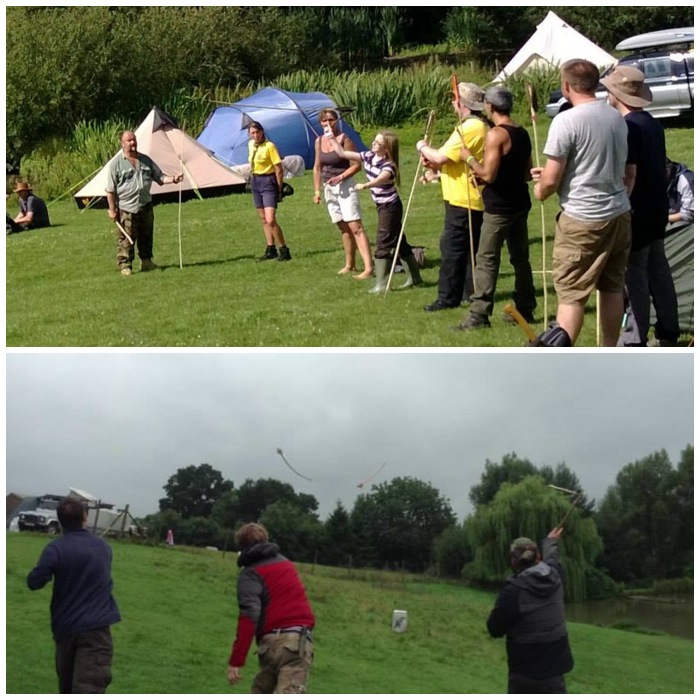 I don't know what Sarah (of Wilderness Spirit) thought when the Gimp appeared one afternoon – he is harmless really :-).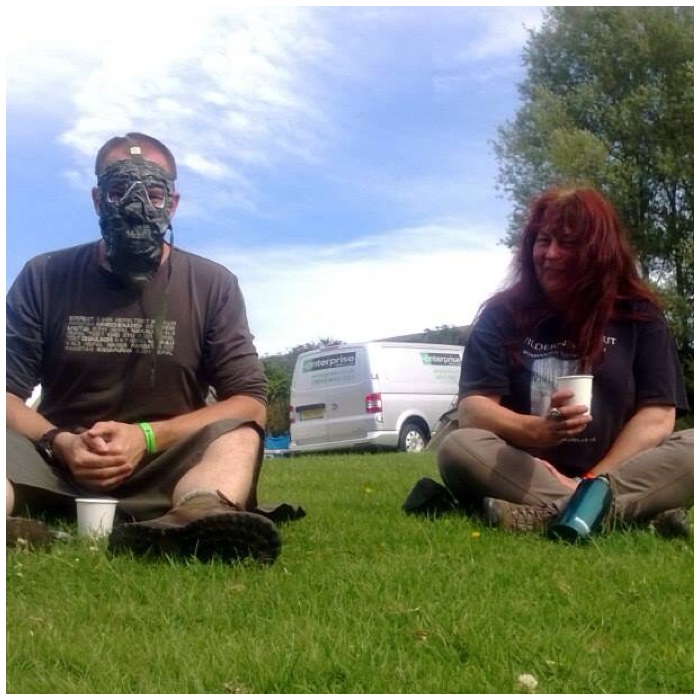 Catherine was very chuffed to meet her friend Molly again this year. I think that Catherine will be able to turn her hand to many things as she grows up based on these pictures.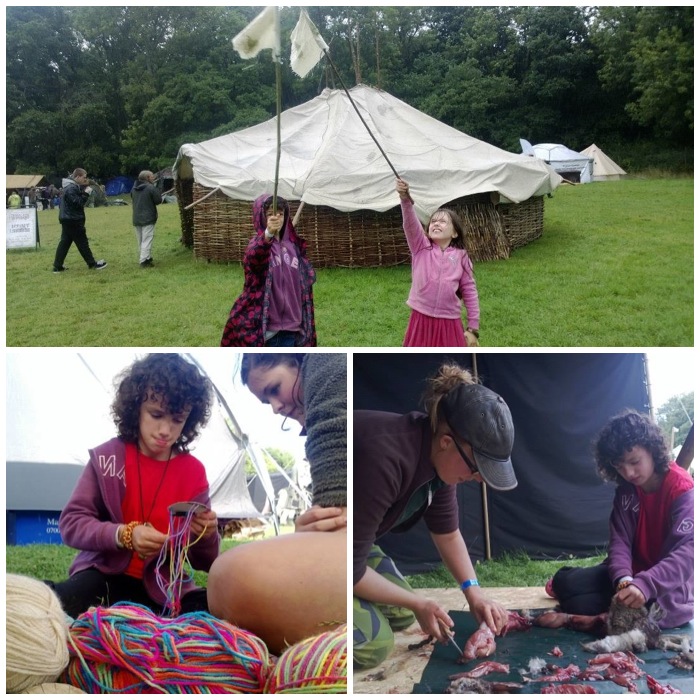 At the end of the Gathering I had a great evening with the guys from the Tribe watching Billy the Bushcrafter (Catherine really) being set upon by Beccy's little ferret.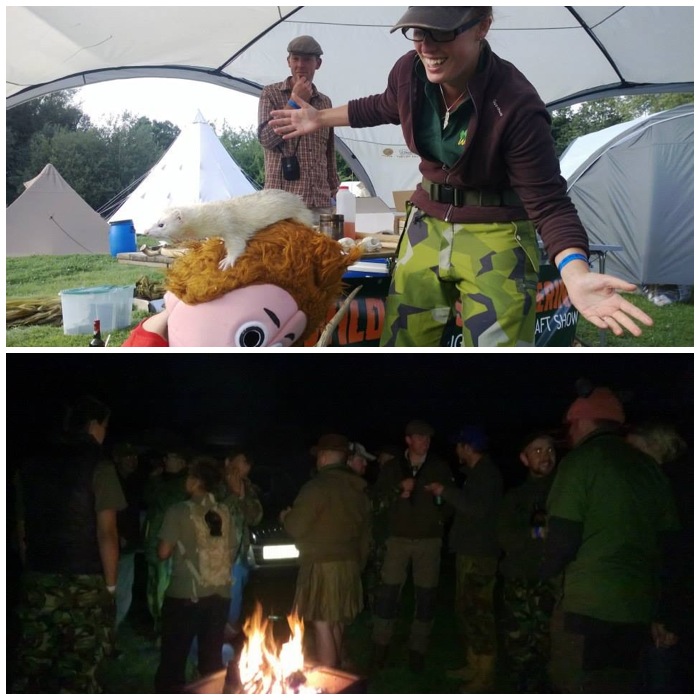 Last but certainly not least is the pond in the centre of the farm. This is one of my favourite places, I have spent many a relaxed hour sitting beside it.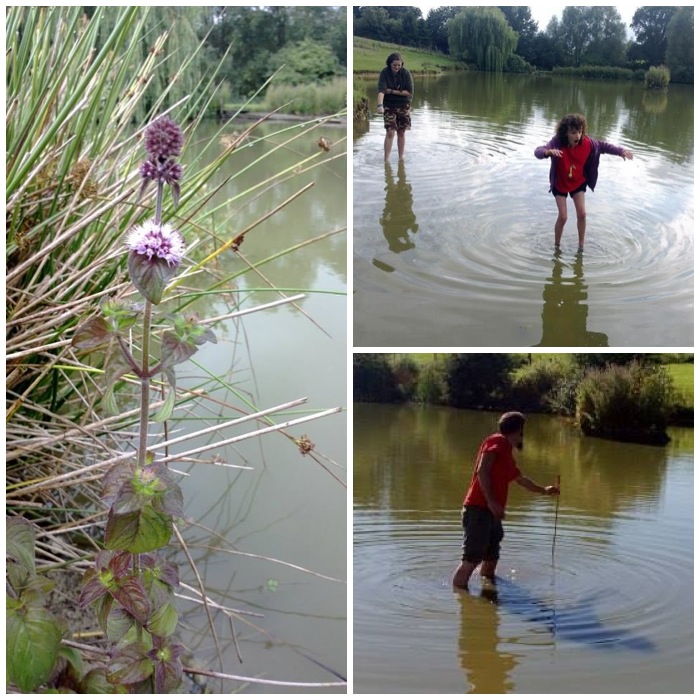 There is much more to the Wilderness Gathering than the few pictures I took last year so check out some of the links I have put below.
I am looking forward to this year's Wilderness Gathering and catching up with everyone again.
Cheers
George
Links
Jon Mac Spoon Carving First Steps