I was catching up on what was happening on Facebook last week and spotted that the Ancient Technology Centre (ATC) was holding a Stone Age Weekend the following week. Thankfully for me my calendar was free and as my kids love this sort of interactive show it was not hard to sell it to them. The centre is in Dorset,  just over an hour's drive from our house, and on this weekend the weather was perfect for my Scottish skin (warm but not too hot).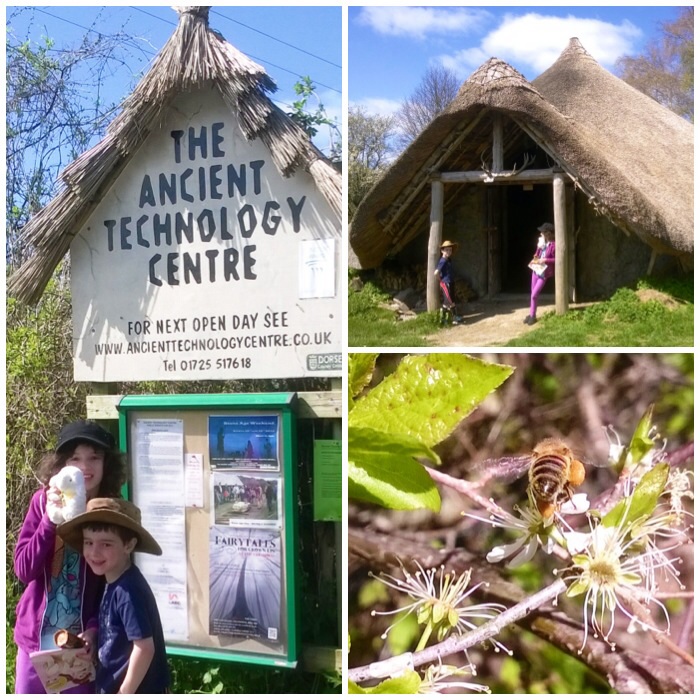 My main aims for the visit were to let my kids have lots of hands-on fun and pick up some ideas for myself for future projects. The ATC caters well for parents and kids and as it is a place where lots of experimental archaeology is undertaken it ticked all the boxes for me.
The top picture below is taken from the bottom of the roof of one of the roundhouses.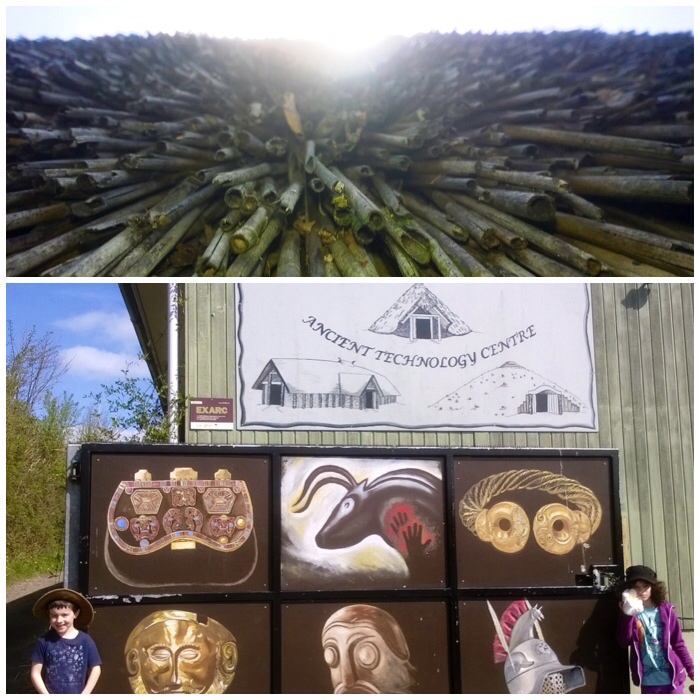 We took a walk around the whole site at first just to show Catherine and Finlay what they could do. In the end the kids had to drag me away from one of the roundhouses as I wanted to explore every item in it and how it was built.
After a five-minute wait Catherine and Finlay were using Bronze Age axes and happily chopping away. They did come back for a second go later and I managed to have a chop as well. This was the first time for me using a Bronze Age axe and it is different to using  modern or flint axes. I liked the fact that the queues here were in single-figure minutes (currently writing this in a queue – 35 minutes at Legoland and counting) and everybody was really relaxed.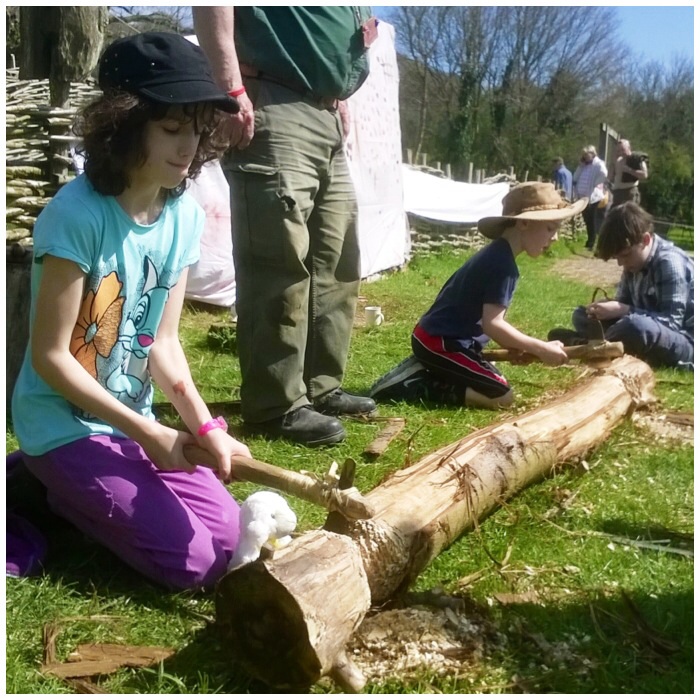 The centre also experiments with primitive pottery and had set up a work area where we could all make a pot and decorate it using old bones shells and feathers. We left our pots to dry in the sun before taking them home. We will have to let them dry for at least another two weeks before firing them over an open fire. I don't know if we'll do this final stage as they may crack.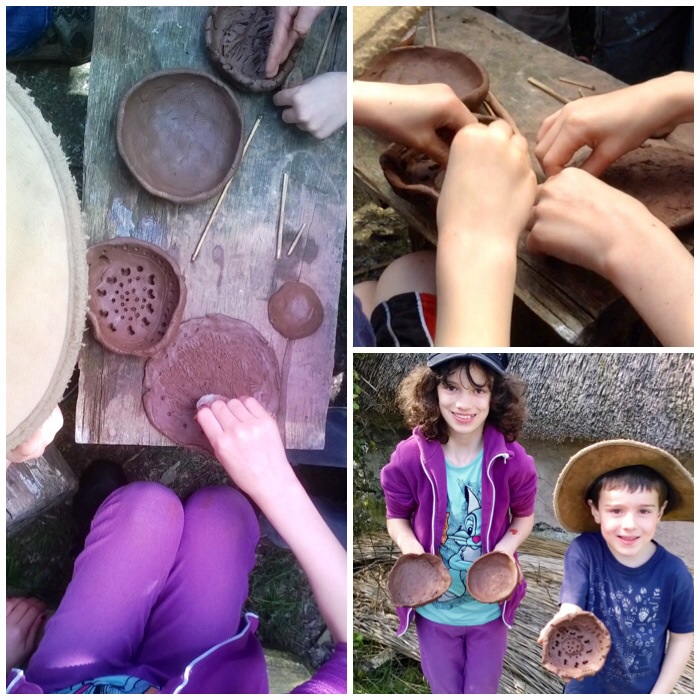 While Catherine and Finlay were happily engrossed in cave painting techniques I managed to slip off and see what else was going on.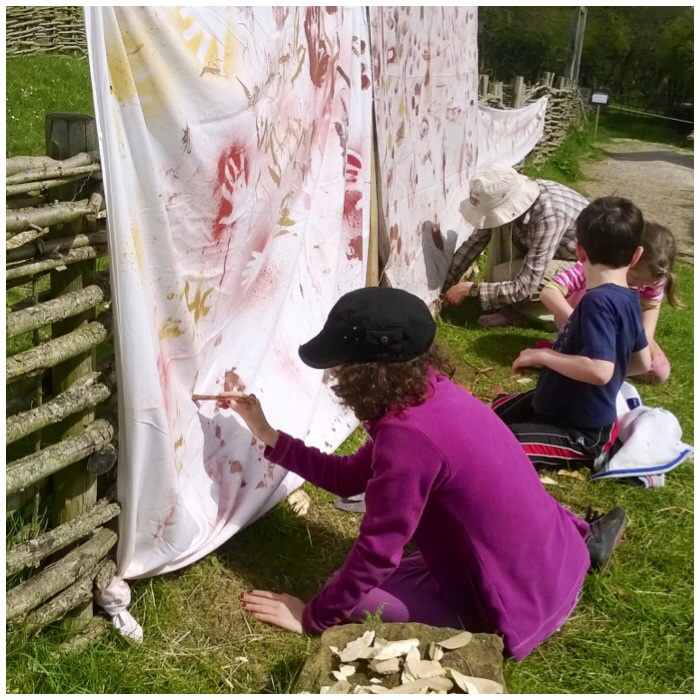 I popped over to see what was on display on the Prehistoric Archery and Atlatl Society (PAAS) stand. PAAS make some beautiful craft items based as close as possible to archaeological finds and are also keen experimental archaeologists. Last year PAAS visited us at the Bushcraft UK Bushmoot and gave some great classes on archery, atlatls and slings. They plan to be at the Bushmoot this year as well.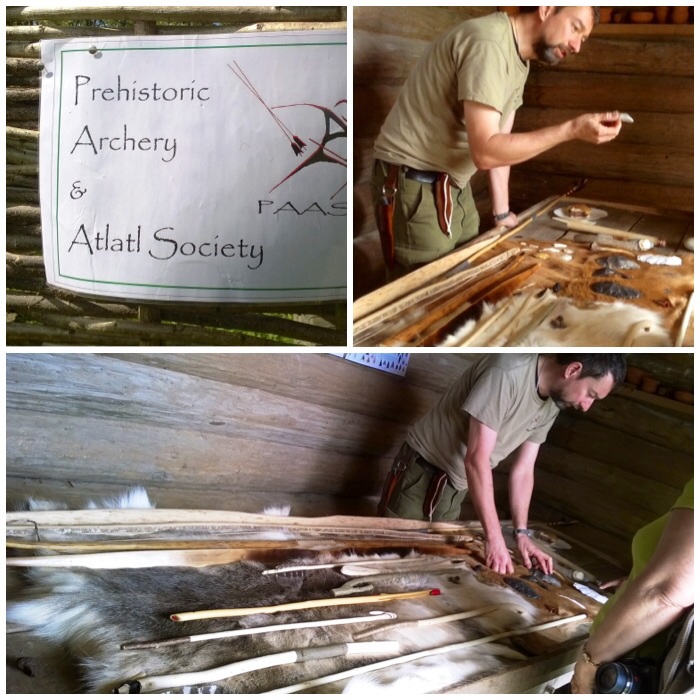 We watched a demonstration next of Bowdrill using just a primitive set. The couple doing the demonstration were from Outback2Basics and put on a great show. We missed the first class on making campfire bread and cooking salmon but managed to get some time bowdrilling.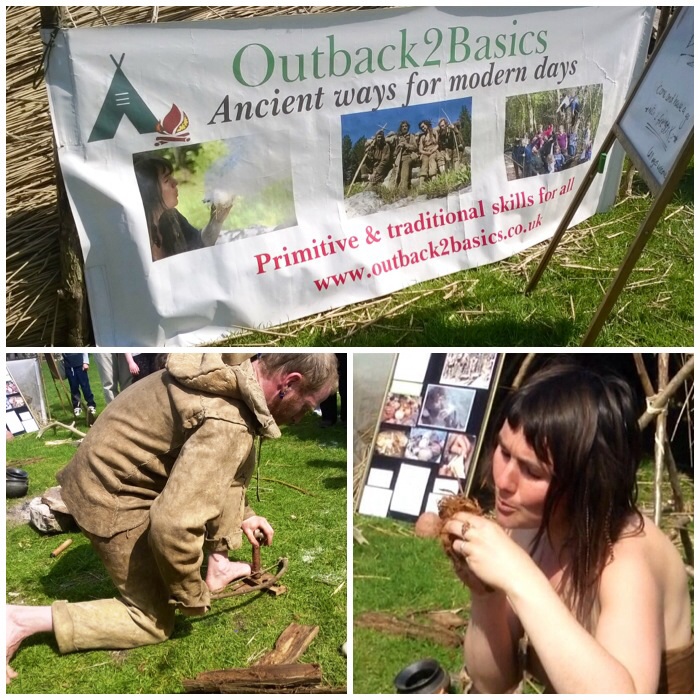 Finlay and myself took a twirl on the bow and then Catherine took over on blowing the ember into flame.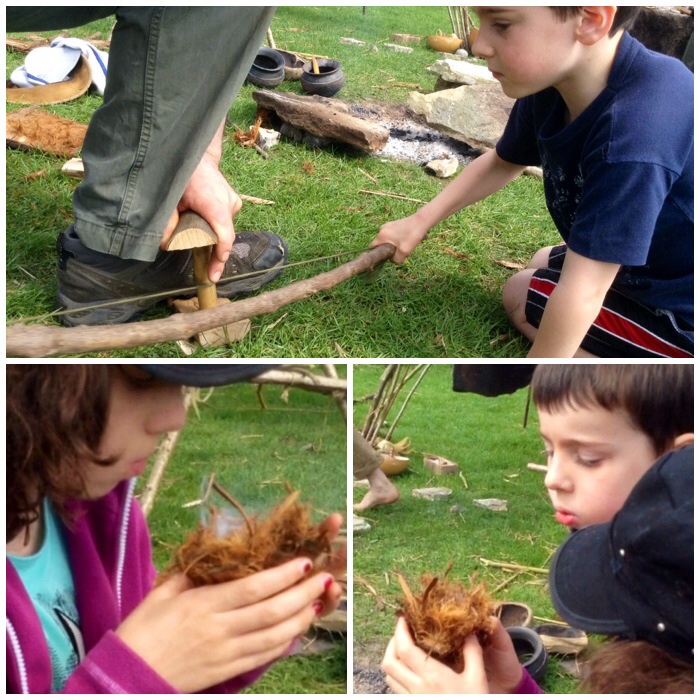 With a little help from Finlay we soon had a flame. The tinder was the inner bark from a Leylandi tree.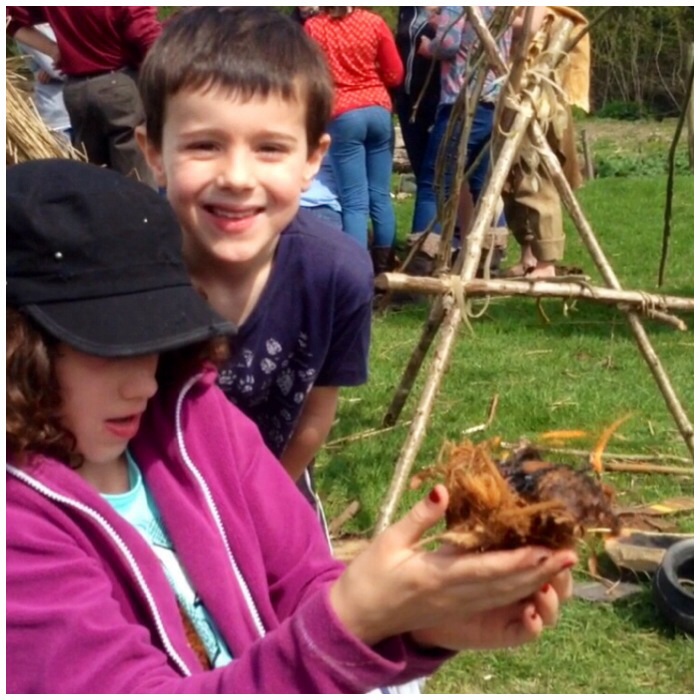 The next class with them was making a fat candle  using a rock as a holder. We chipped away on a soft rock with a hard rock to create a small scoop to hold the fat.
The wick we made out of some jute string by untwisting it and then loosely putting it all back together.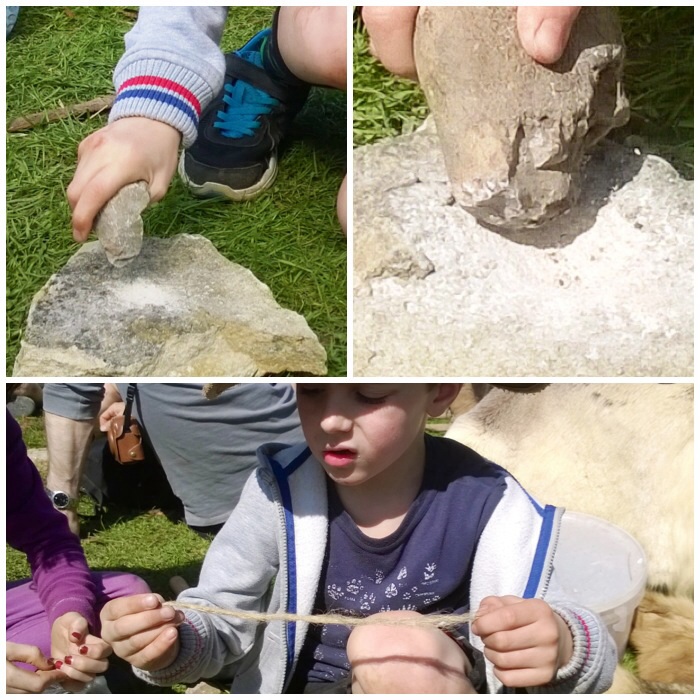 The scoop took us about 20 minutes to chip out.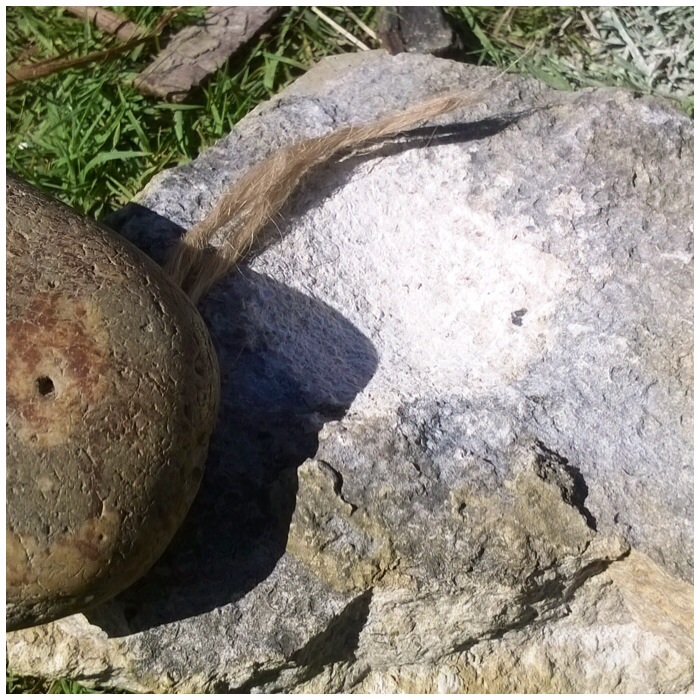 I cannot remember what type of fat was used but once it was poured in the wick was added, leaving about a centimeter protruding from the fat so that it could be lit.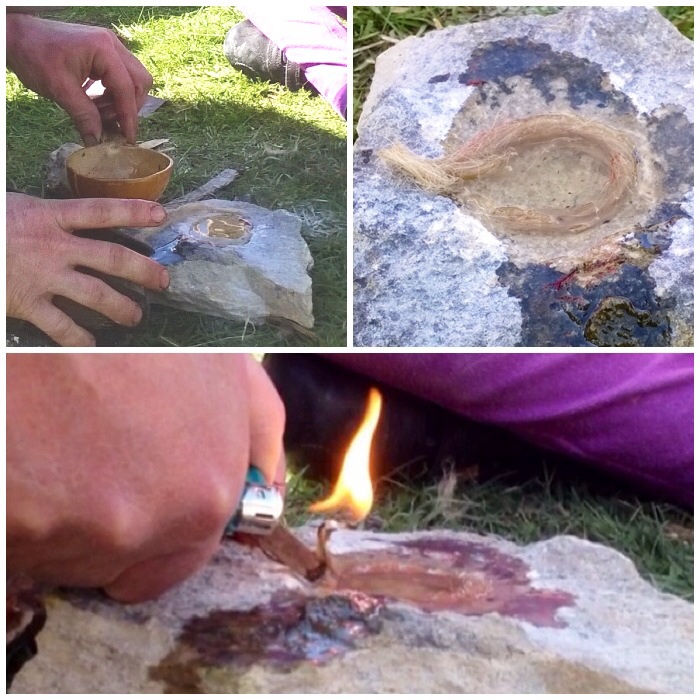 The winds were quite light but would gust a little so we had to protect the flame.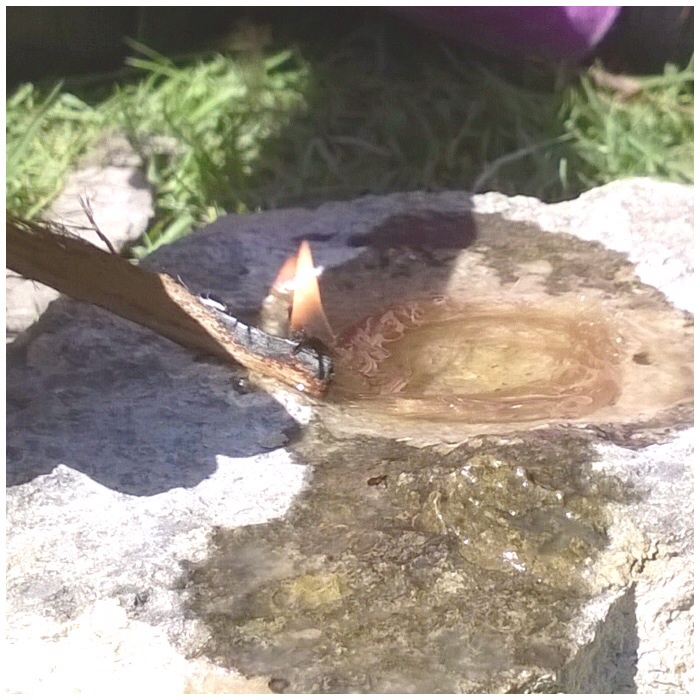 I managed to capture a lot of the day on this short video.
Afterwards we had a look at the wood carving section and Catherine learned all about how beds were constructed in the past.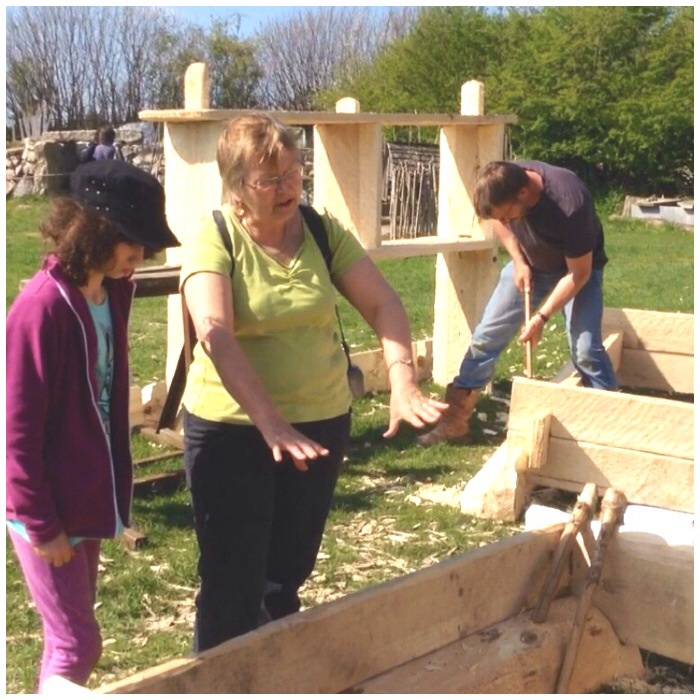 I picked up some ideas on making a circular stack for my kindling and the kids had fun on the Roman turntable.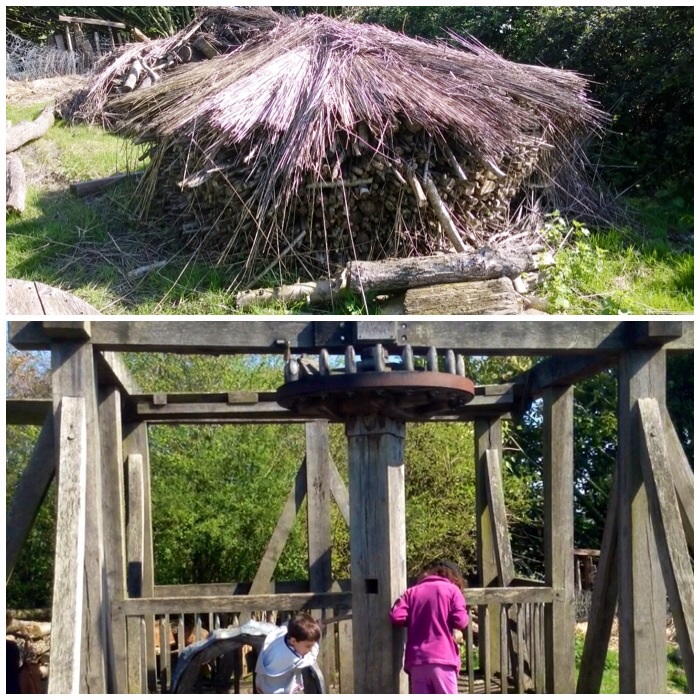 Two good finds of the day for me were the drying post for bones and the wooden dugout in the pond.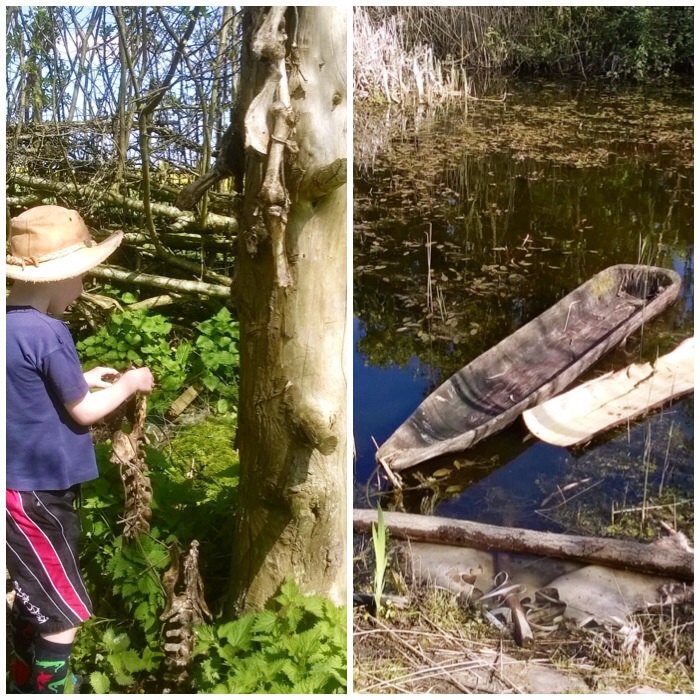 I would thoroughly recommend you visit the ATC if you ever find yourself down near the New Forest as the work they undertake is quite amazing.
Cheers
George