Sometimes when I review photographs I have taken on trips a pattern or a theme starts to emerge. On my recent trip to the New Forest here in the UK with the Sea Cadets one of life and death with a touch of decay thrown in for good measure started to appear.
Take for example in the two pictures below. The cadets are sitting in the shade by a pond in the top picture with all the late spring growth going on around them. While in the bottom picture in amongst all the new iris shoots the bracket fungus on the alder trunk is slowly doing its bit for the cycle of life breaking down wood fibres into sugars. Two lovely pictures but ones I could too easily have overlooked.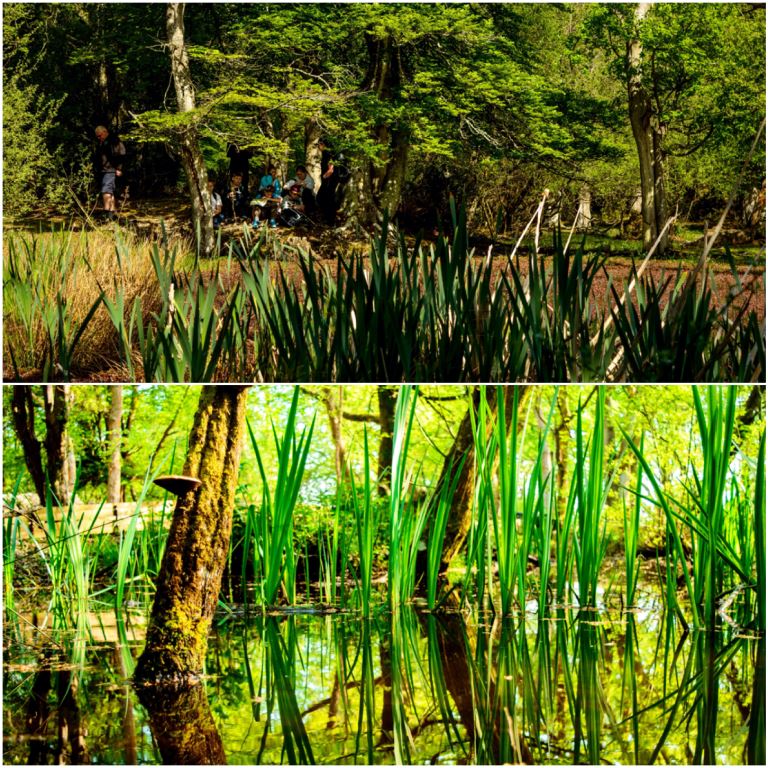 While the cadets were getting to grips with the art of map reading in various huddles, around them nature was getting on with its business. A rather forlorn looking spiders web seemed to be full of leaf shoot casings and the roots of some trees seemed to be tying themselves into some weird knots. Quite beautiful to see however I only spotted them when I stepped back to photograph the cadets.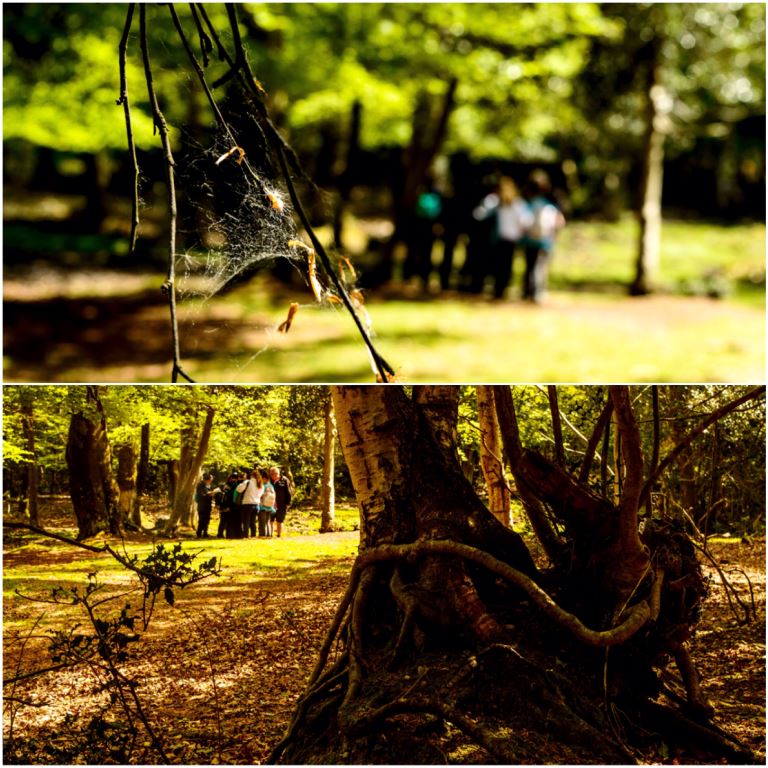 My friend Charlie spotted this little rabbit skull by the side of the pond you saw in the first picture. It was such a delicate little thing and we could so easily have trod on it. I have no idea how it died – maybe it was a fox……………………….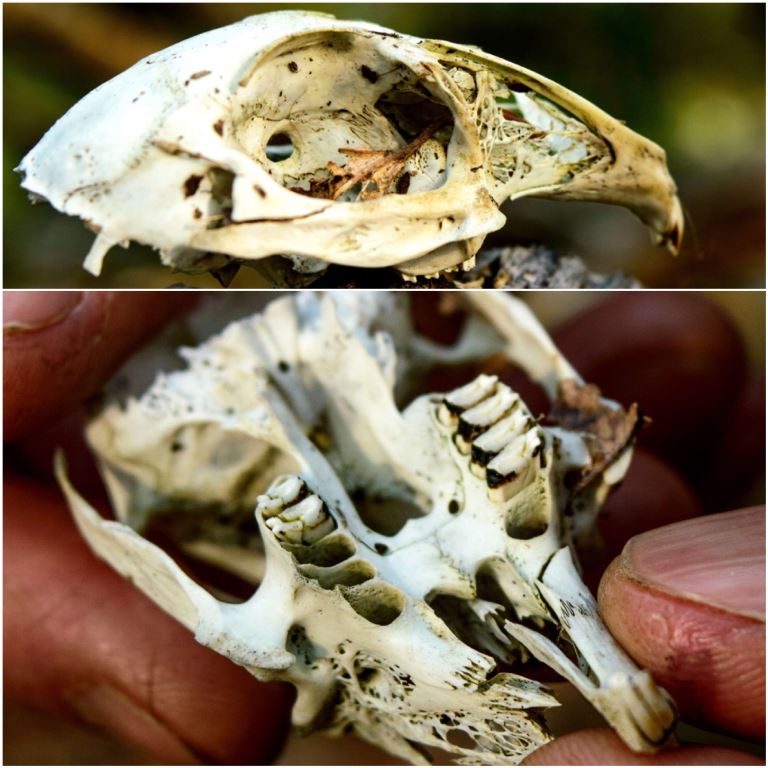 Well we found the fox – well, we found a fox :-). One of my cadets spotted some bones in the undergrowth and after a little bit of exploration we put together pretty much all of the skeleton.
The skull still had some of the fur and whiskers still attached to it so I assumed that it had not long since died. The cadets I was with were mostly city kids so they were very excited to find the fox. They wanted to take the skeleton back with us but I did not feel that that was right to do so we left 'Foxy' to be discovered by some other woodland adventurers.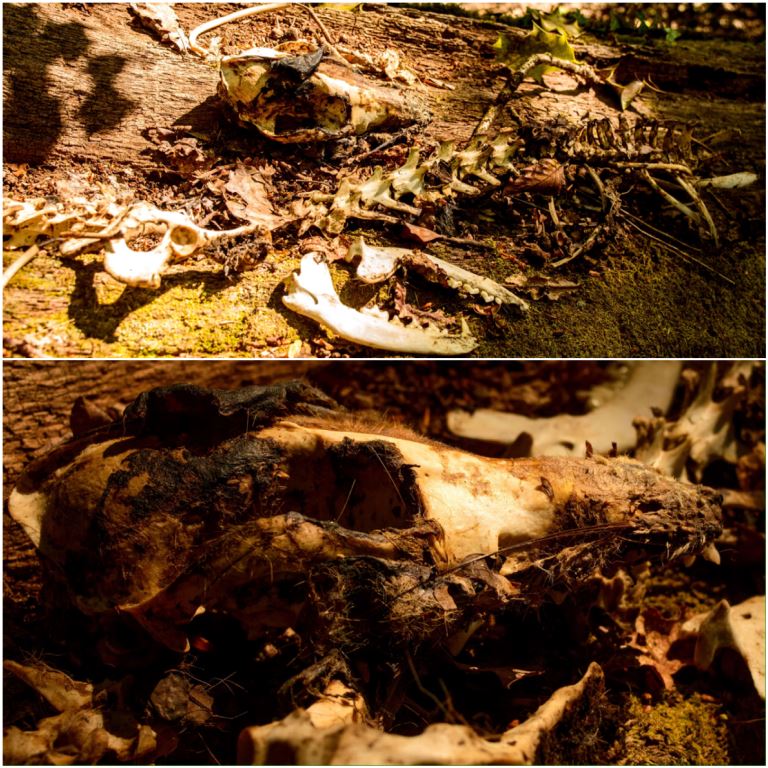 The trees themselves were painting a beautiful picture in this cycle of life. We came across some pretty massive artists fungus (top left below) that really stood out against the skyline when you looked up from under it.
There is a certain spot I pass most times when I visit the New Forest where there are a number of holly trees (bottom left). For some reason the forest ponies like to gnaw at the bark. They leave some great markings on the trunk and I love to get the cadets guessing what causes this strange site.
Lastly we spotted this strange tree (bottom right) we dubbed it the Easter Island tree due to its likeness to the statues found there. These growths known as burls/burrs are caused by the tree trying to protect itself from some sort of infection (if I remember my university courses correctly). My bushcrafting friends know they can make for some quite exquisite bowls.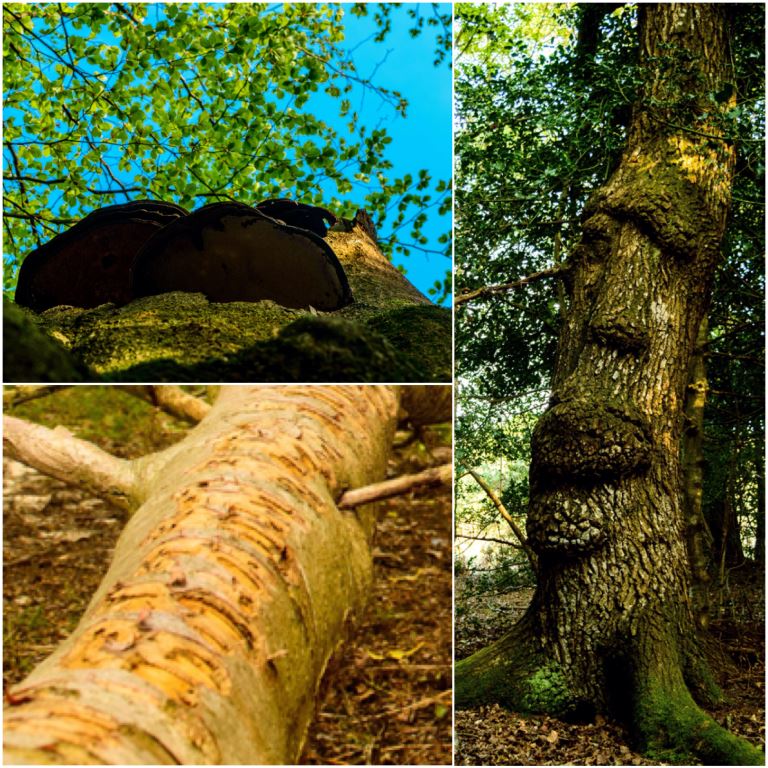 Last but not least are these two little critters. The toad below was spotted by the cadets and he tried very hard to pretend he was invisible. The cadets and myself lay down to observe him when we realised he was not running away. After a few minutes we left him in peace to get on with his business (I say 'he' but have no idea if that is correct).
A last little visitor to our camp (you can see the camp chair legs) was this little Chaffinch (bottom picture). She was not bothered by us as she searched our fireside for some morsels. I was quite content to just sit and watch her potter about while I put my feet up.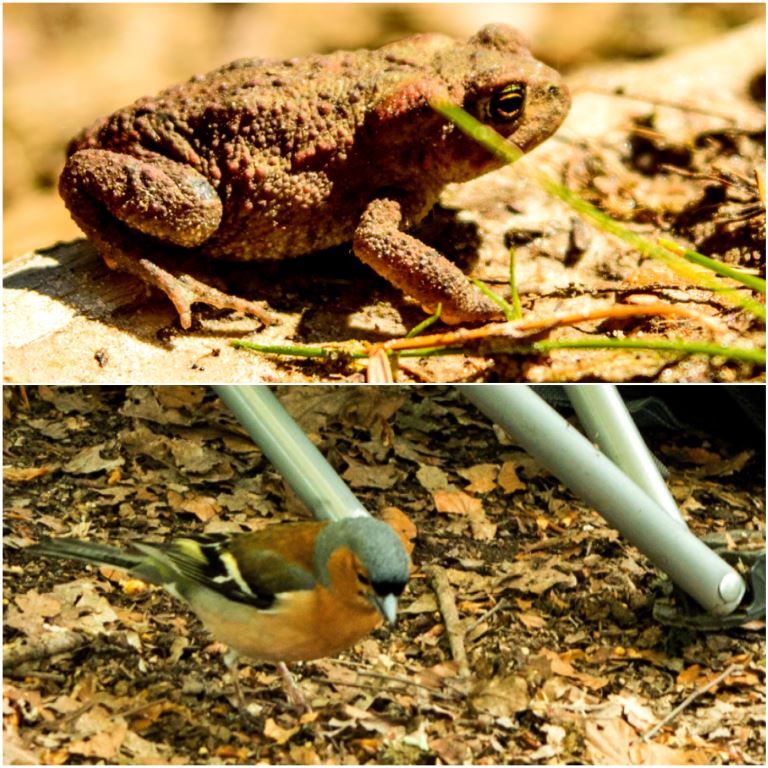 I never set out to write this blog based on this them of life, death and decay but I was sure glad I spotted it.
Cheers
George