My 100th post – it seems like only yesterday that I was tentatively writing my first post way back at the end of last September.
For this 100th post the subject couldn't be anything other than this year's Bushcraft UK Bushmoot.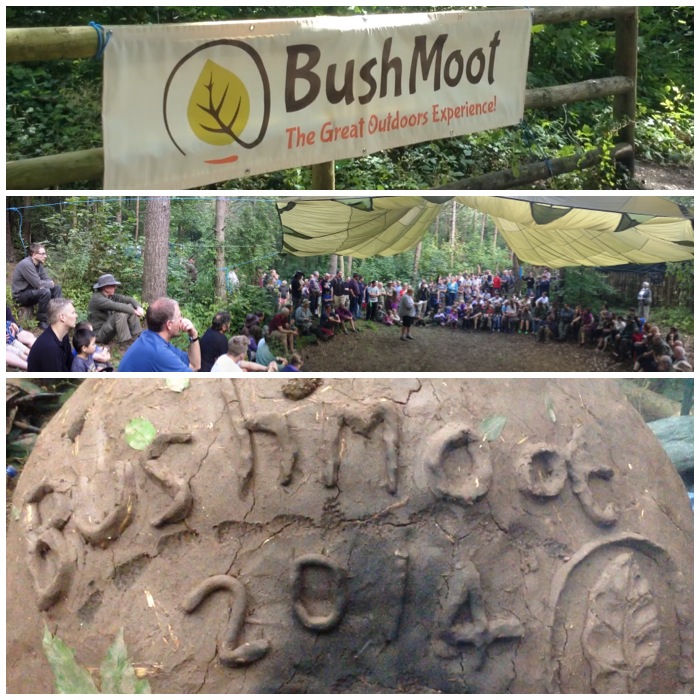 I came back from holiday in France on Saturday the 2nd of August, unpacked then re-packed and headed out with my two kids Catherine and Finlay to Merthyr Mawr in South Wales on Sunday the 3rd of August. Unluckily I had been beaten to my usual camping spot at the Moot by another family but managed to set up nearby with my tipi, kitchen tarp and my hammock stand.
I found a fire guard lying in the sand and after digging it out used it around my fire. It was quite a well engineered piece and I could not understand why anyone would have discarded it.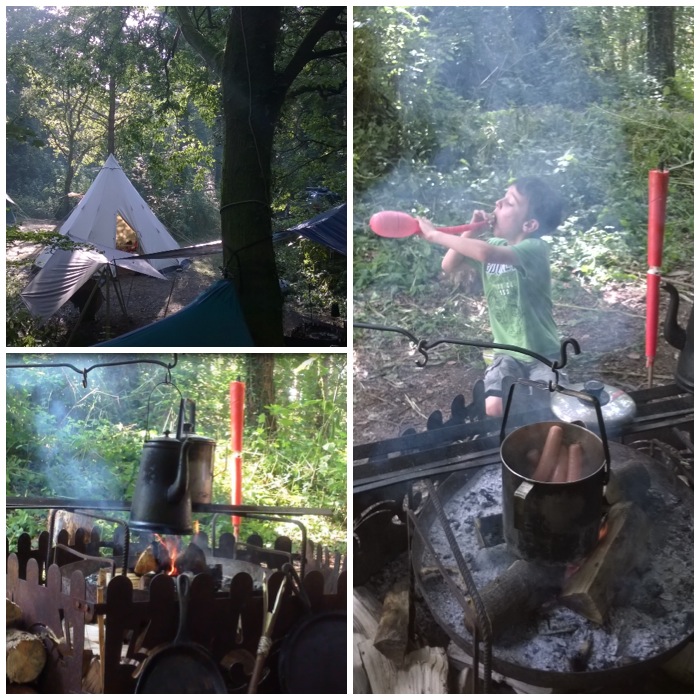 The first few days were mostly spent chilling out with the kids before eventually getting around to putting up the workshop tarps and parachutes. This was the first year I had taken my children to the Moot and they took to it like ducks to water.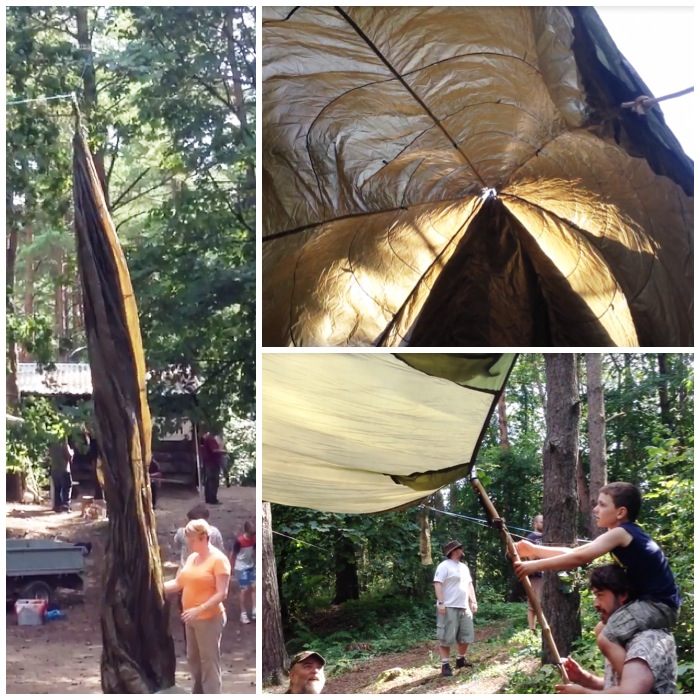 For the first few evenings we had dinner with Fraser from Coastal Survival over in the sand dune area so preparing the evening meal was never an issue for me, thankfully.
I could not resist taking this shot of Stu when he arrived in a taxi and we unloaded his supplies for the Naughty Corner.
It was at this time that my daughter started feeling unwell with a high temperature and feeling very faint. For the next few days she would sleep a lot in her hammock and eat very little. I thought it was just one of those 24 hour bugs but it turned out to be quite a nasty virus and really laid her out.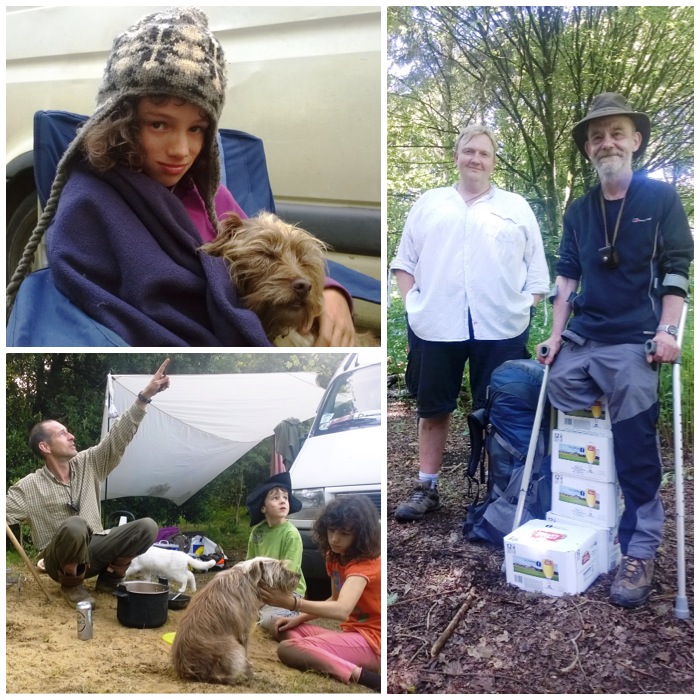 This is the first of five videos I took while at the Moot and shows the set up and some of the first courses that were held.
It was good to see all the new growth on Drew's tree that had been planted last year. People have been leaving little tributes on the tree over the year which I thought made it look very special. While Catherine was feeling a little better she would come out and play with the other kids while she could. She never met Drew but I am sure that they would have gotten on with him like a house on fire. Drew loved to run role-playing games with the kids at the Moot and Catherine and Finlay love these types of games.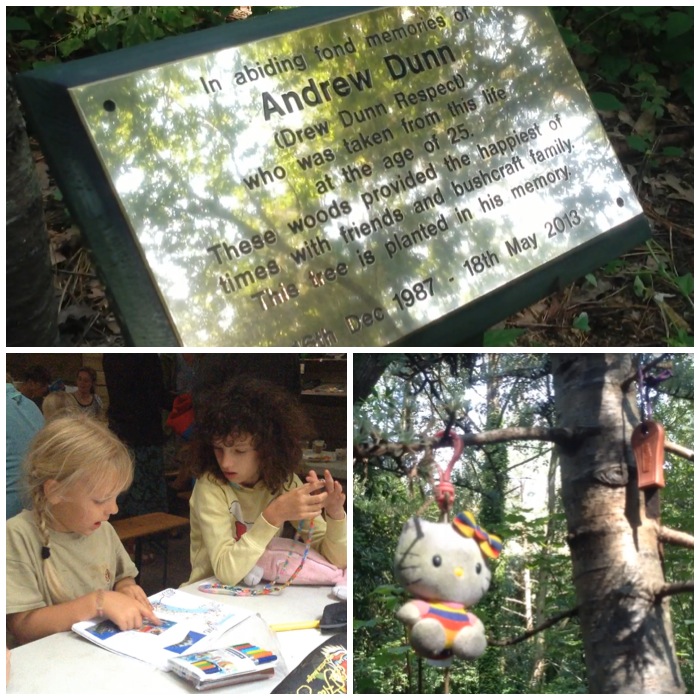 Before the main Moot started a number of other courses had been organised. These included Bhutenese bow making with Wayne from Forest Knights, leather working with Eric Methven, green wood working with Bob from the Rural Skills Trust, and the Coastal Hunter course with Fraser of Coastal Survival.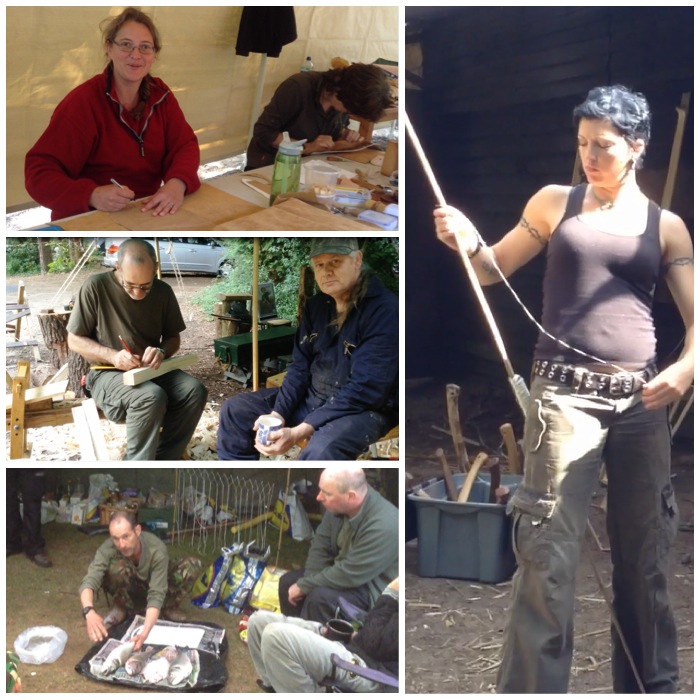 The first course I was involved in was the Starter Course. I have written a separate post on this course on the BCUK forum and you can read about it here – Bushmoot Starter Course. This is the second year we have run the course and it is starting to prove very popular now.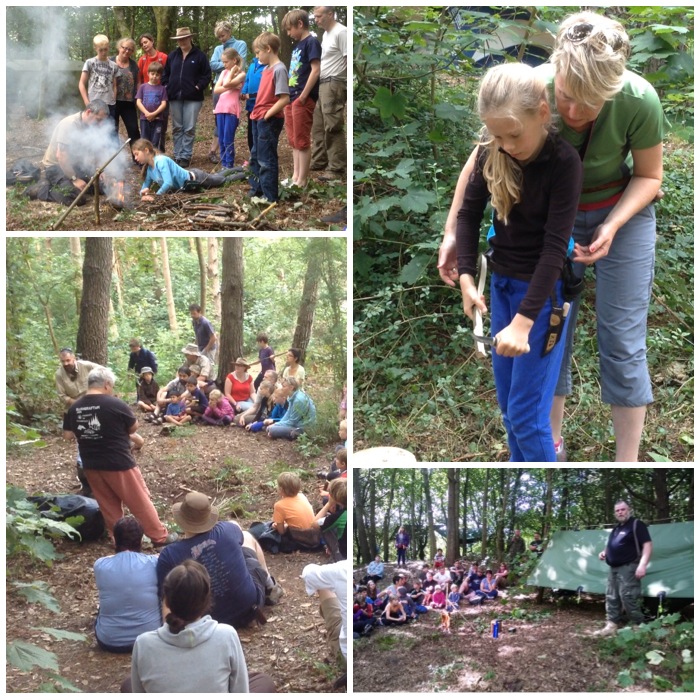 Over three of the nights I was at the Moot there was some great entertainment. On one night some of the lads from the Naughty Corner came down to the main sandpit area and had a great jamming session. Apart from filming them I recorded a couple of their tracks and then used them as backing music for my second video. Tony, the organizer of the Moot, even got himself some birthday cake on the night.
The other two nights we were treated to an amazing fire display by Emily, Liesl and Naomi Cook. These three young ladies are very talented and brave.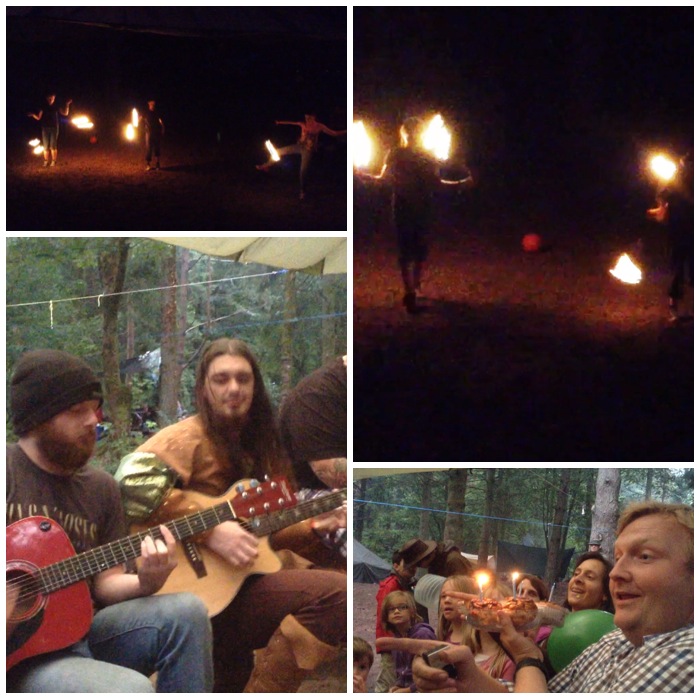 Here is the video of Emily, Liesl and Naomi doing their fire show on both nights.
One of the things that has struck me about the Moot is all the different art that you can experience there. Art in the form of music from Stephen Crump (recorded for my third video), Welsh love spoons from Dean Allen, Woodland Plant Art from Keith Beaney and art in the form of iron from Dave Budd.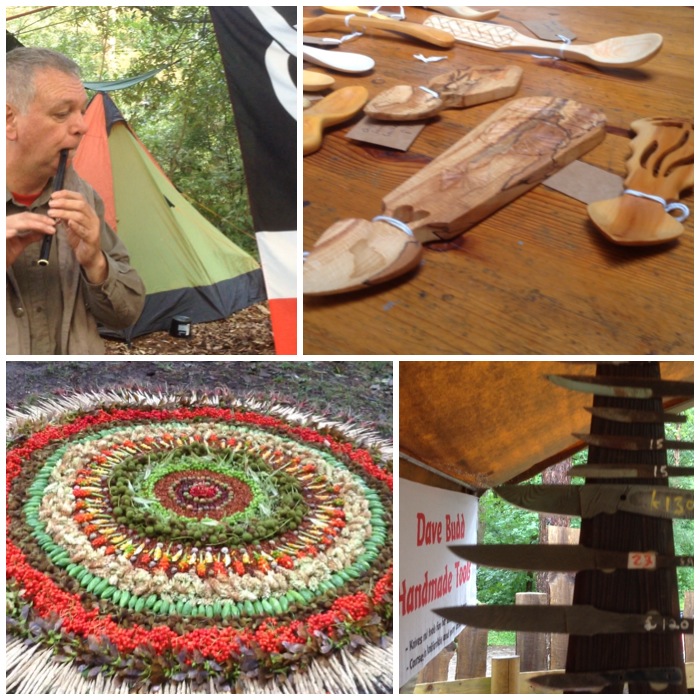 Needless to say Spikey and Badger managed their own version of art up in the Naughty Corner with the use of torches and some evening spirit.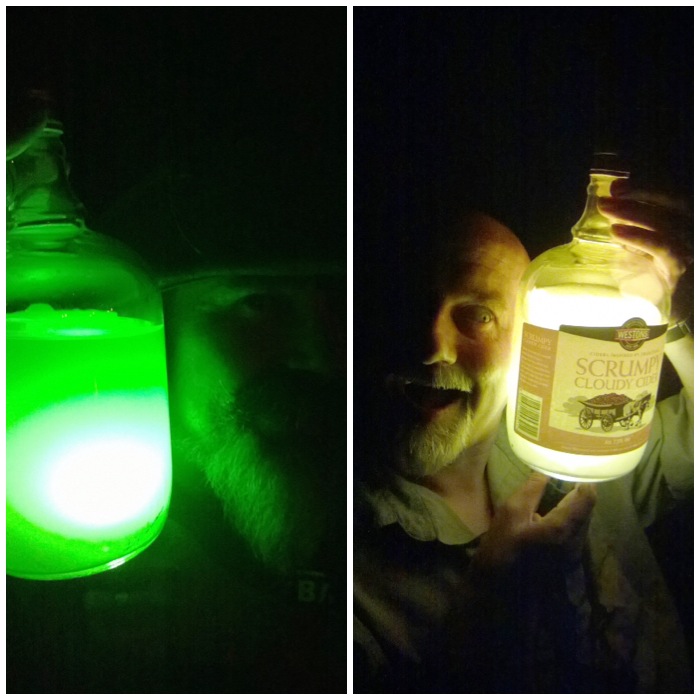 The main Moot kicked off with lots and lots of courses. I have posted pictures from just a small selection of what was on offer: making the pizza oven with Tim, mini bows with Wayne, water purifying with Richard, net needle making with Steve and spoon carving with Dean. There were lots more courses going on but I did not get to see them as I was on the Starter course all day. My wife Alison arrived on the first day of the main Moot and took a lot of the pictures of the day.
It was at this stage that we decided that Catherine was best off at home, so instead of staying, Alison took her back that day with Finlay.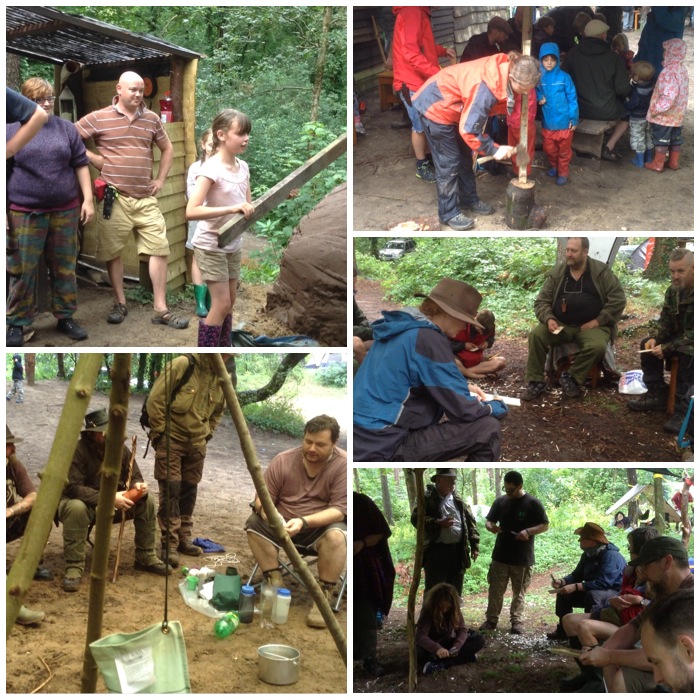 The next video is of many of the first day's workshops, with backing music from the Naughty Corner band.
The Sunday was another day of workshops and I tried to get around to as many as possible. These included knife sharpening with Chris, making tapestries with Shelly, tracking with Perry McGee of the National Tracking School and making a geodesic dome with Tony. There were plenty of other courses going on such as plant walks with Robin Harford and willow basket trap making with Fraser from Coastal Survival.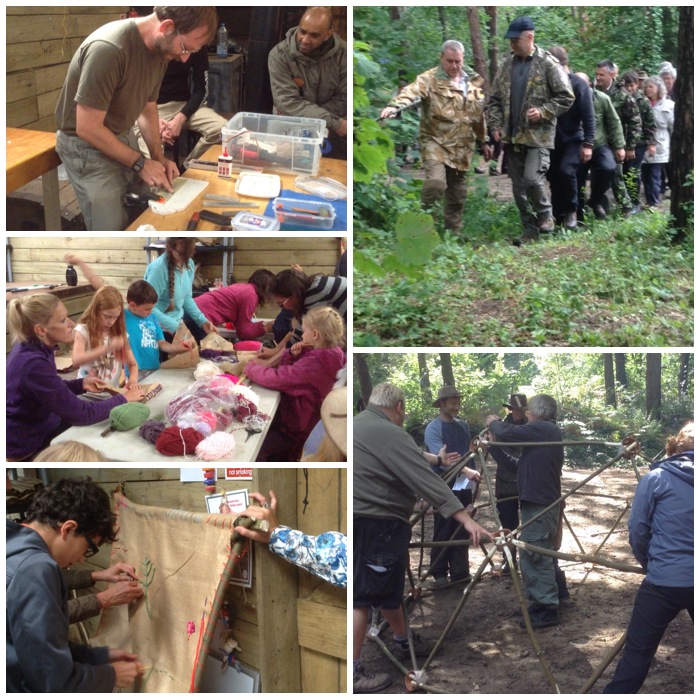 My video of the day has as its soundtrack Stephen Crump playing a tin whistle on a wet afternoon.
Needless to say I spent a lot of my time down on the archery range shooting arrows or atlatl darts. With all the bows Wayne had been helping people to make we were kept very busy.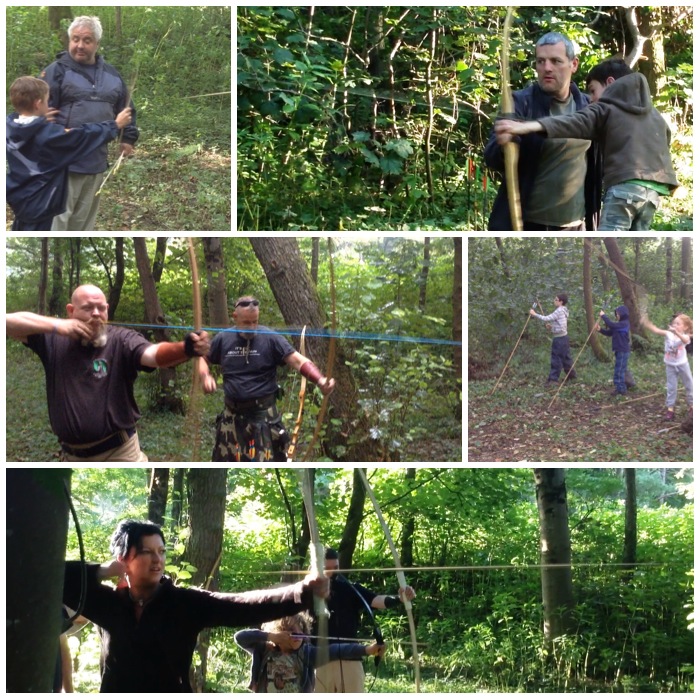 I made a short but very funny video of Mad Dave and Cap'n Badger helping me to clear the range of a hung up tree.
At this stage I had not run any bowdrill classes but I had done a couple of one-to-one sessions. My neighbour Matt Baillie went off after one of the sessions and persevered until he got the bowdrill cracked – well done mate.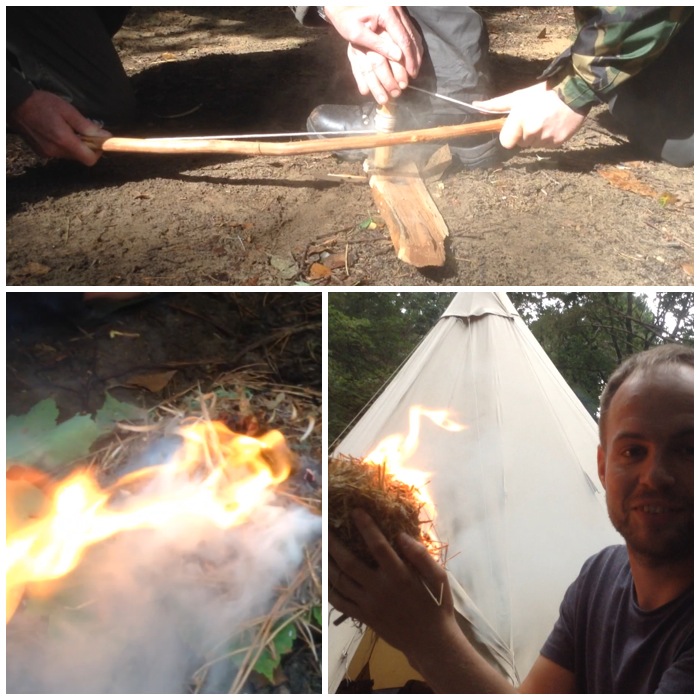 I also did a quick session on the Egyptian bowdrill method and made a short film of it.
The Monday was a bit of a damp affair but the Traders' Day went well and I managed to try some more of Richard's excellent elderberry wine.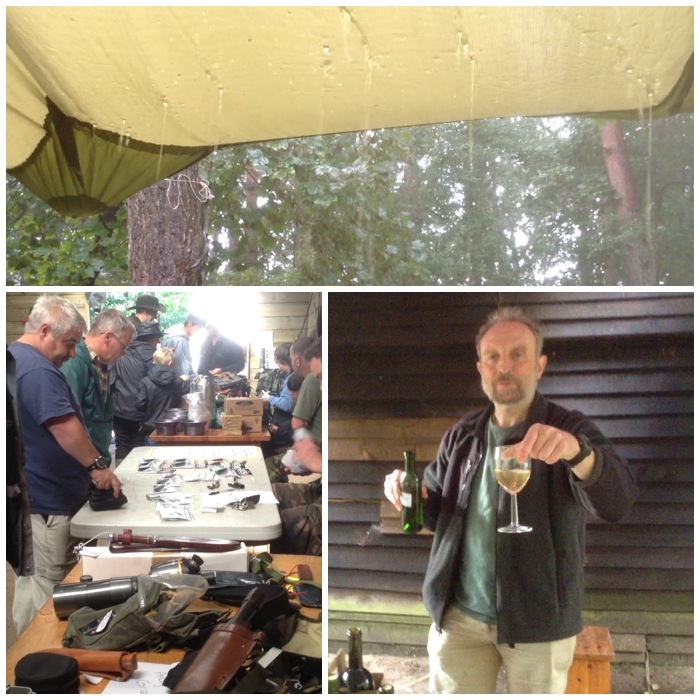 I managed to get a little bit of food at the group meal before it was devoured. This is becoming a bit of a tradition now since we stopped doing the hangis, and it is amazing to see all the different dishes that can be cooked over an open fire in a Dutch Oven.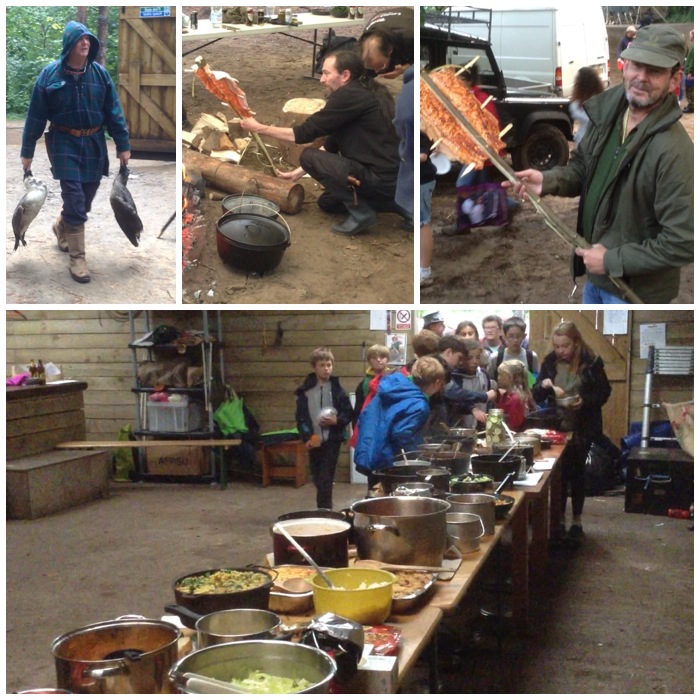 My last video of the Moot is of the Traders' Day and the group meal.
I spoke with Alison that evening and decided to head home in the morning as Catherine was still very poorly. I got home by lunchtime on Tuesday and thankfully over the next few days Catherine started to recover and was soon back to her usual self.
I really enjoyed the half of the Moot I attended this year and my kids are desperate to come back again next year. There were another couple of days of workshops that I missed but I think this post will give you a feel for how the Bushmoot works.
I hopefully will see you all again next year and meet a few new faces as well.
Cheers
George