a real banquet is produced each year
A big part of any Moot is food and at the BCUK Bushmoot it comes in all forms.
Looking back over the pictures I have taken I was quite staggered at the range of food you can find at the Moot. I cannot profess to being any sort of cook (I prefer to build cooking constructions) however I appreciate good food when I see and smell it.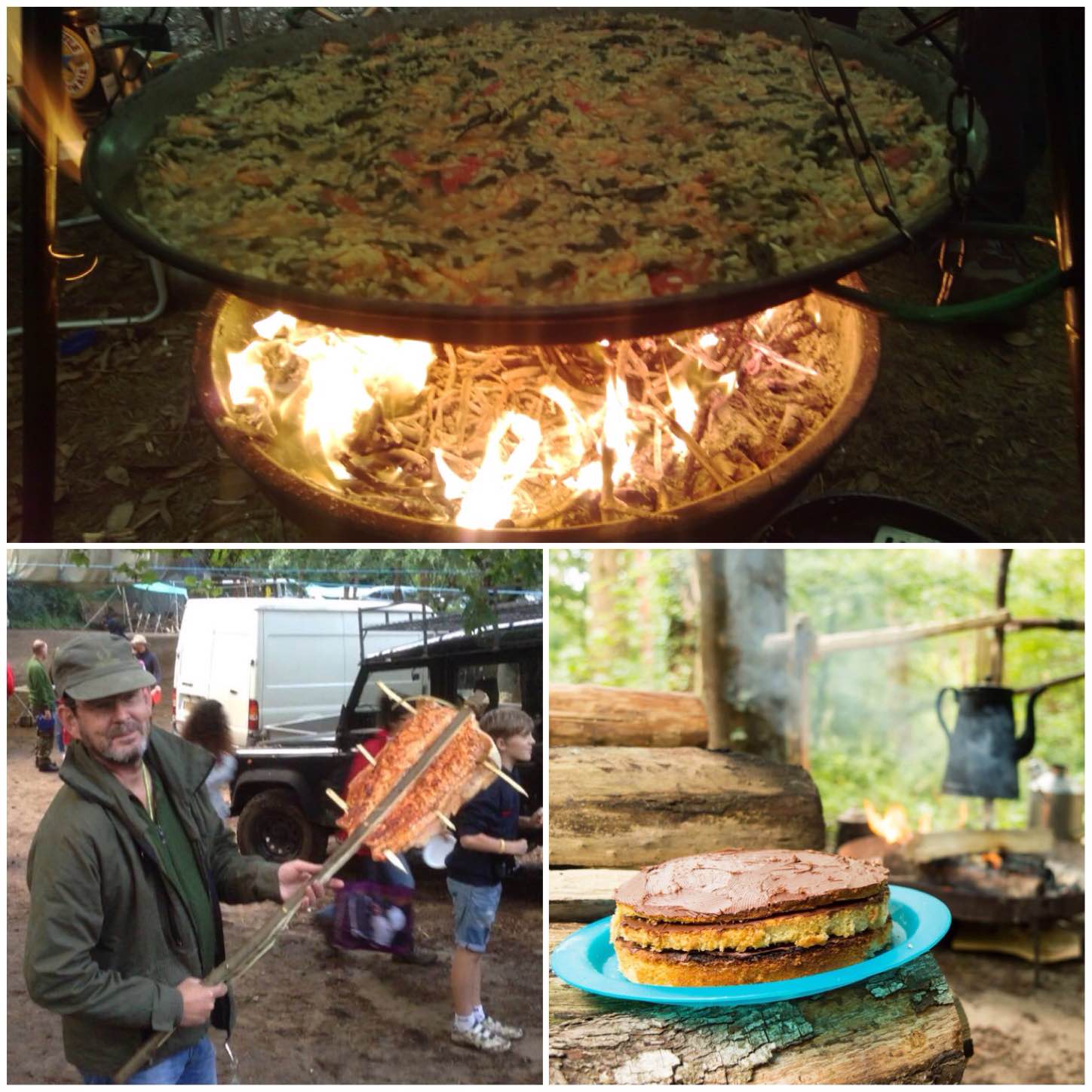 Many years ago at the Moot I would help out with teaching how to butcher rabbits and pigeons so that they were ready for the pot. Many of the instructors at the Moot will do these classes and each year you are bound to find a class going on somewhere preparing some meat stuffs for the pot.
I leave the butchering of Deer and such like to some of the members more competent in this field though I could quite happily run a class if I had to.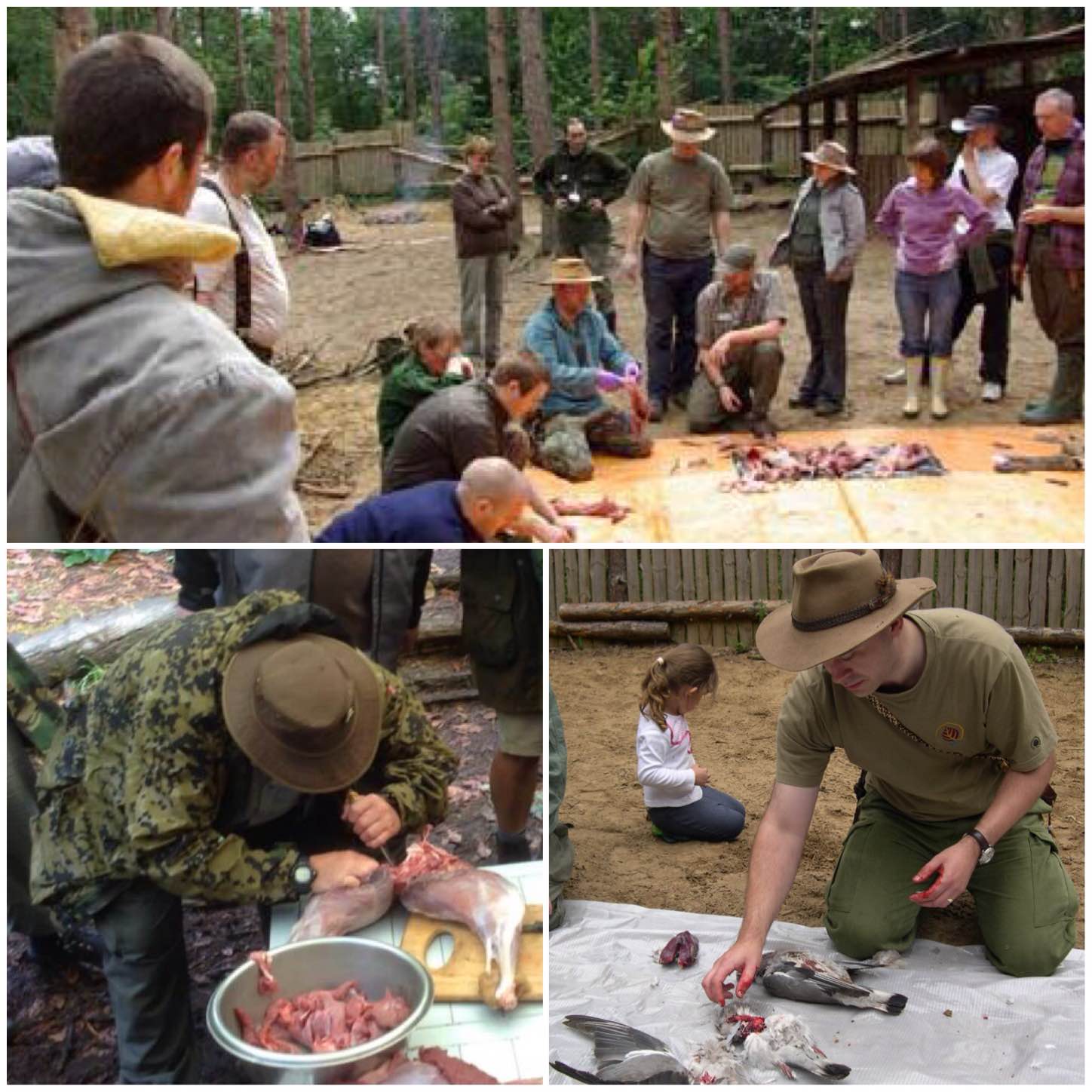 Up until a few years ago at every Moot we had a Hangi – an underground oven. A large pit would be dug in the sand and it would be lined with non porous stones (to avoid stones exploding). A large fire would be lit above it and kept going for a few hours.
Once the fire died down pre-prepared food parcels would be placed on the hot stones and covered in sand and hessian to slowly cook.
This is a great group cooking method and we had many a fine meal out of the Hangi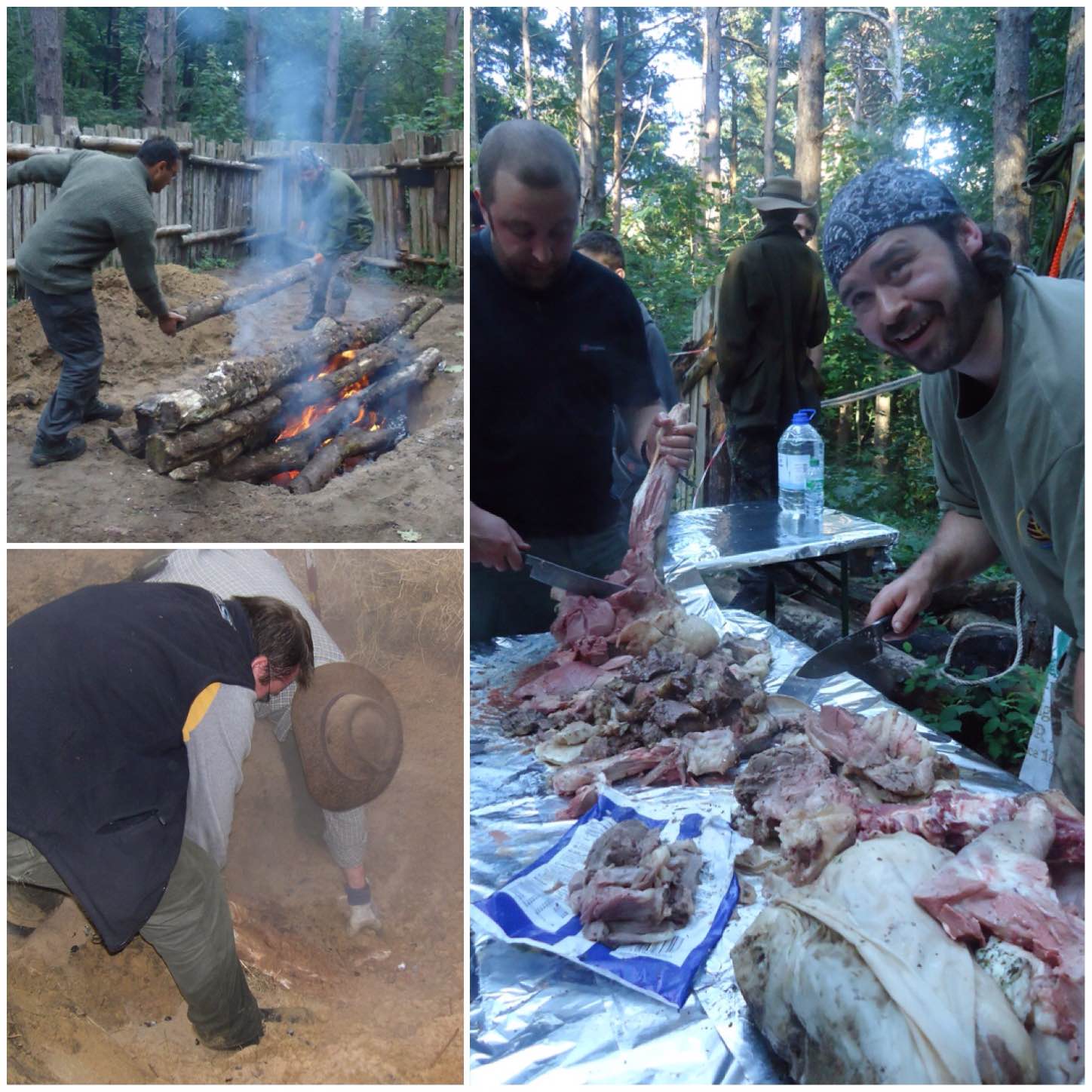 The Hangi has not been run for a few years as it has been superceded by Ponnassing. We try to buy in some salmon or other similar large fish and cook them as you see below over an open fire.
In the picture below at the top right you can see some Dutch Ovens that Neil was using to cook some food. Neil creates such an intense fire that the pots with regular turning can be used as cooking vessels without being on the actual embers at all.
The Ponnassing did not happen this year because of difficulties in getting fish however I hope it will be back on the menu next year. All the fish when it is cooked is added to the group meal.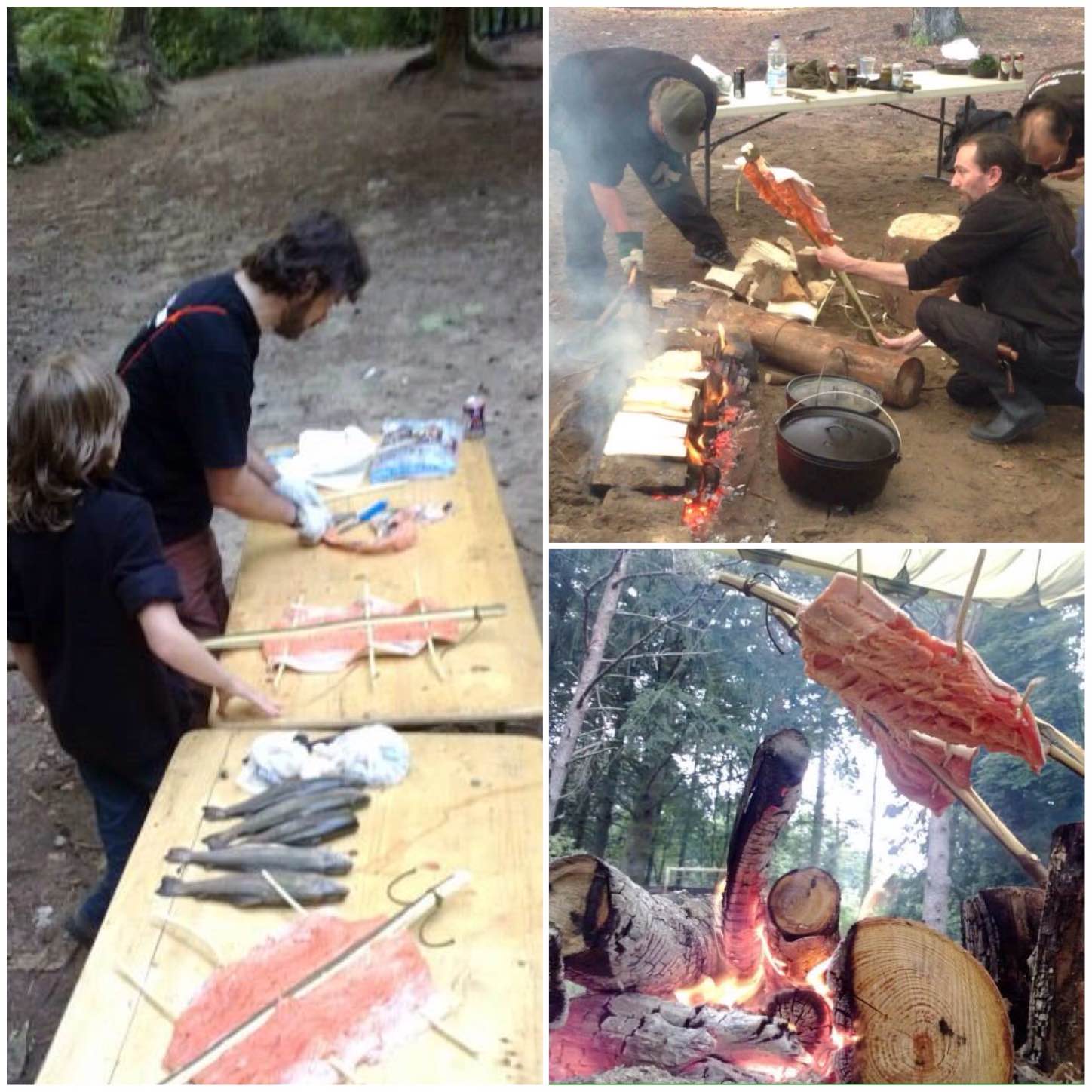 About five years ago we introduced to the group meal some Dutch Oven food. Many of the members of the Moot cook a meal in a Dutch Oven (or similar type of pot) and bring it along to the group meal. Each dish is clearly marked with its ingredients so we do not get any allergy issues.
The queue for this meal is massive with everyone looking to get a taste of something new. I am always amazed at what people can produce over an open fire – a real banquet is produced each year.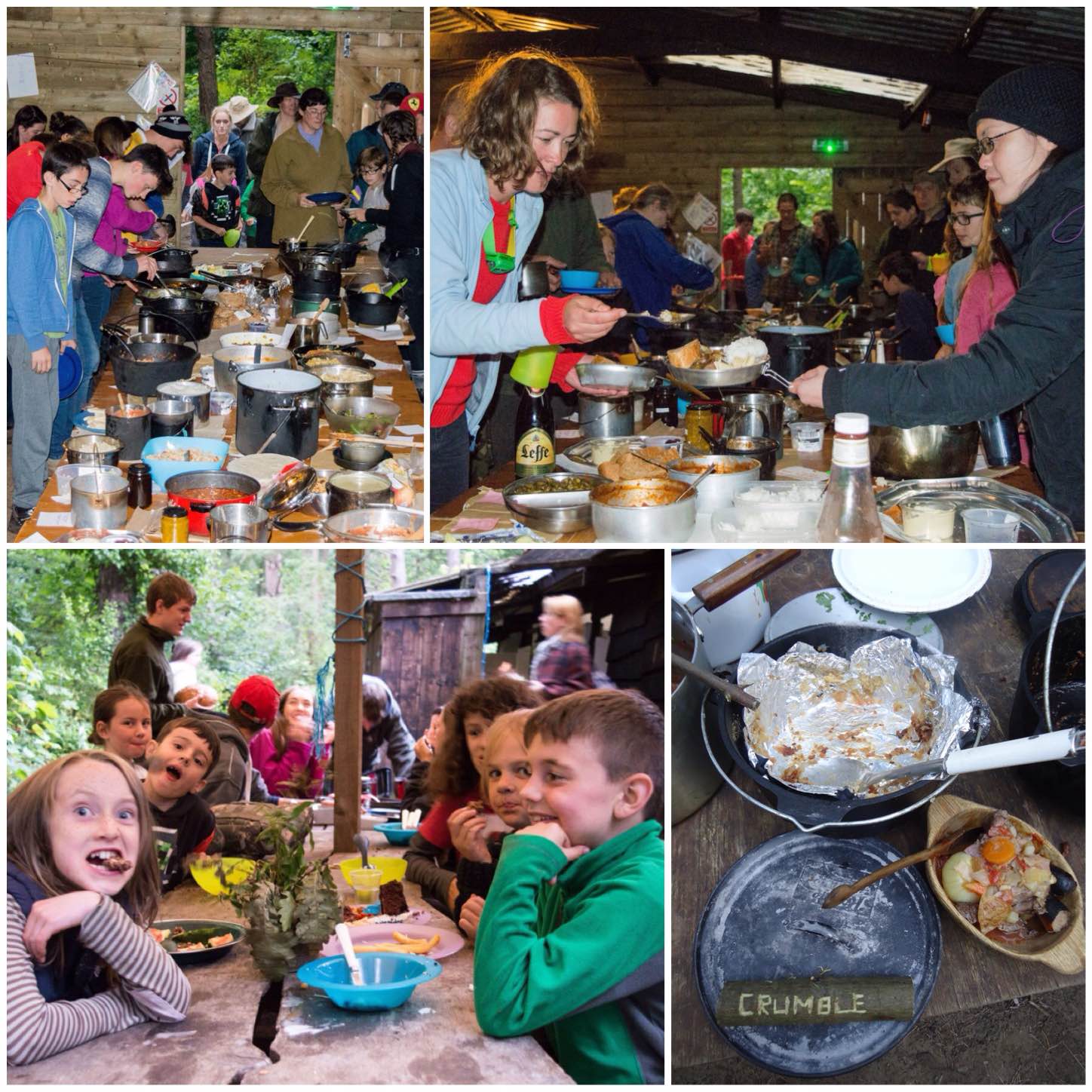 Baking is something I love to do around the campfire. At the Moot it happens all over the place.
The baking classes can be over subscribed so we usually have a number of instructors running classes. Everything is covered from simple twizzle stick bread, dampers, loaves, rolls and even cakes (cheers Ian Woodham for the cakes).
I love the look on someone's face when they open up a pot and look upon their first loaf baked over an open fire – about as magical as when you create your first flame from a bowdrill. My friend David Willis (Bushcraft with David Willis) ran the class you can see in the picture below and it was enjoyed immensely by everyone.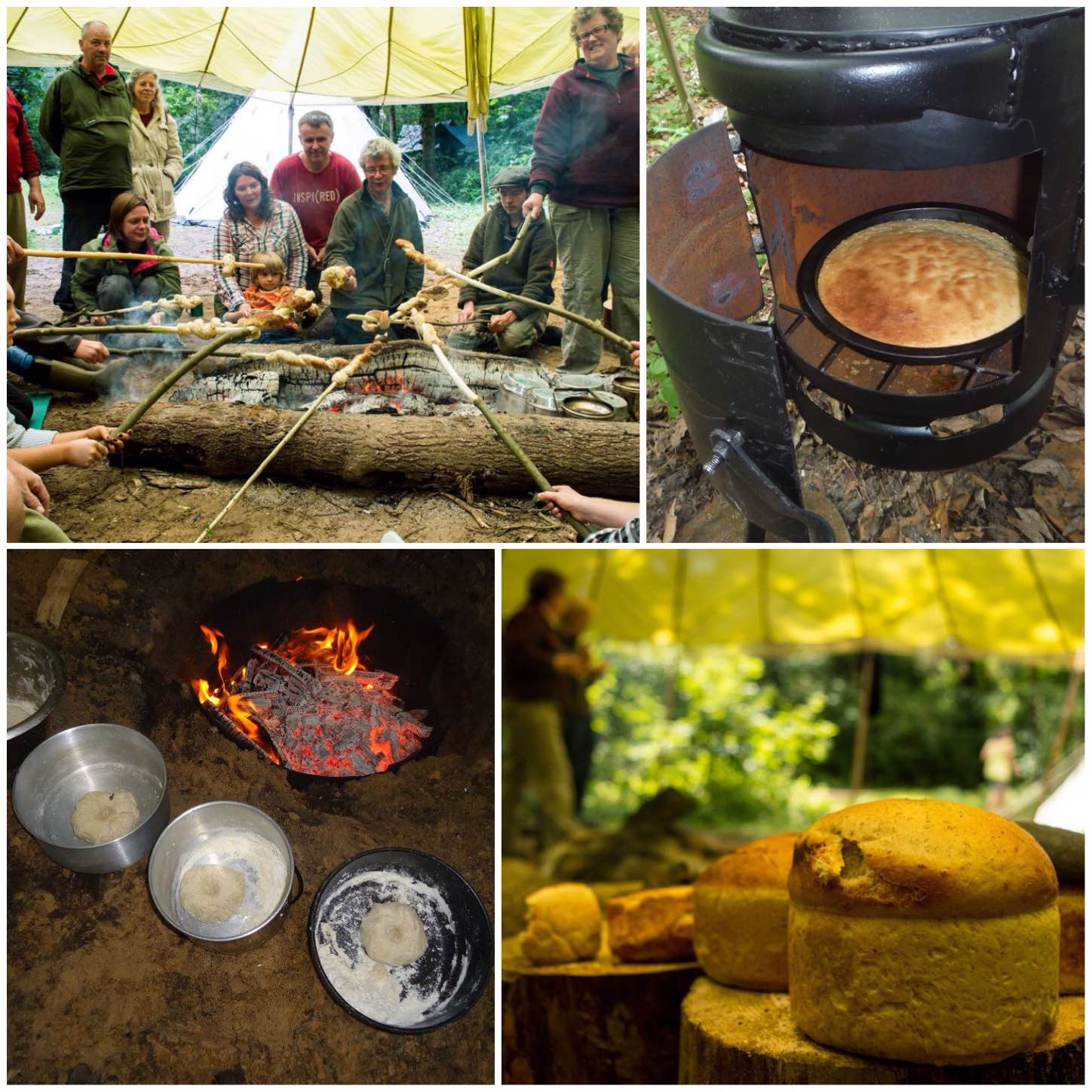 As I said I do not do much cooking at the Moot and that is because I am rather spoiled by certain friends. For example my friend Fraser Christian (Coastal Survival) is a top rate chef and loves to cook.
Fraser likes to forage on land and sea for his food and then to cook rather amazing meals. I have no wish to upset that routine so I am happy to help out in the gathering and cooking process with the ultimate aim of getting a fantastic meal.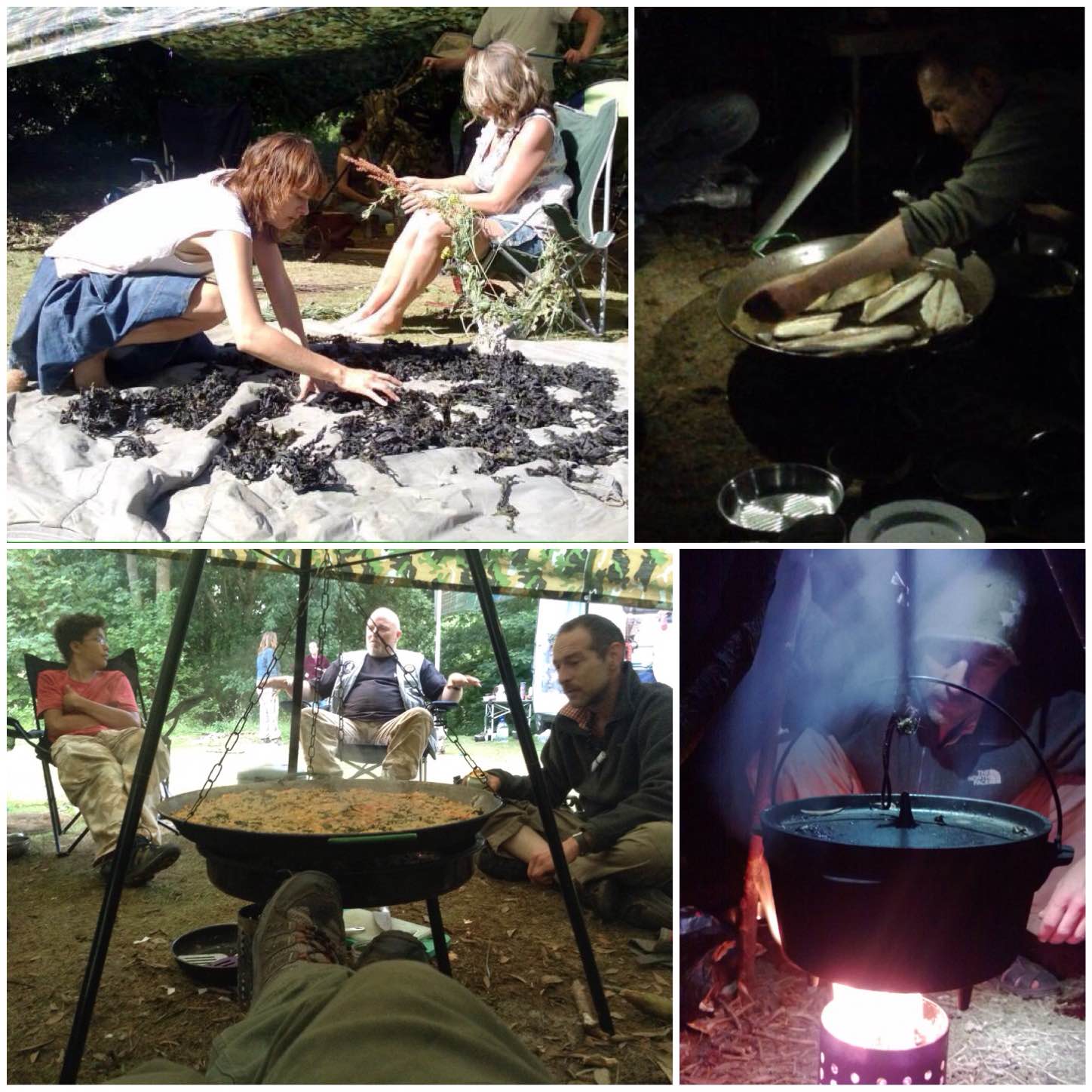 For many years at the Moot I would come along on my own and so would keep my own cooking fairly simple (whenever I could not cadge a meal off someone else). Over the last couple of years my family have started to come along so I have to start to think about cooking a bit more.
I am not bad at a good breakfast however thankfully my wife Alison is an excellent cook so I am not stretched too far 🙂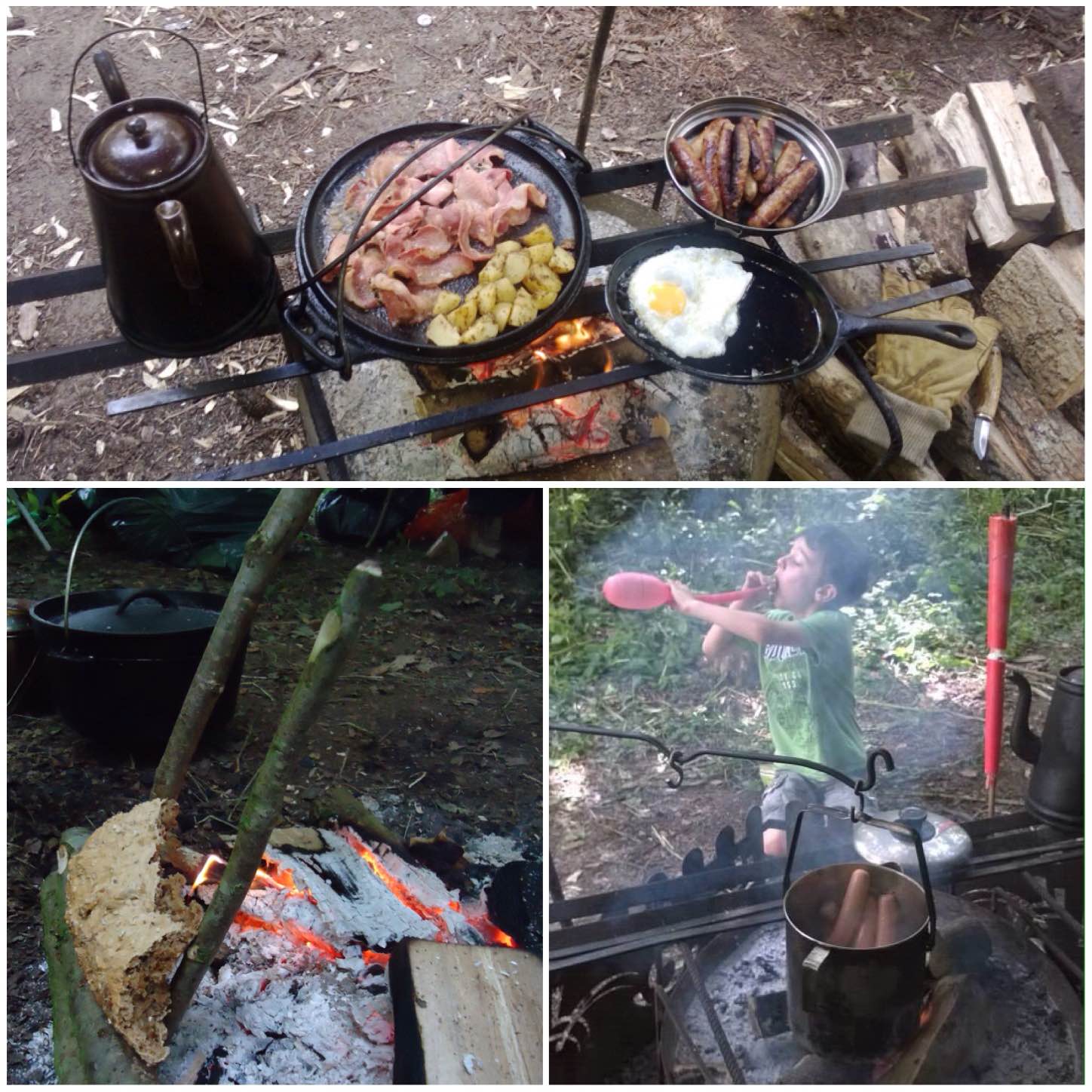 Looking at my pictures I came across these ones from my friend Mark Oriel who is a butcher by trade. One year he managed to spit roast a whole pig which went down a treat with everyone.
He also ran an excellent class building a smocker in the woods so as to preserve different meats.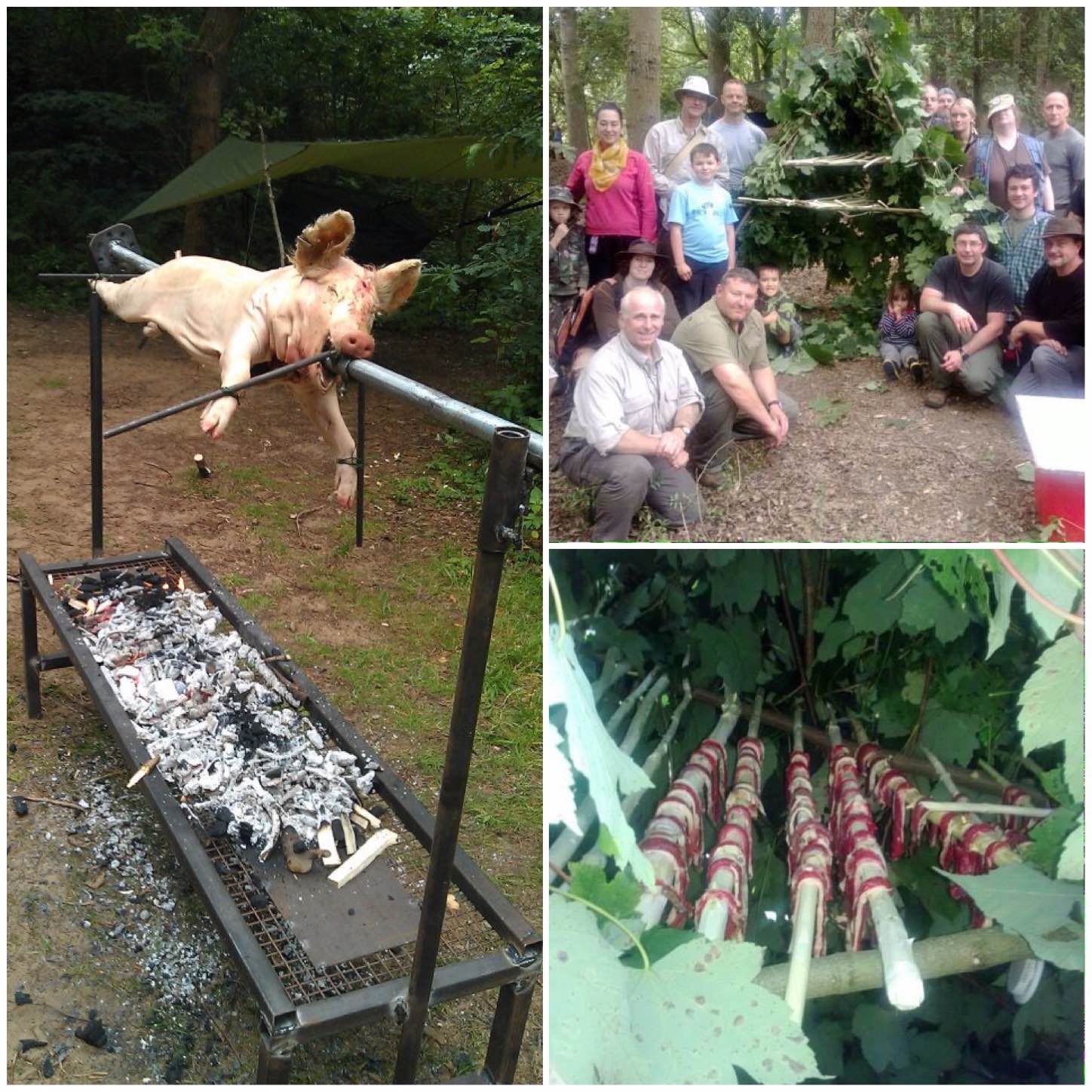 One thing I have learned coming to the Moot is that Bushcrafters do not generally tend to go hungry – quite the opposite could be said in truth.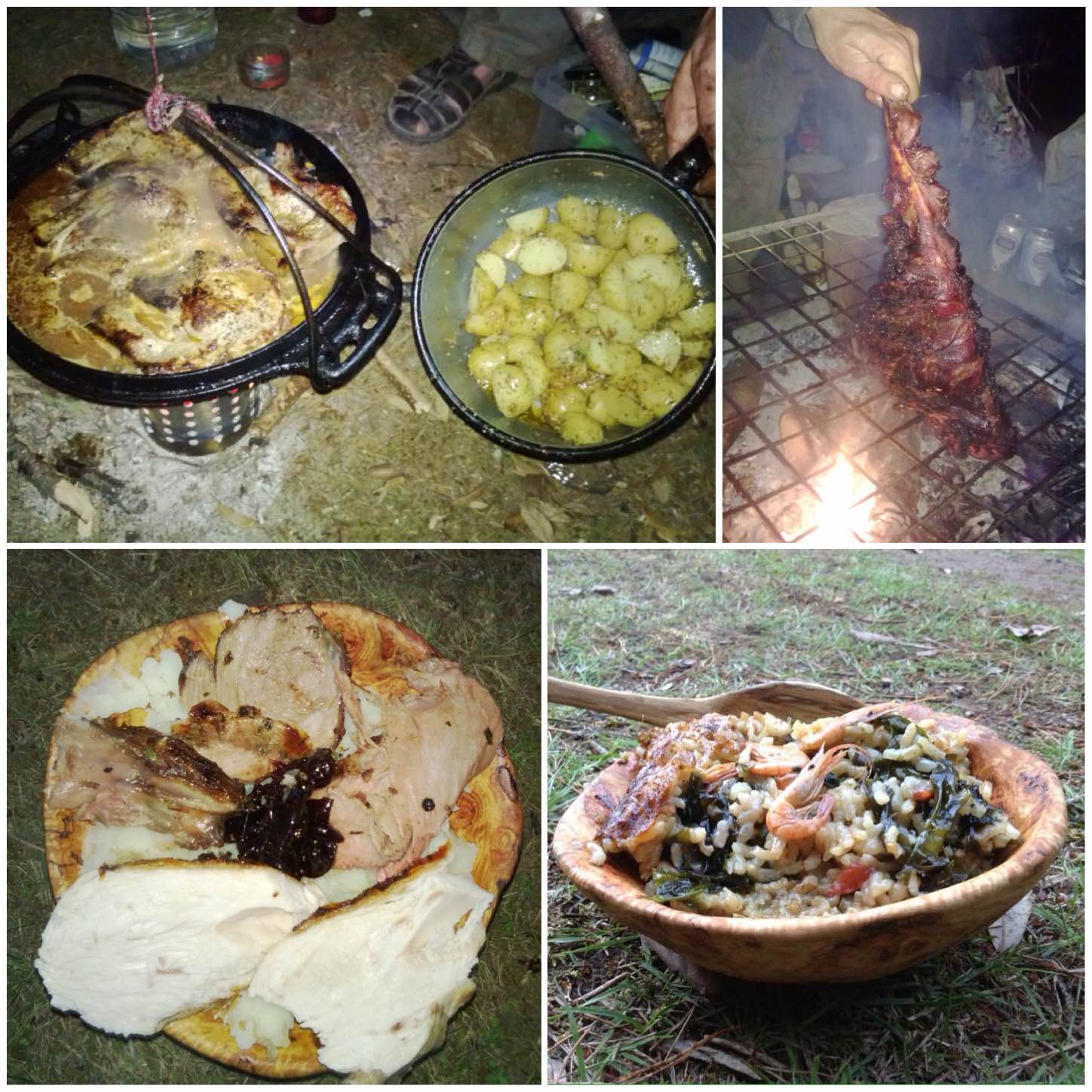 To make all this happen you need people with different skills. We come together and share these skills to make some truly memorable meals in what many others may say is an inhospitable environment – we just call it home.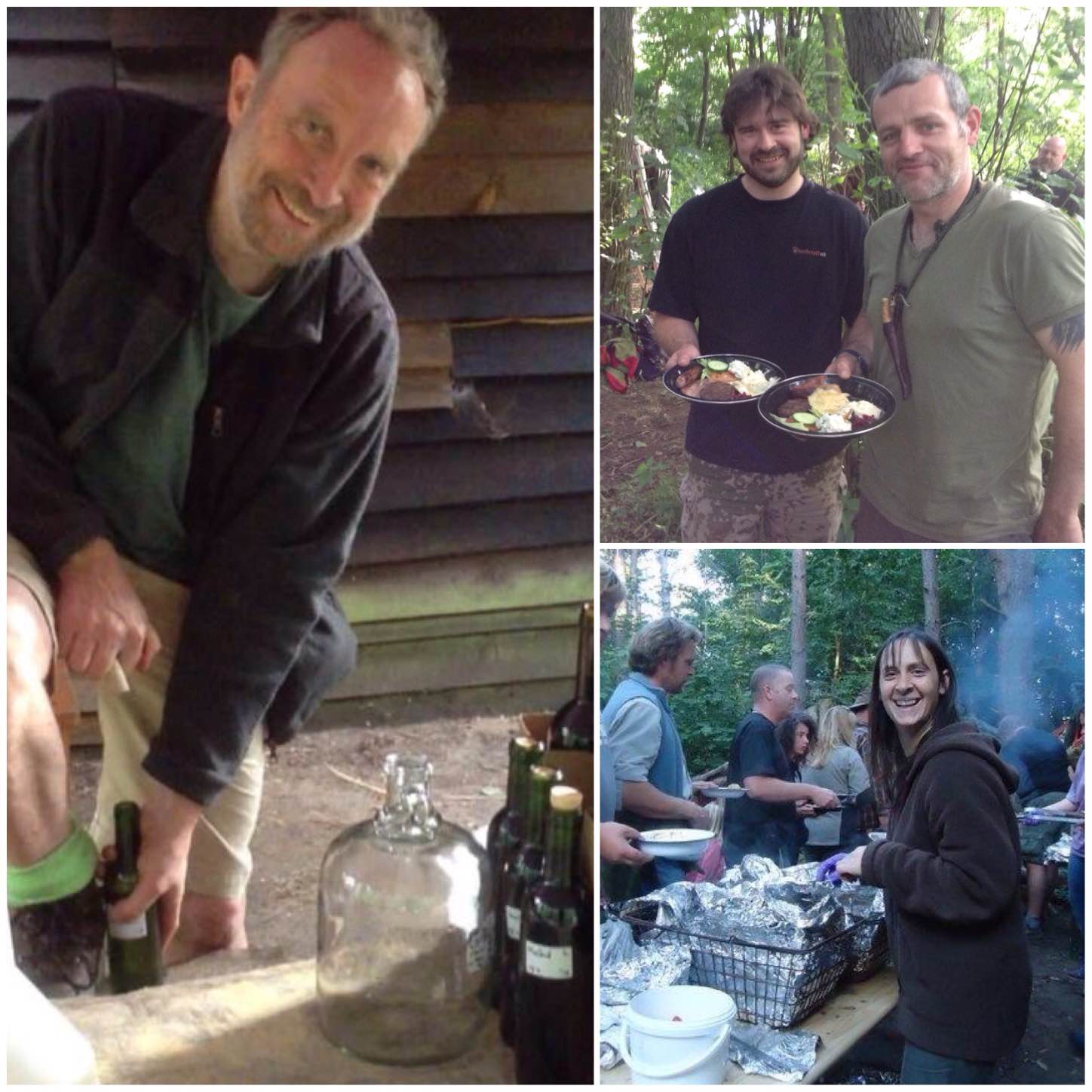 There are many other classes going on in terms of cooking and foraging so the best way to see what is on offer is to come along to the Moot. Next year it will be at the beginning of August on the coast at Merthyr Mawr in South Wales.
Cheers
George