The final part of our Welsh Weekend with the Grumpy Chums (Rick, Gordon, myself and Stu – the order of grumpiness) last year brought us down to the Brecon Beacons and Pen y Fan. The drive from Cadair Idris was a long one due to an accident ahead of us but we got there eventually and soon had a fire on.
We stayed at the Pentwyn Farm campsite (I can thoroughly recommend it) which is 7 miles from Brecon Town and within easy reach of Pen y Fan.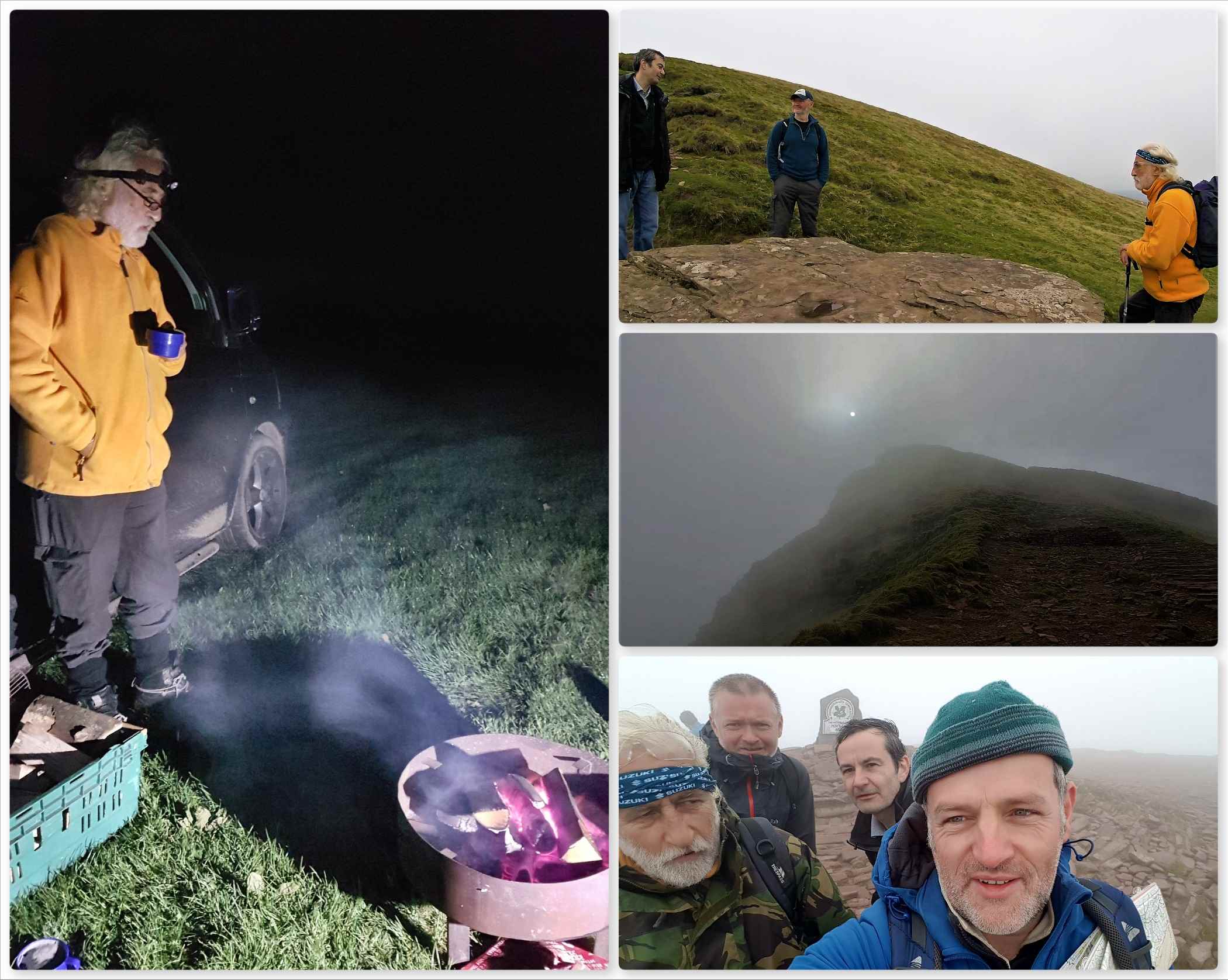 We headed off from the car park at Cwm Gwdi (old soldiers may remember this as an army camp) and headed SSE up the track on Cefn Cwm Llwch ridge.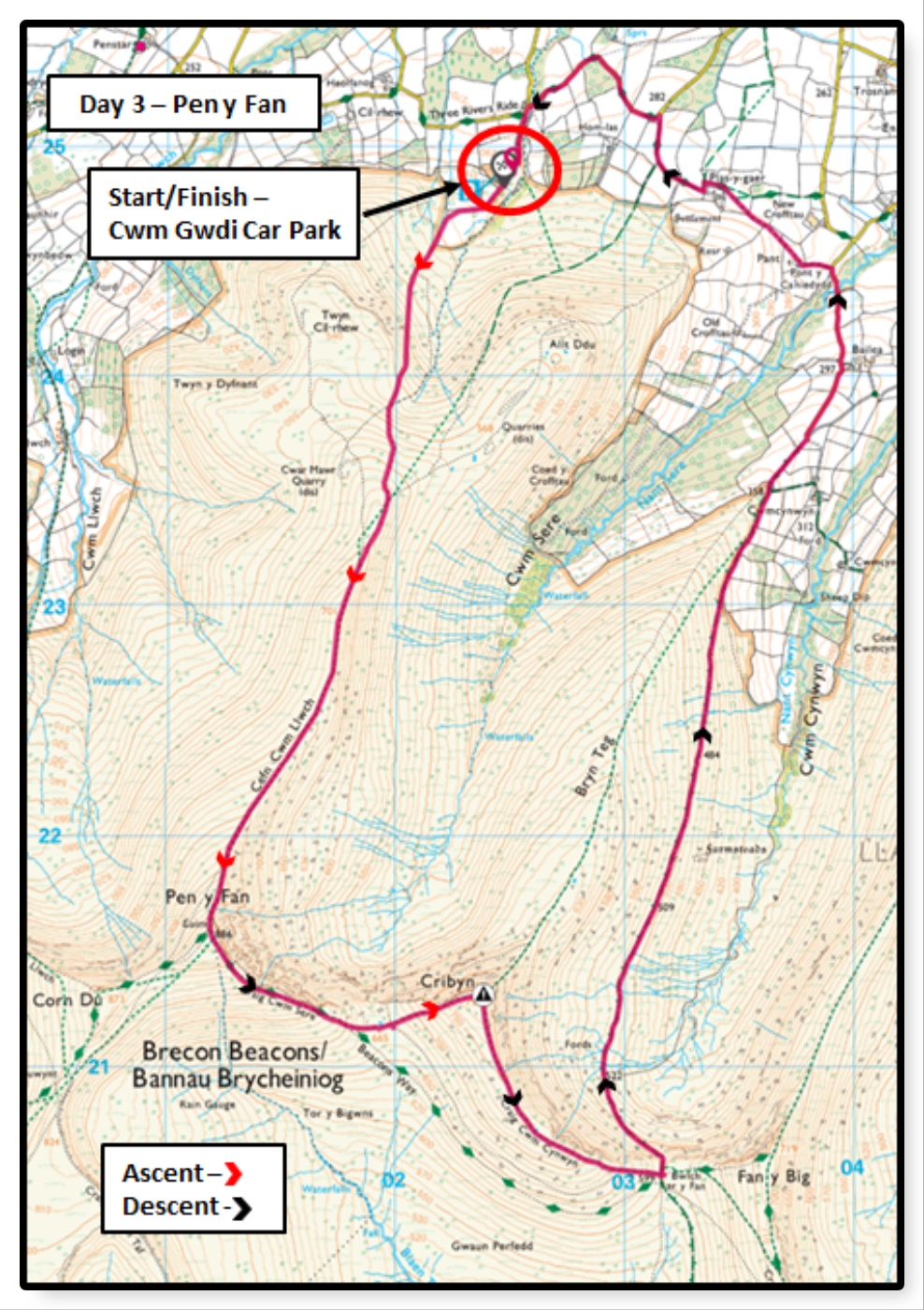 We had very little in terms of wind so the walk was pleasant enough as we ascended the ridge however we were soon in the clouds with very little visibility (I like this route as it is usually quiet).
A young couple did overtake us on the way up (sprightly things) but after about half an hour they appeared out of the clouds heading down hill. We congratulated them on getting to the summit so fast but they quickly admitted that they had not gone too far ahead and had kept us in sight as we ascended. They lost us at one stage (probably when we stopped for a break) and so got a bit concerned for themselves in the thick clouds – turns out they had no map and compass. Thankfully they carried on back down the ridge.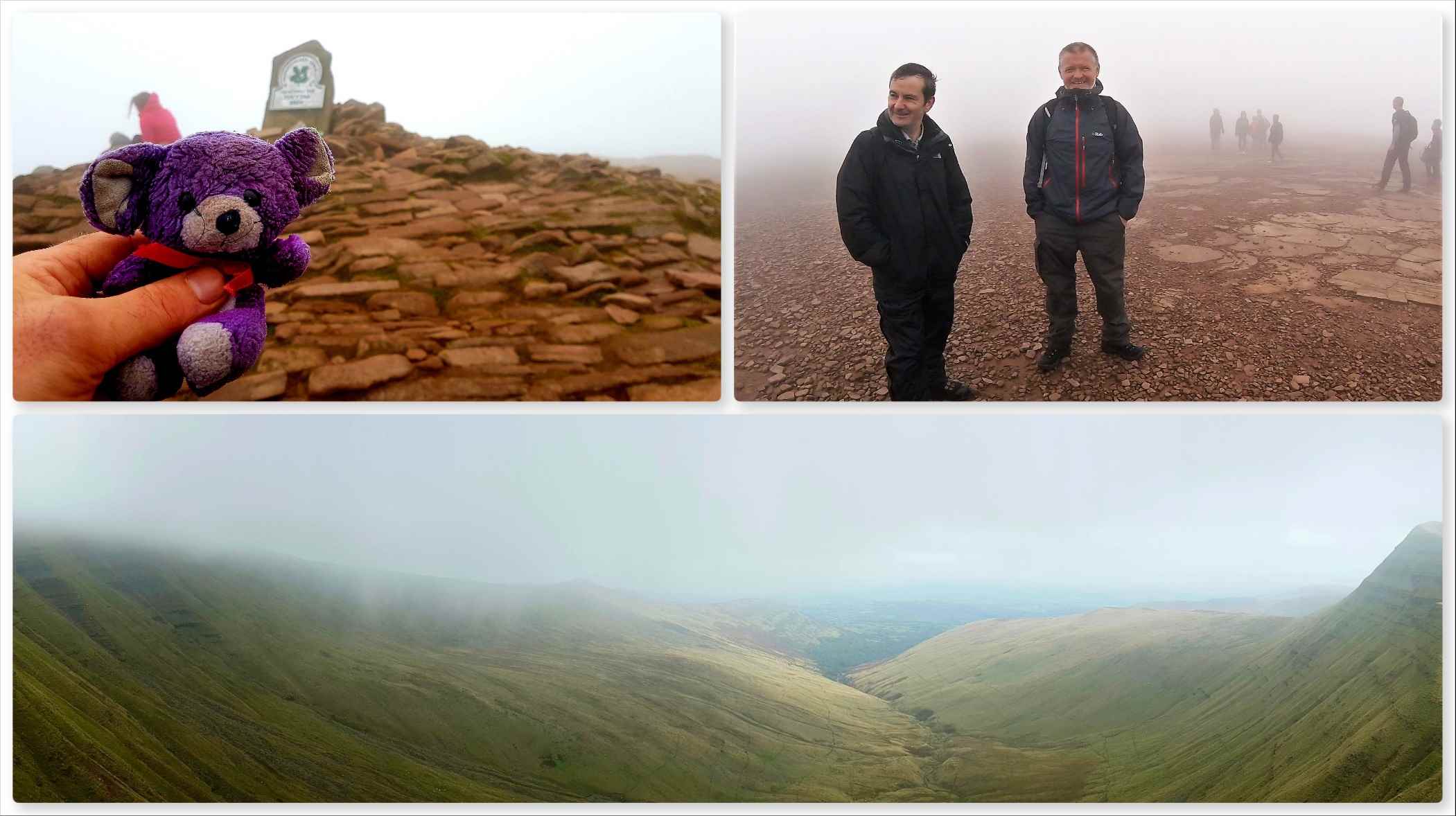 We soon topped out and joined the masses coming up from the Storey Arms,  had a dram and got a quick piccie of Flossie Ann before heading off down to Cribben. Along the way I did 'splash about' a bit – Rick had a few choice words for me 🙂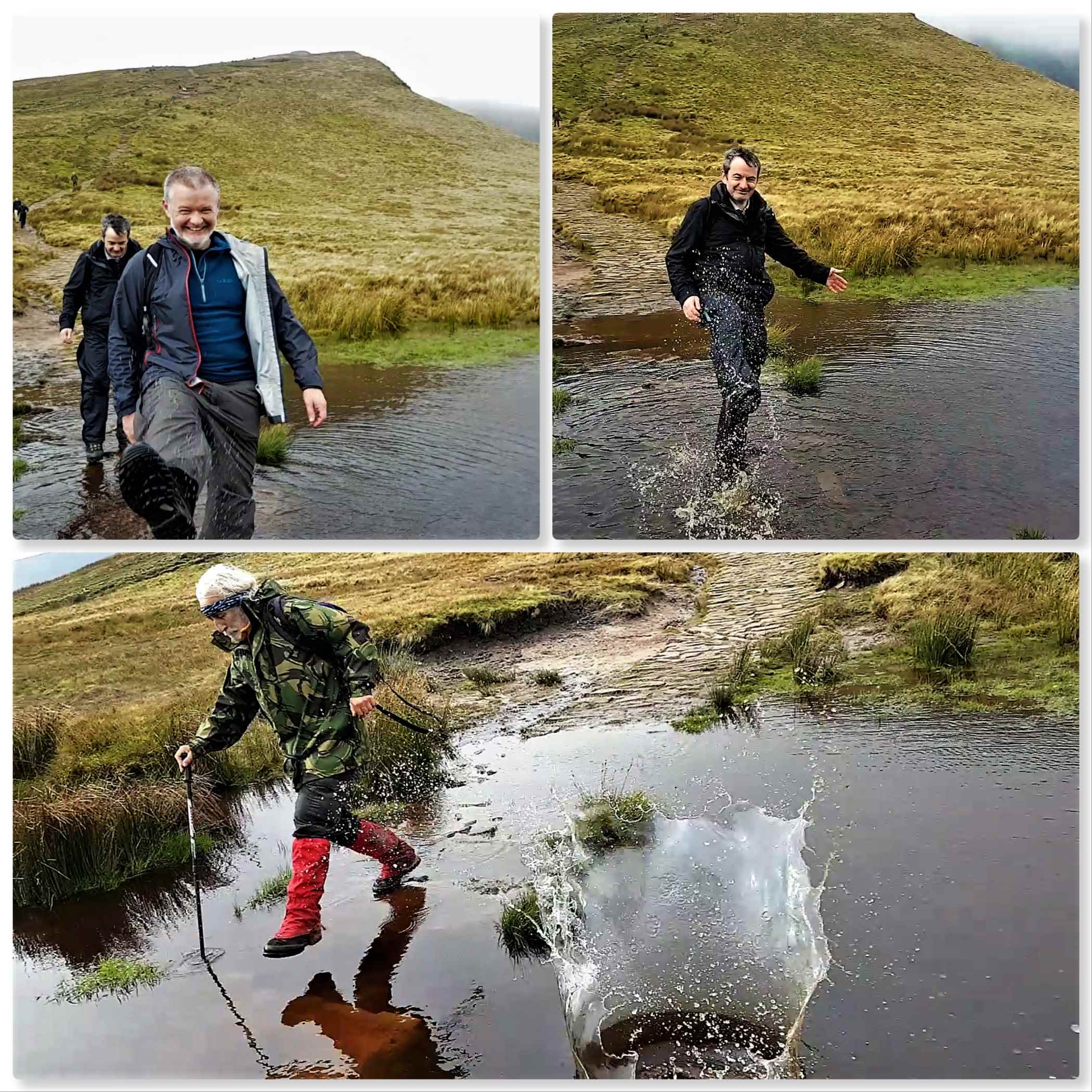 Once over Cribben (finally got a view) we were off down the Old Military Road back to Cwm Gwdi car park. Everyone had achy limbs by this stage and if you know this old road then you will know how we felt 🙂
As it was our last night we had a night out in Brecon Town where we downed one or two sherberts to toast our 3 days on the hills.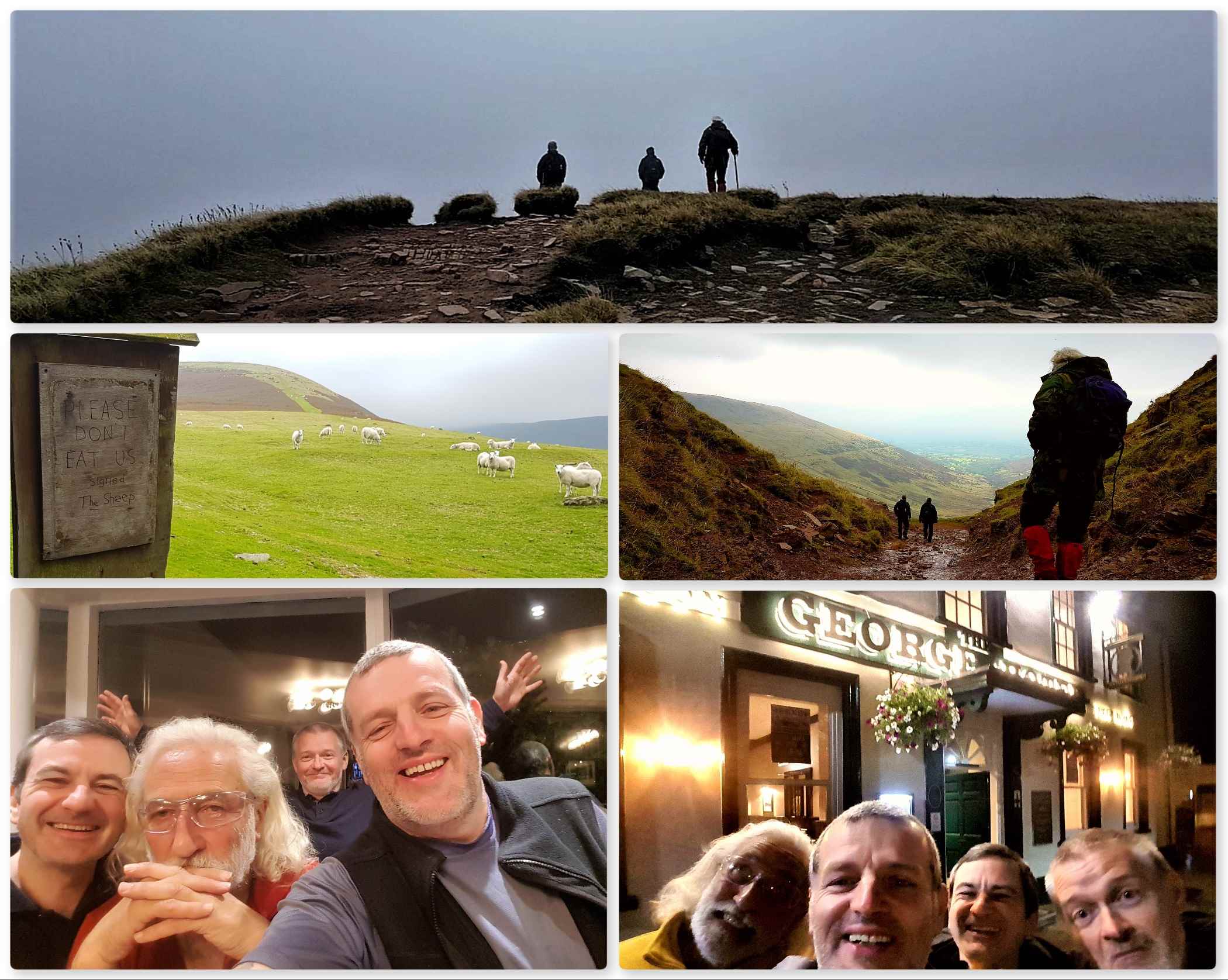 I had a great weekend with the Grumpy Chums heading over Snowdon, Cadair Idris and Pen y Fan and would thoroughly recommend this gentler 3 Peaks Challenge.
Snowdon with the Grumpy Chums – A Welsh Weekend – Part 1
Cadair Idris with the Grumpy Chums – A Welsh Weekend – Part 2 
Cheers
George