Family camps tend to be busy affairs for me – setting up the tipi, sorting the fire etc, etc.
Not for this weekend last April- my wife Alison booked a Pod at the Durdle Door Holiday Park for us all.  It was a weekend of exploring, swimming and eating – without touching a tent 🙂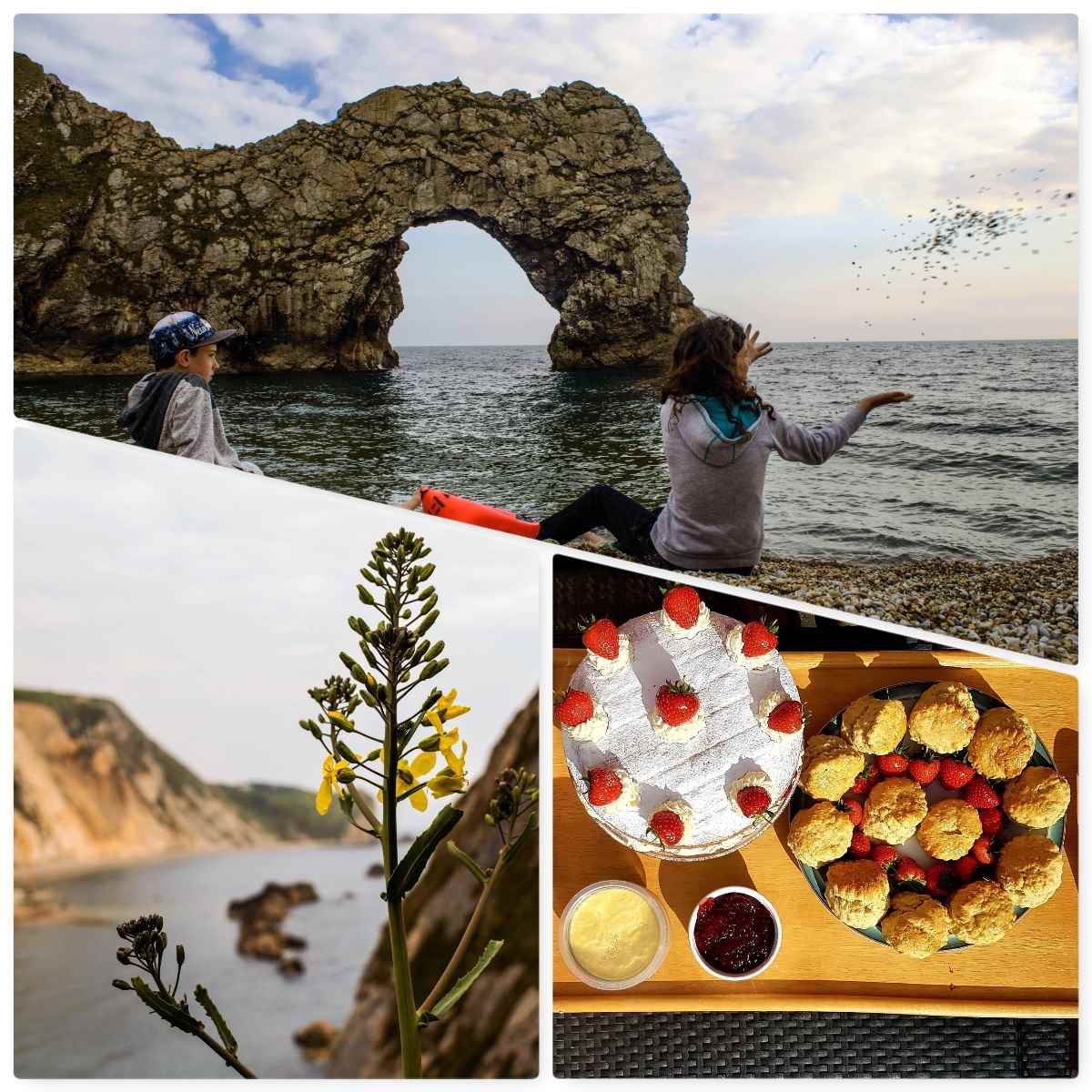 The Pods were tall enough to stand in, had two single beds, one double, plenty of storage and electricity. We even had space to put up some hammocks (not an April shower in sight) and treated Finlay and Catherine for lunch at 'Finley's' cafe in Lulworth Cove.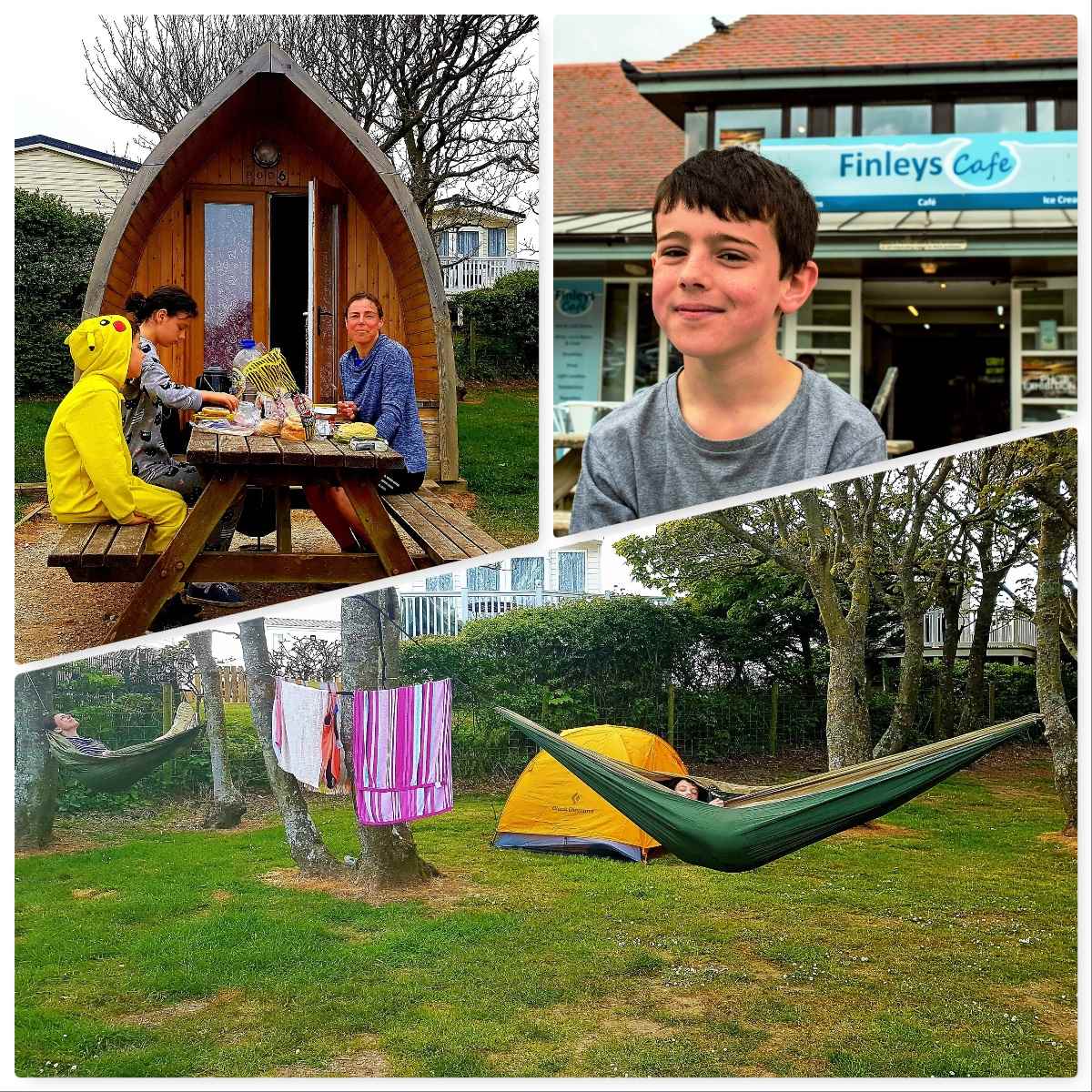 So after a quick emptying of the car into the Pod it was off around Scratchy Bottom (I love that name) to get the views from Swyre Head down onto Durdle Door. Along the way the Hawthorn trees were all bent into that classic 'South Westerly' pose.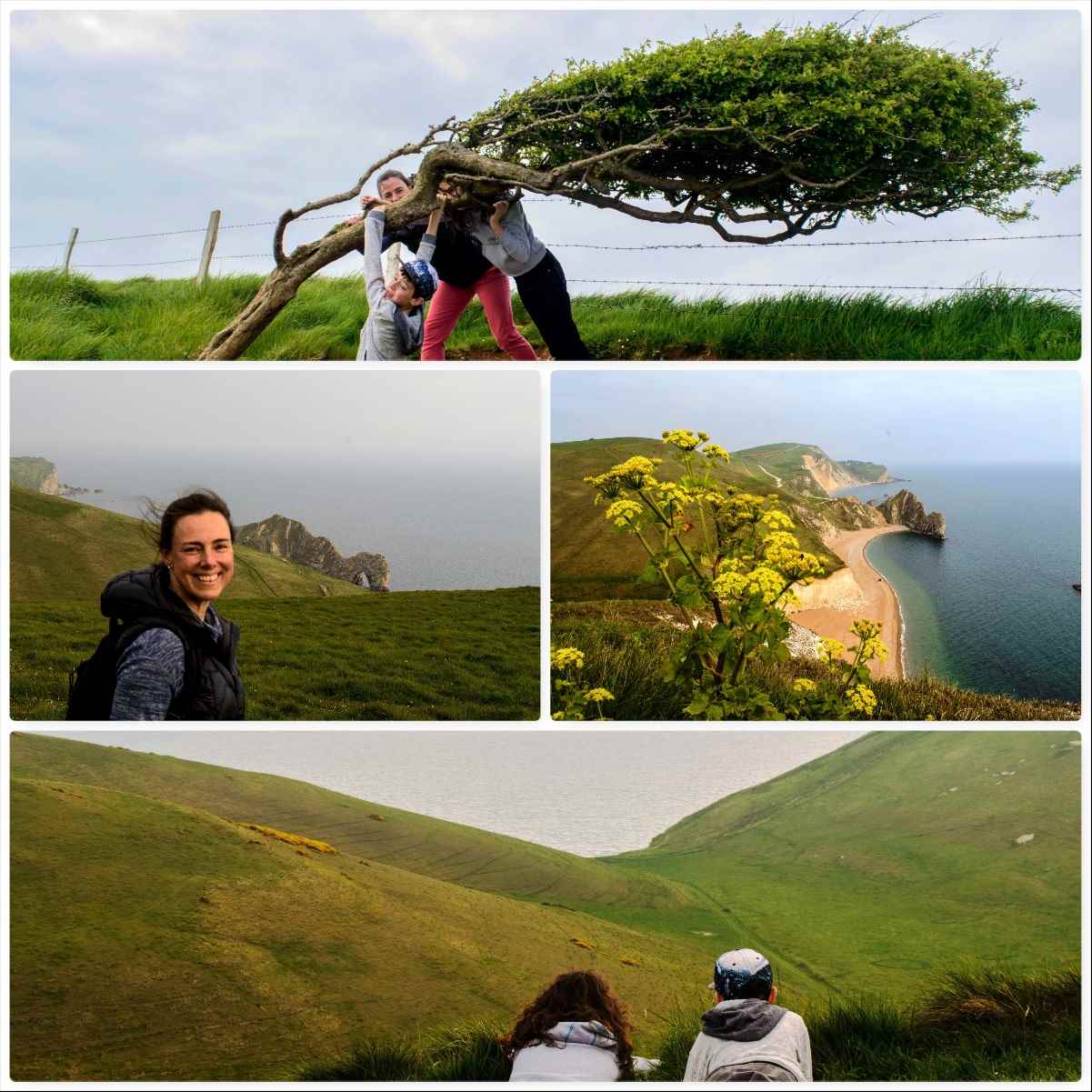 Just to the East of Swyre Head is a crevice with a rope down it. This is an escape route off the beach if you get caught out by the tide. We though decided to take it down to the beach so we could approach Durdle Door from a less busy route.
We spent a little while relaxing by Durdle Door before deciding to pop over the rocks to Man O' War Cove.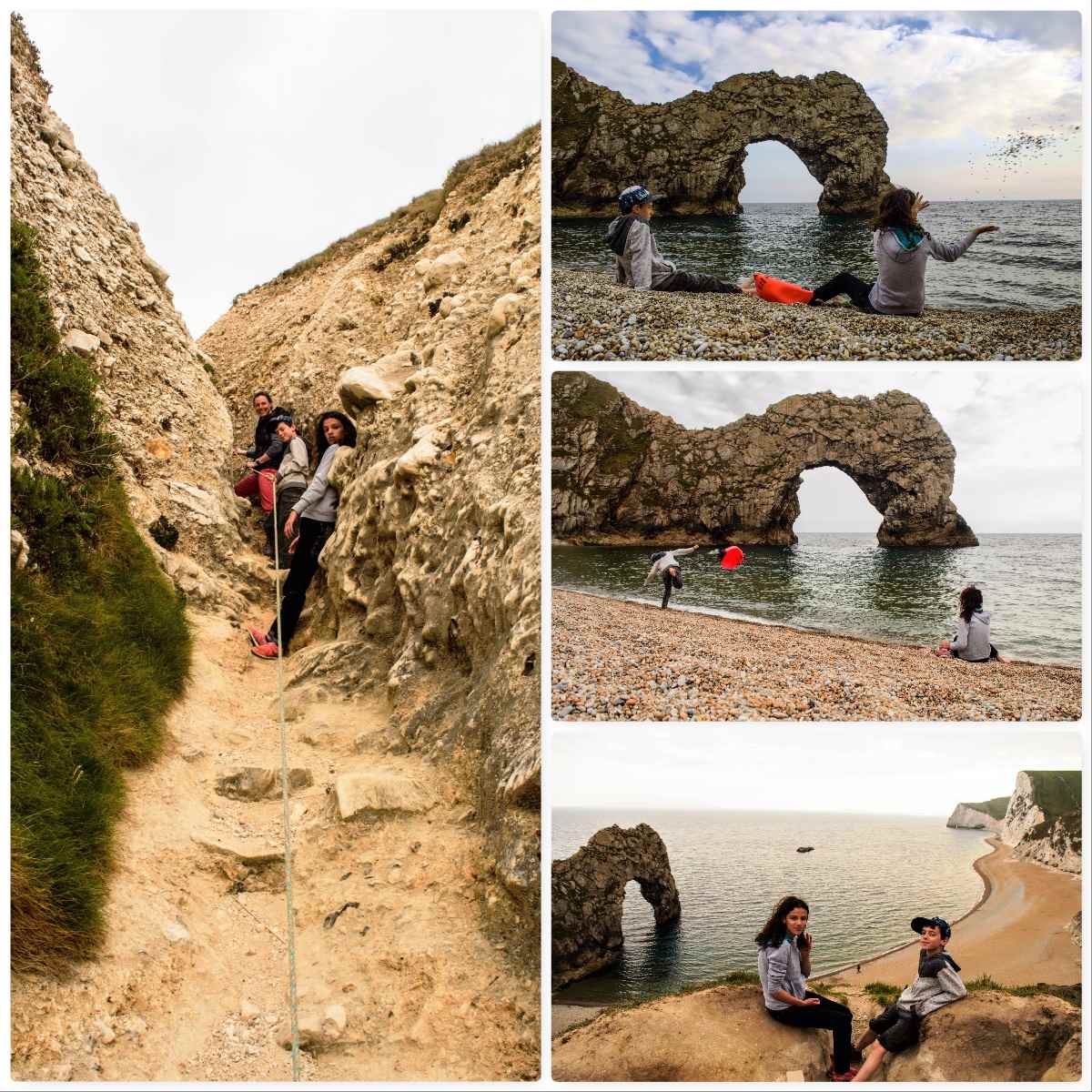 We told the kids to just paddle as it was evening time but before long they were both saturated and having a ball. For myself I was up and around the cliffs trying to get a good shot of the Cove and some of the local plants.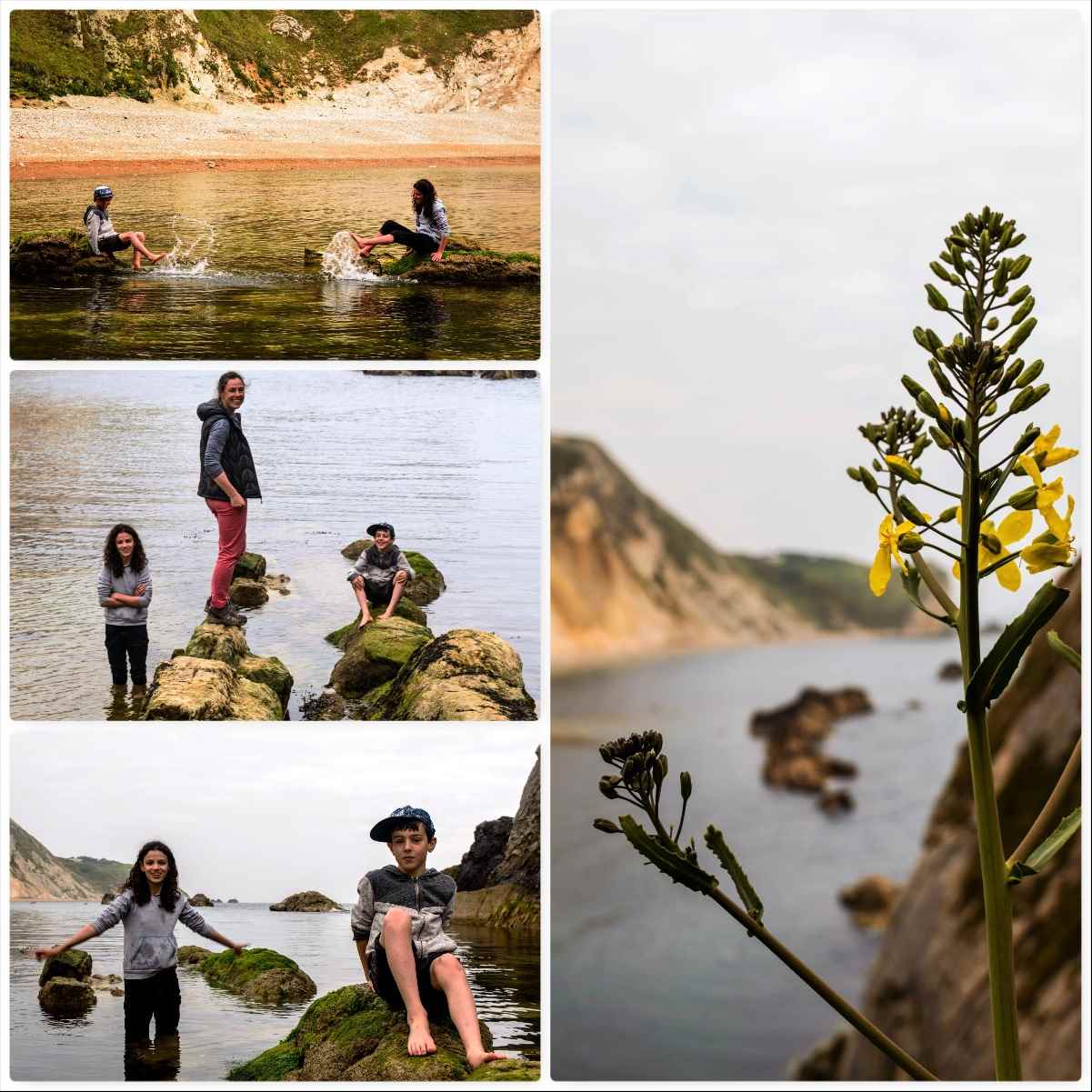 Saturday
Next morning it was time to head back down to the beach at Durdle Door. It is a pretty steep decent to the beach and Flip Flops are definitely not recommended for the descent.
We were lucky to arrive at a time as a couple were paddling in and around Durdle Door – kinda lent well to photography. The kids though were soon back in the water in their wetsuits having a splash about – not many folk ventured into the chilly April waters so I was quite proud to see them having a go.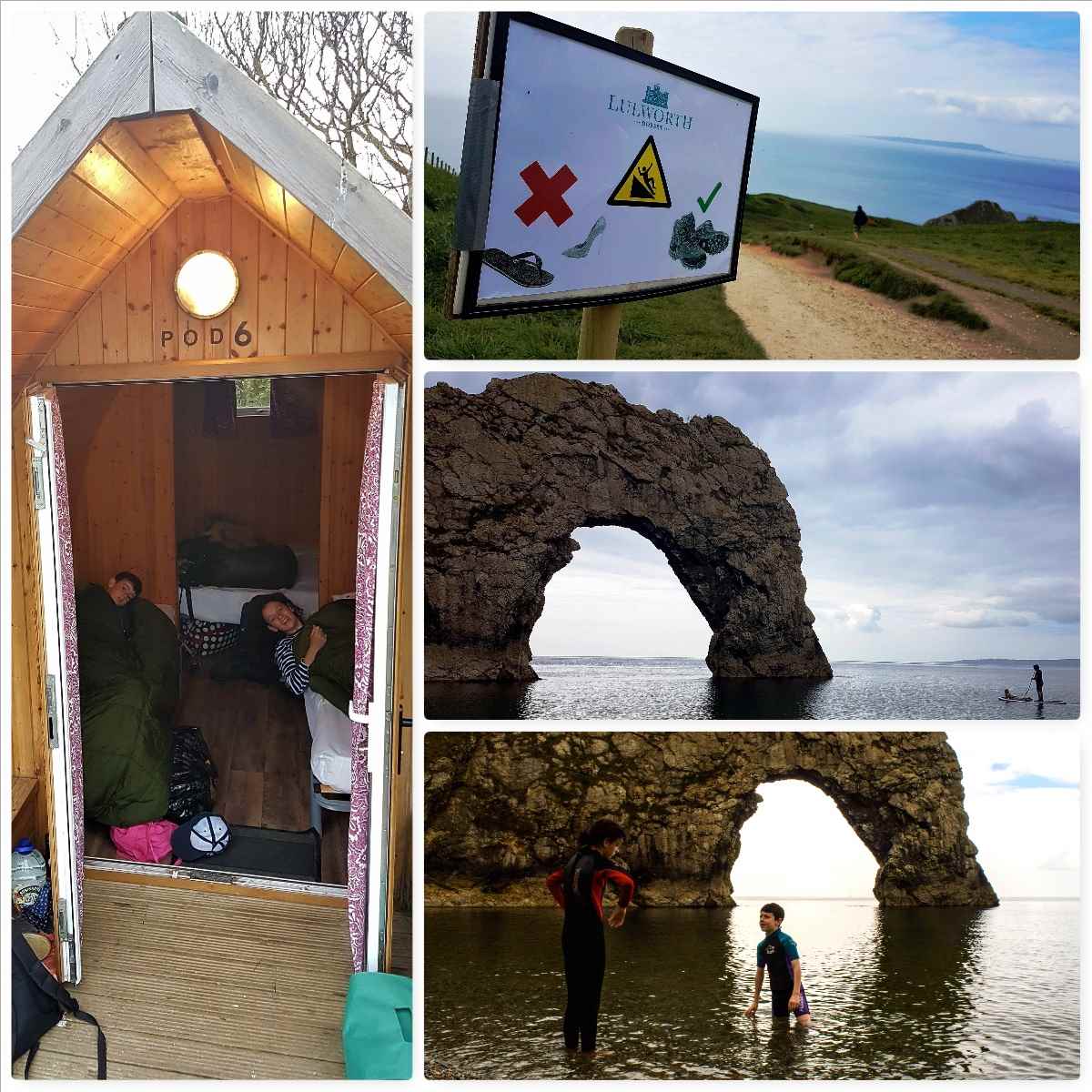 Then it was back over to Man O'War Cove for a family dip – boy that water was cold.
We ventured East a bit more digging ourselves into the beach and finding bits of driftwood that looked quite artistic.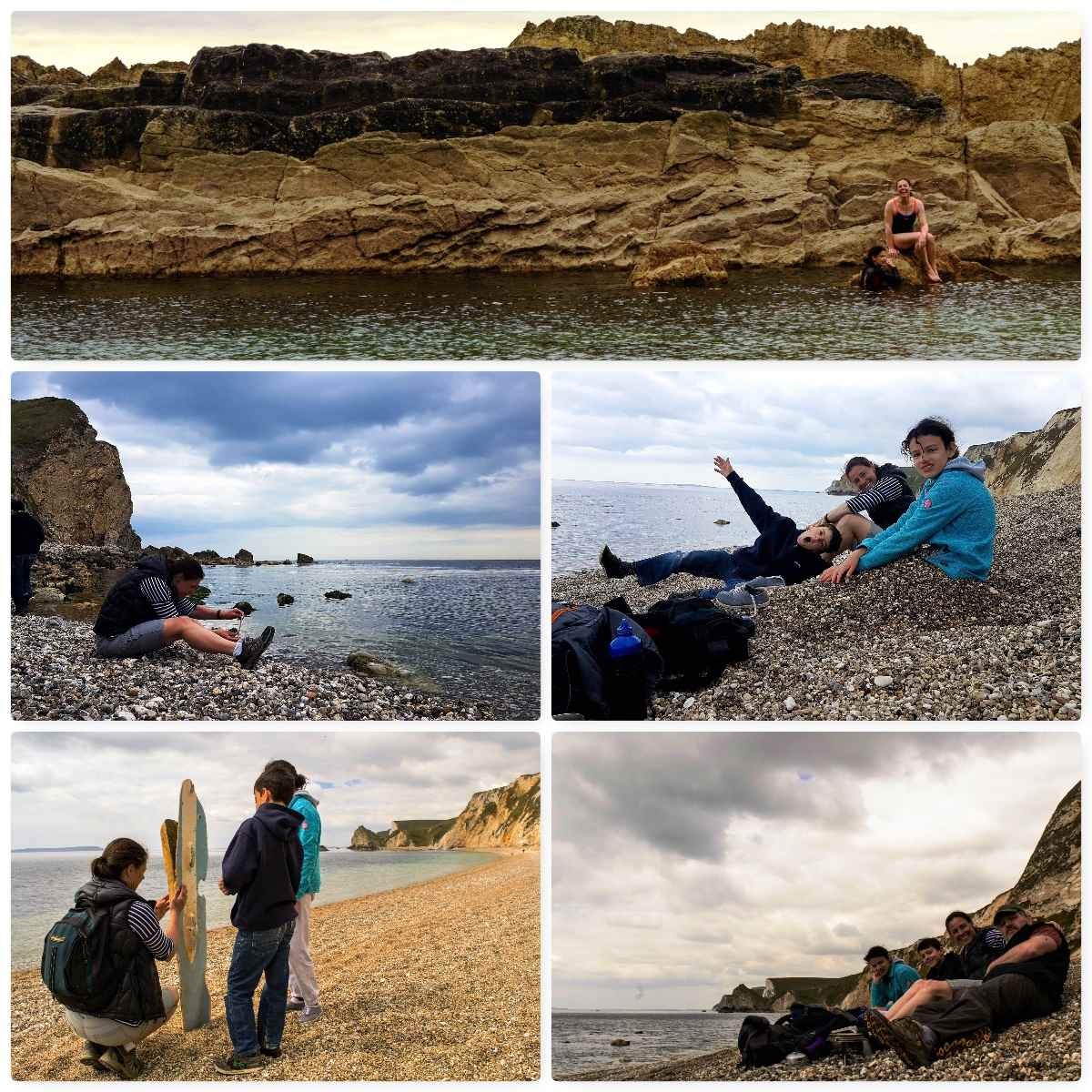 Along the way I put this short video together.
Before venturing into Lulworth Cove we stopped off at Stair Hole. This mini cove is a delight to photograph with its caves, blow hole and folded limestone strata.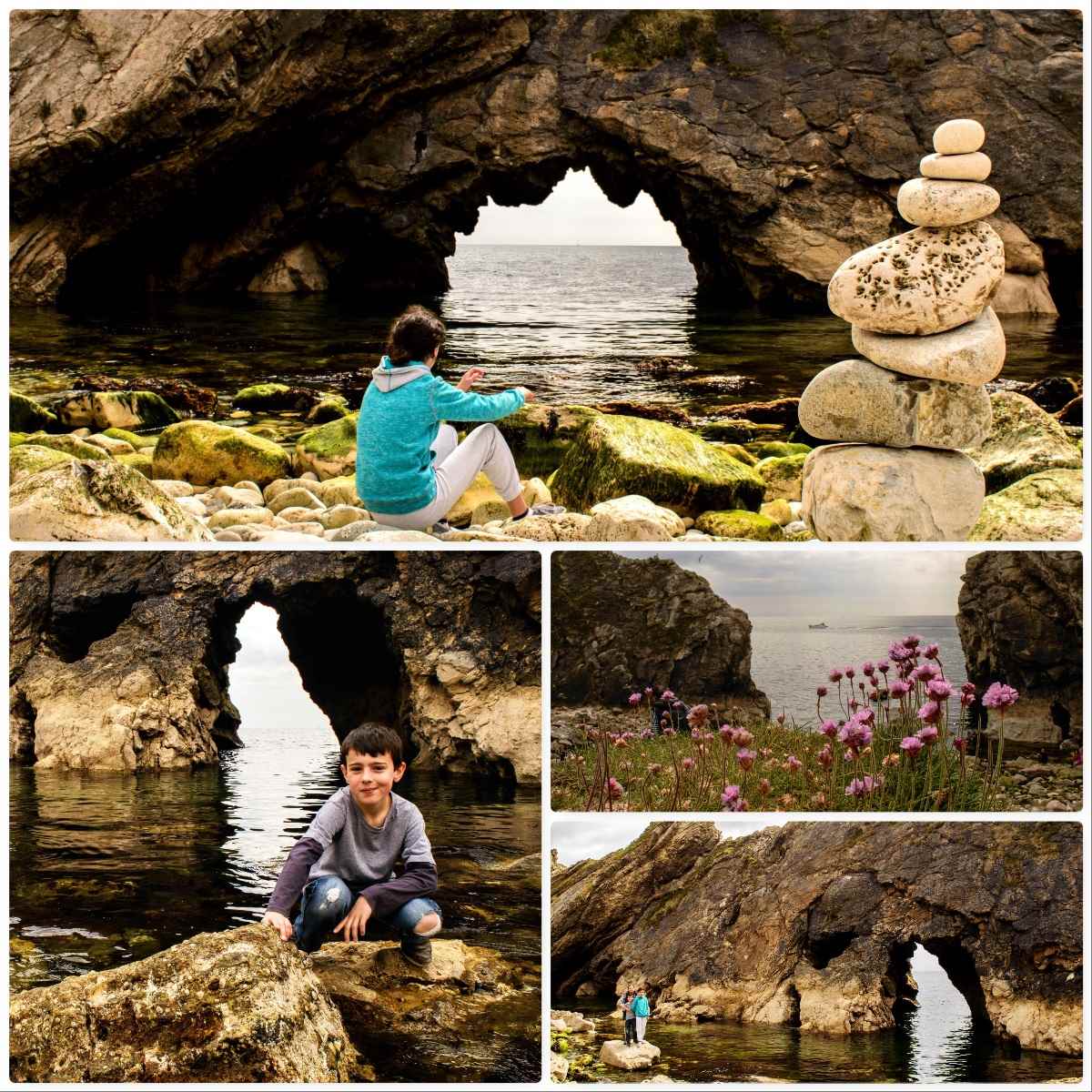 After a spot of lunch we spent some time at Lulworth Cove. If you have never been here before I do advise a trip as it is quite beautiful (even on a busy day).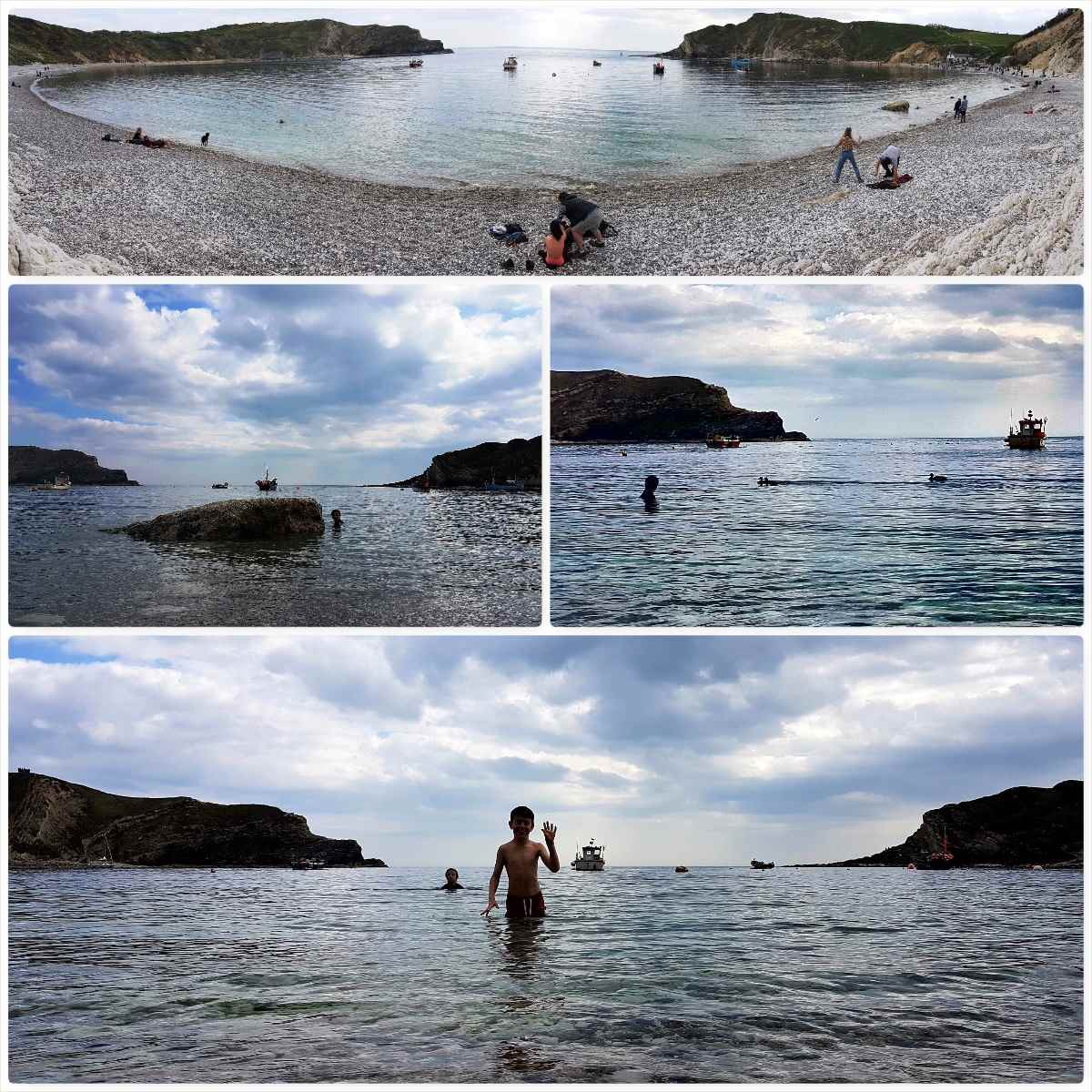 At the end of the day we walked up onto Hambury Tout hill. There is a large Bronze Age Barrow on its summit that still stands proud. We hung around for long enough to catch a quite lovely sunset to end the day.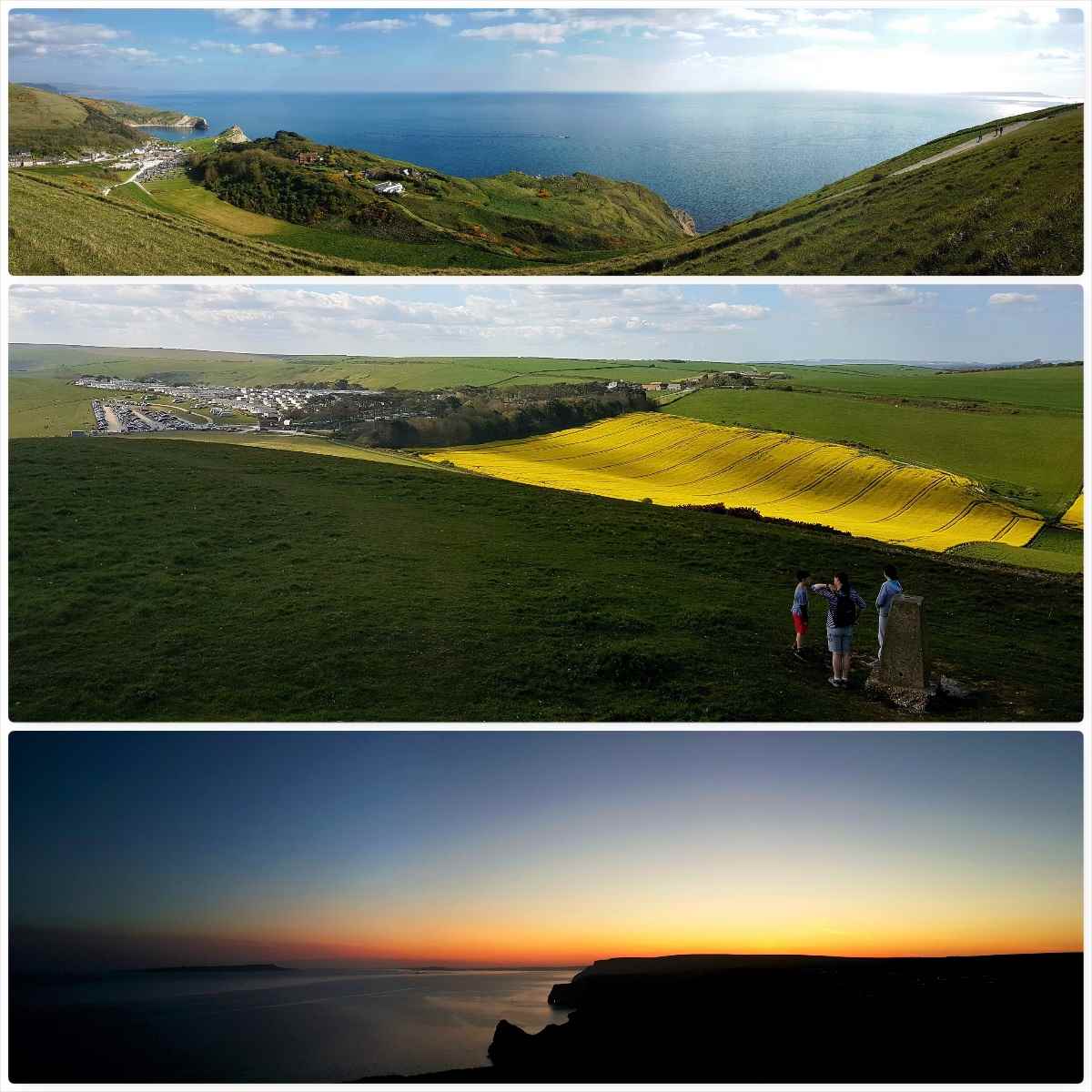 Sunday
After a quick pack up (love this Glamping business) we headed west for an hour to Chesil Beach. Here we met up with some friends of mine.
Firstly we met my friend Fraser from Coastal Survival as he was running a course on the beach. We left him be teaching and went off for a paddle and also met up with an old friend of mine – Dougie Gray (from my days in 15 Para) and his lovely wife Carol. It was great to catch up with Dougie and see all the pictures he had brought along from all these years ago .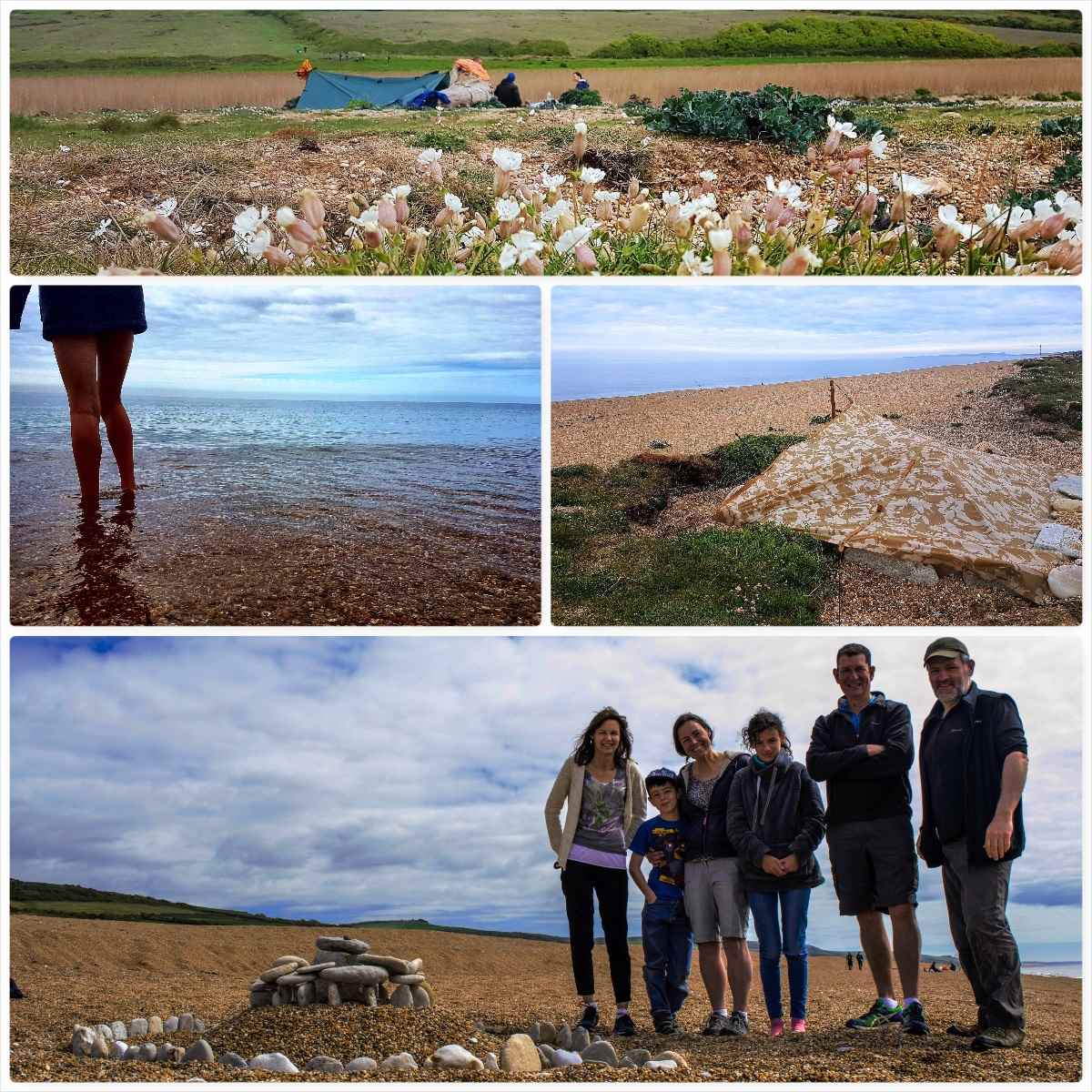 While we were on the beach we decided to start a couple of Beach Henge's. This was something we came across on Chesil beach a number of years ago and decided it was time to build our own.
They take ages to complete as you need to scour for the right stones but well worth the effort for the cracking pictures in the end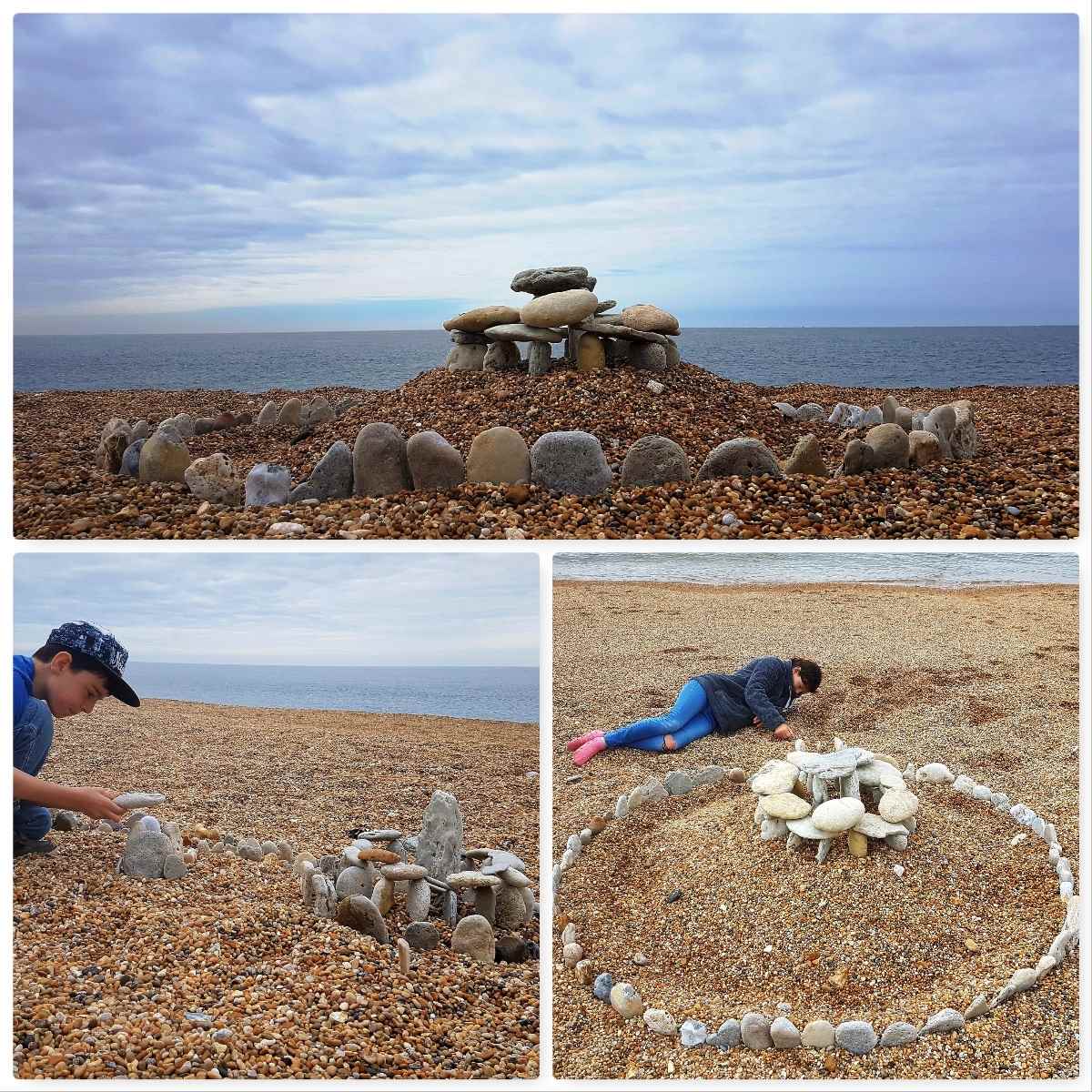 After saying goodbye to Dougie, Carol and Fraser we headed East to see our friends Brian and Jane in Southampton. As a treat for us their daughter Annabelle had made the most wonderful cake and scones for us to enjoy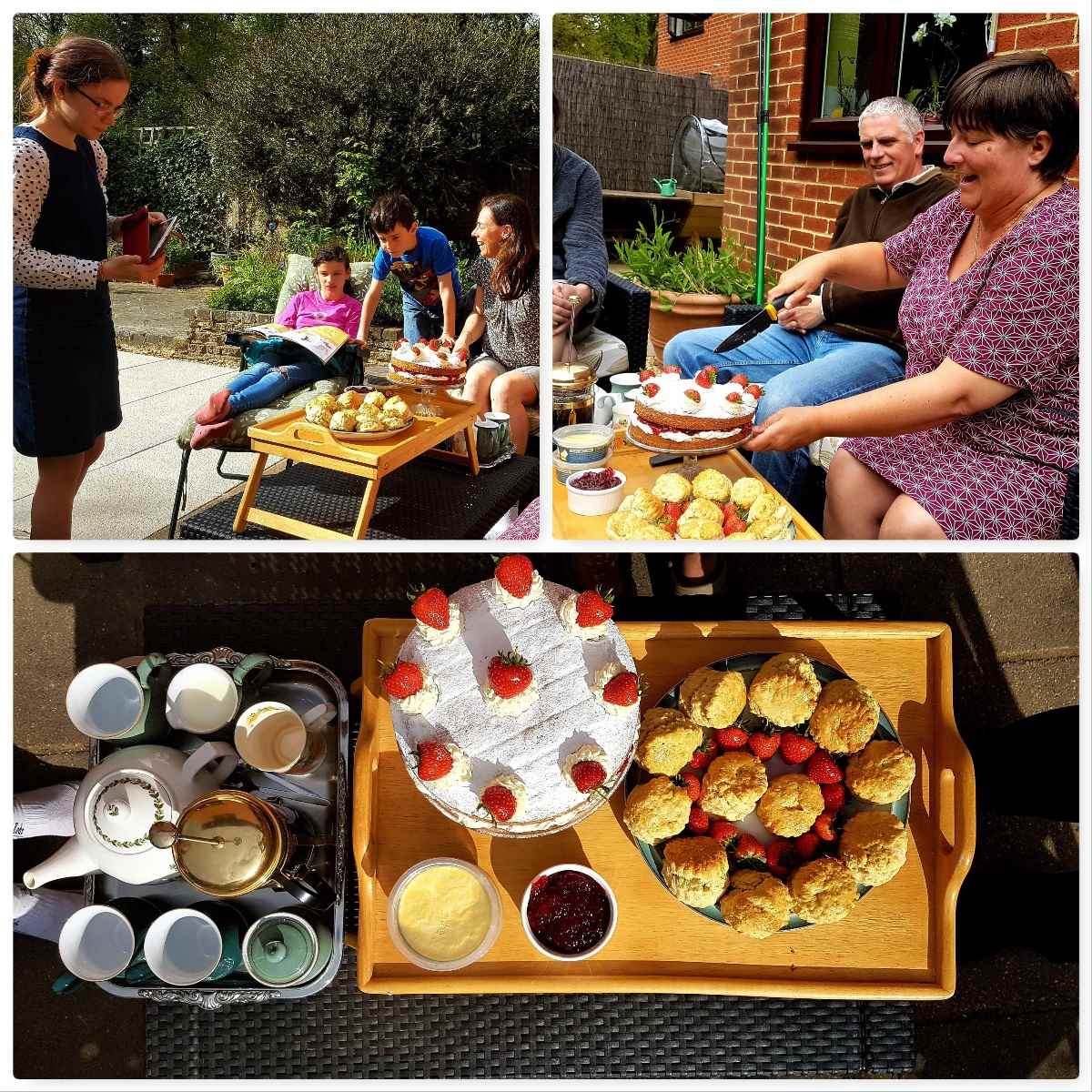 Thank you Annabelle for putting the icing on the cake of what was a wonderful weekend.
Cheers
George