Groups of friends usually have something in common – with my chums from Crisis it is Grumpiness ;-( The 'Grumps' are Rick (1), myself (2), Gordon (3) and Stu (4). Gordon has numbered us however there is much debate about his 3rd place in the grumpiness rankings. We do grumble a lot and it is remarked upon from time to time however we like it and it makes us happy 🙂
We have worked together each Christmas for 20 years or so at one of the homeless centres for Crisis in London. During the year we always try to get away together. This year Gordon organised a trip down to Durdle Door on the Dorset coast here in the UK early in March.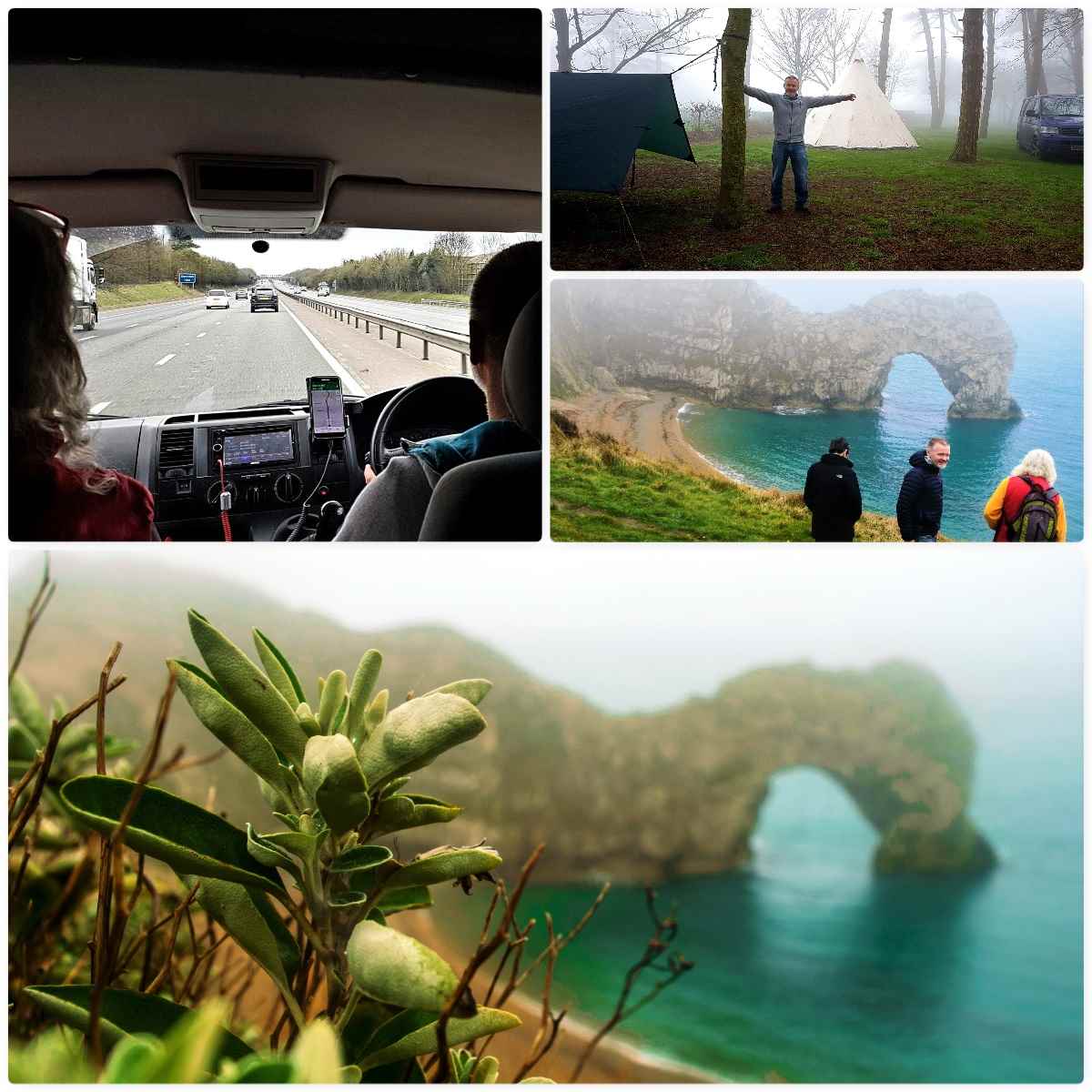 I had never been to this part of the coast before so was keen to go. We set up camp at Durdle Door Holiday camp (I insisted on sleeping in my hammock while they all got the tipi) and then headed off towards the coast.
The fog was well in but I insisted we go all the way down to see the arch at Durdle Door. I am glad I did as it looked stunning in the fog.
Once we had finished there we headed on over to Lulworth Cove and Stu and myself headed on down to see Stair Hole. It was a bit of a hike down but it was worth it to get the pictures. The rest of the evening was spent between the pub in Lulworth Cove and the one in the campsite where I was presented back with my Flossie Anne. She had just come back from one of her epic trips with Rick – this time she travelled from Japan through China, Mongolia, Russia and the Baltic states (she must be the most well travelled bear in the world).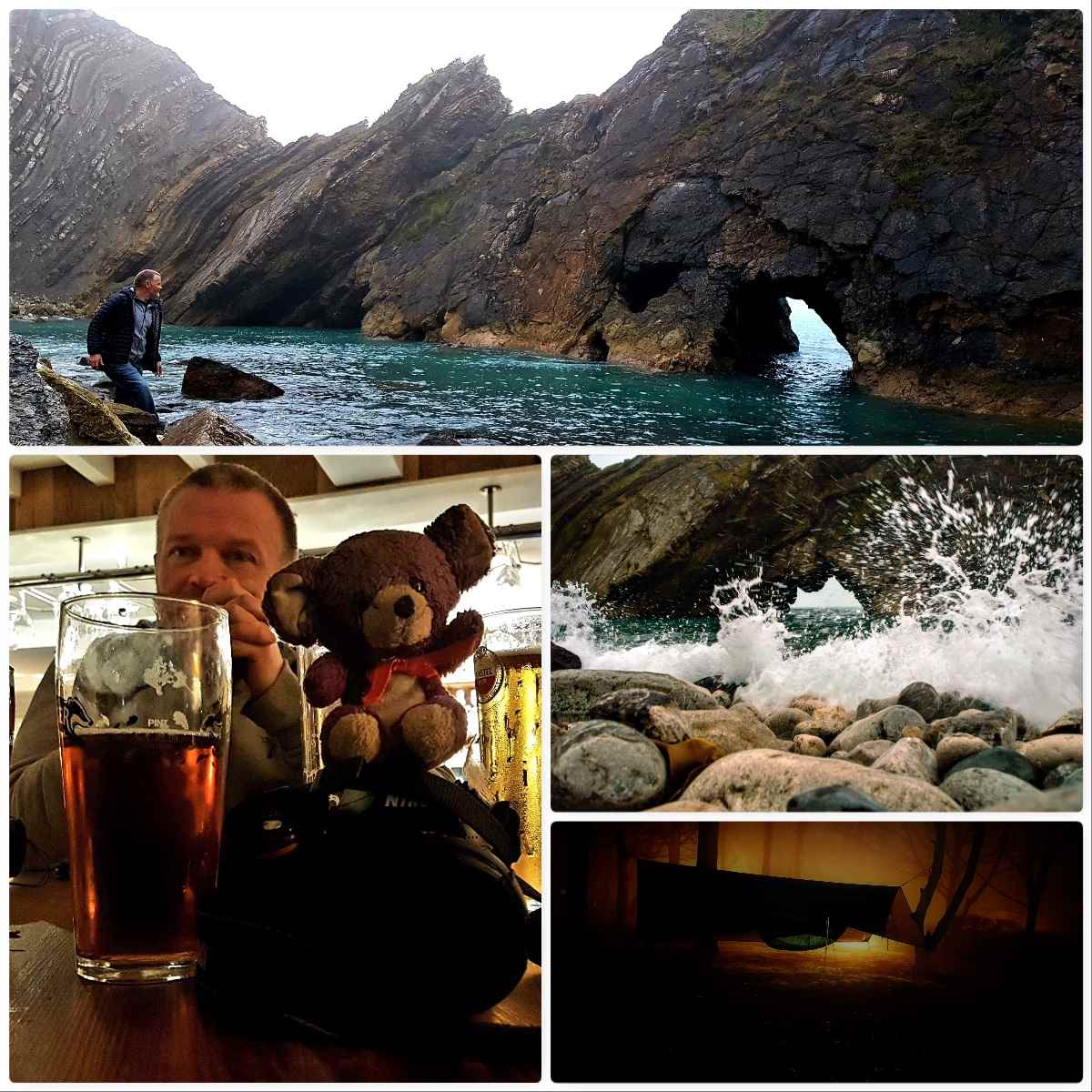 The Saturday
I woke up at daft o'clock on Saturday morning to the sound of the Crows roosting above my hammock. The tranquil nature of the rest of my view made up for that racket though. The rest of the morning was a relaxed affair (apart from the Crow poo all over my tarp and tipi) and Stu had brought along some great coffee to brew up.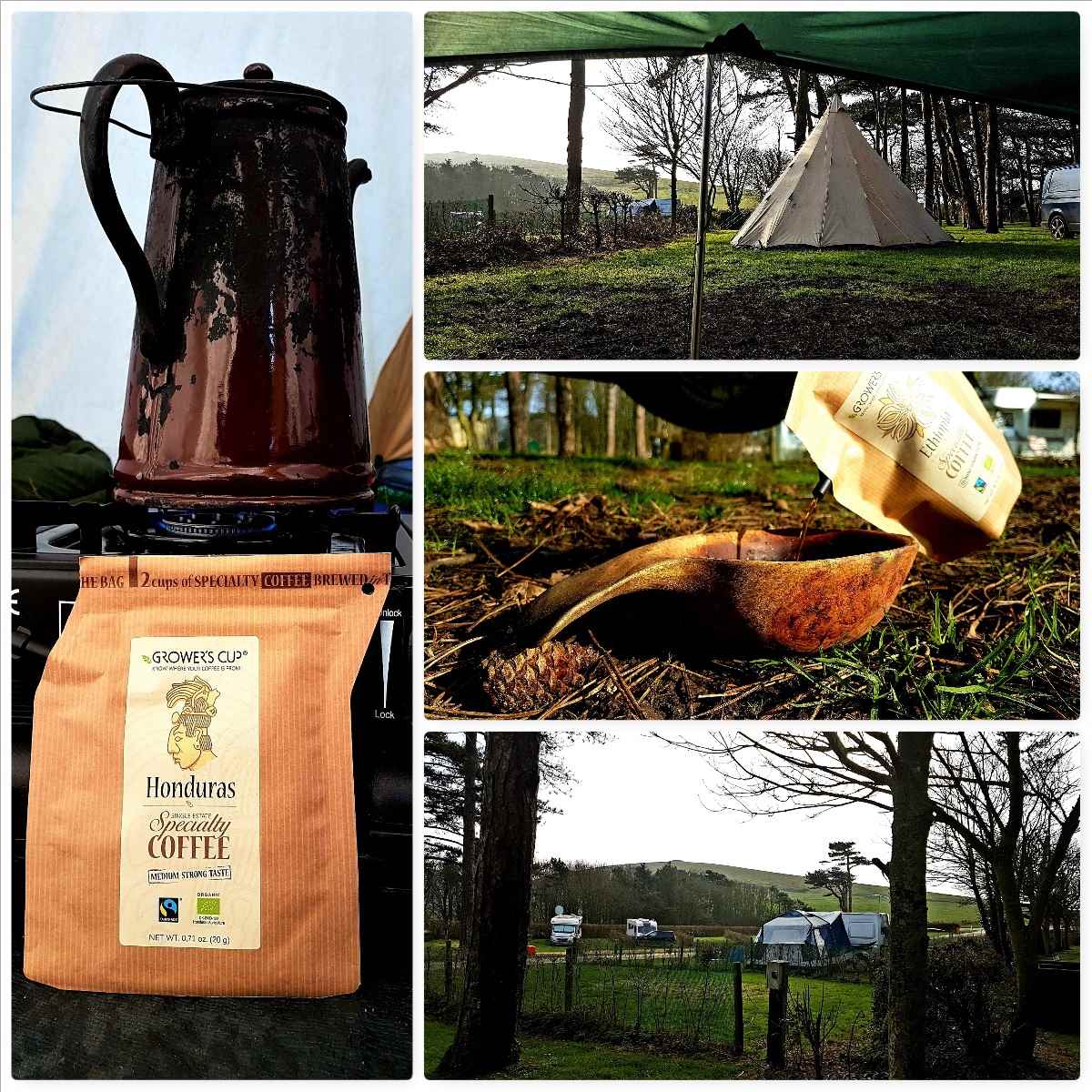 Once brekkie was over we headed back down to Durdle Door (Rick was very concerned for a young lady as she descended the steps!!) and I got a good look down the coast over the Man O'War beach – it really is quite stunning. We pootled around Durdle Door itself (well I faffed really trying to get a good picture of it) before heading west.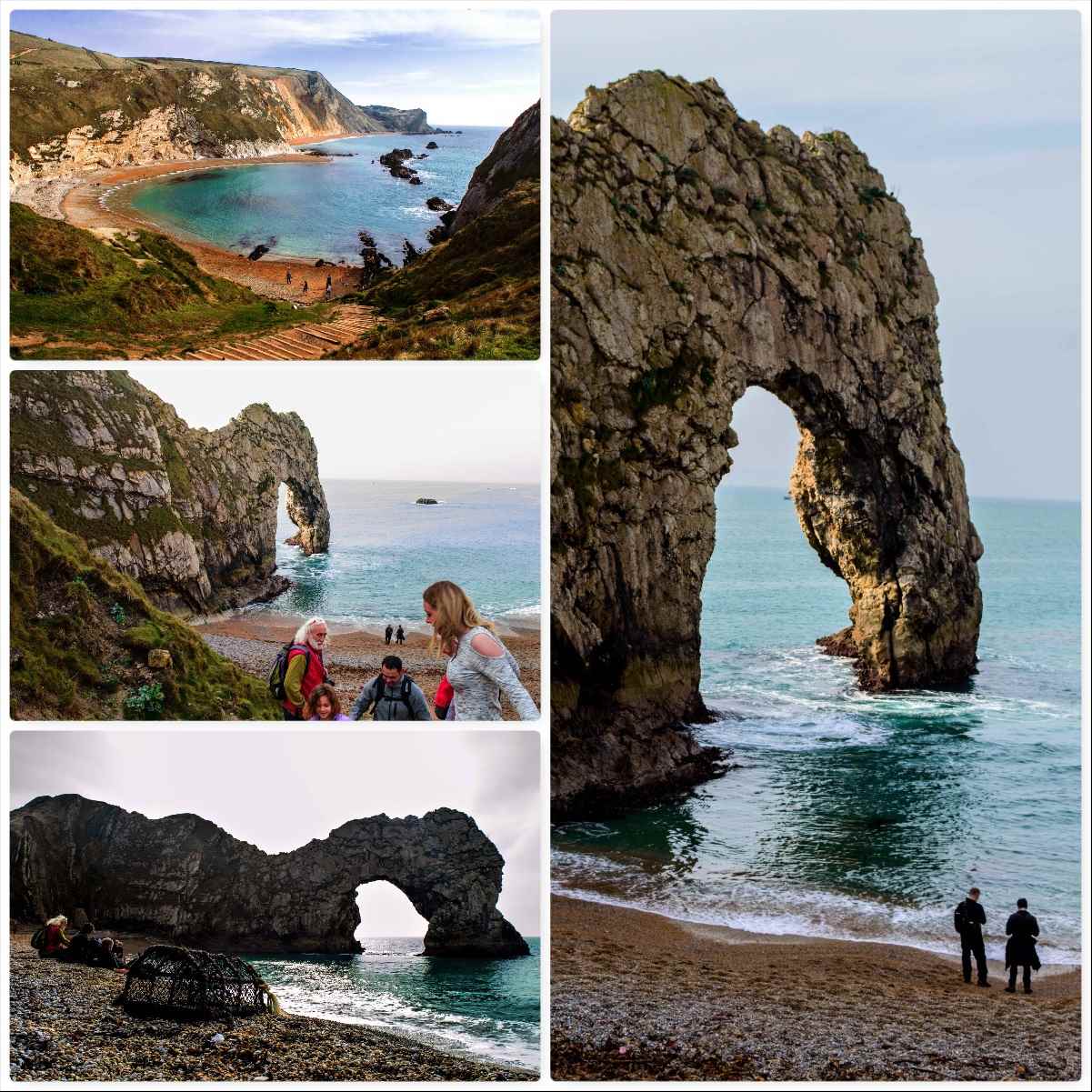 As you head west you approach a great big headland named Bat Head with an archway called Bat Hole. It is beautiful to look at however there was no way round it for us with the tide being so far in (I have no idea if you can get around the headland at low tide).
Gordon and Stu were not paying attention and were soon ankle deep in swash 🙂 We back tracked and spotted an escape route up off the beach. It was a ravine with a weighted rope in it. After a quick recce everyone was soon up on the coastal path overlooking the beach.
We had a leasurley stroll up the coastal path to Swyre Head where we enjoyed the views and I stalked a crow to get a good shot of him 🙂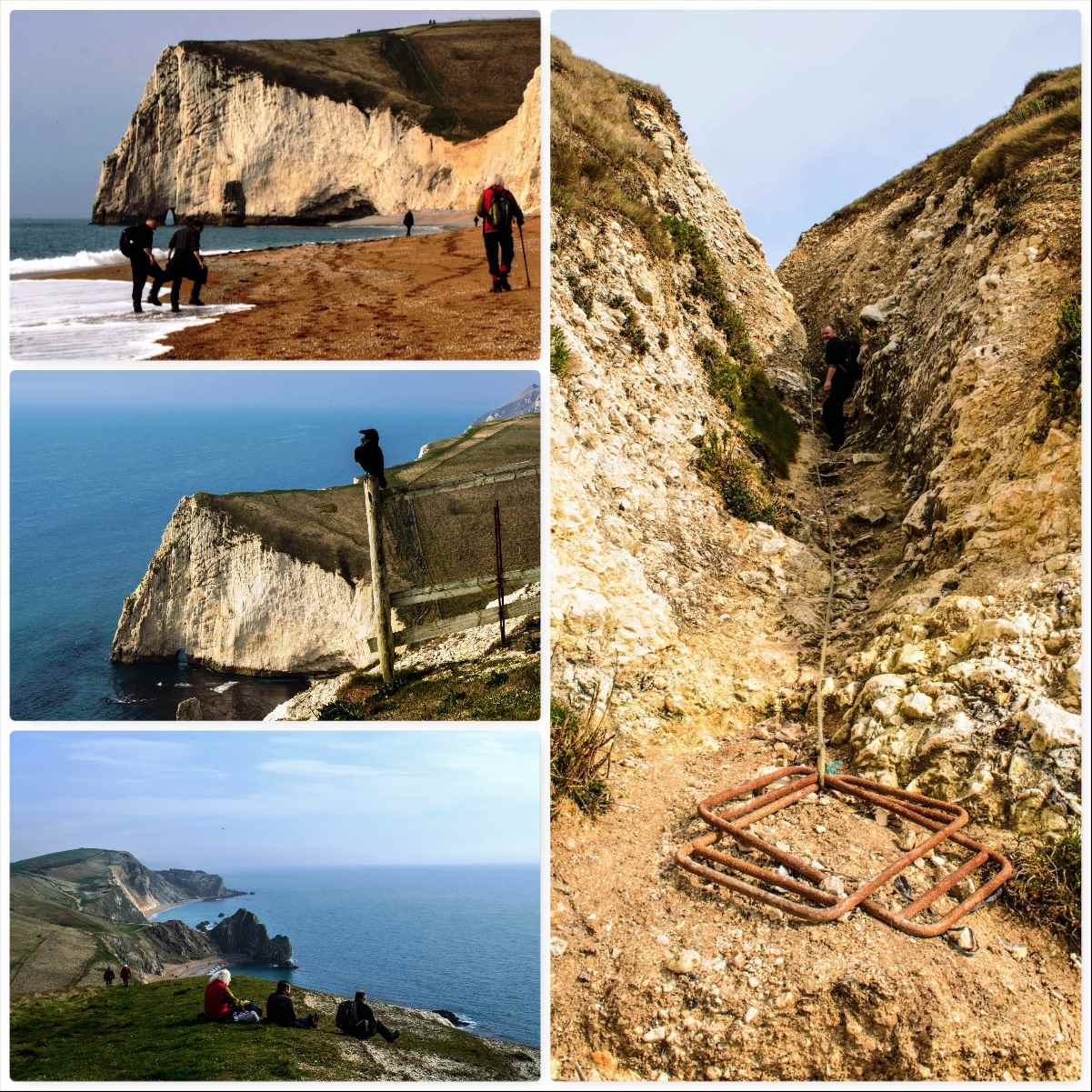 From Swyre Head we moved off inland around a natural bowl in the landscape called Scratchy Bottom – there are some brilliant place names in this country. It was here Rick spotted a group of wildflowers. Once I got up close I could see they were Speedwells – this being early March it was my first spot of them this year.
We made our way back to Durdle Door through the campsite (after cleaning off some more Crow poo from my tarp and tipi) down onto Man O'War beach. There were plenty of people on the beach but as we travelled on the numbers soon thinned out. Eventually we were onto rocks and we were the only ones in sight. Looking back Stu spotted the strange rock formation at Dungy Head you can see in the picture below (on the right) – Looks like a large bloke with a big round nose and a woolen hat on his head to me 🙂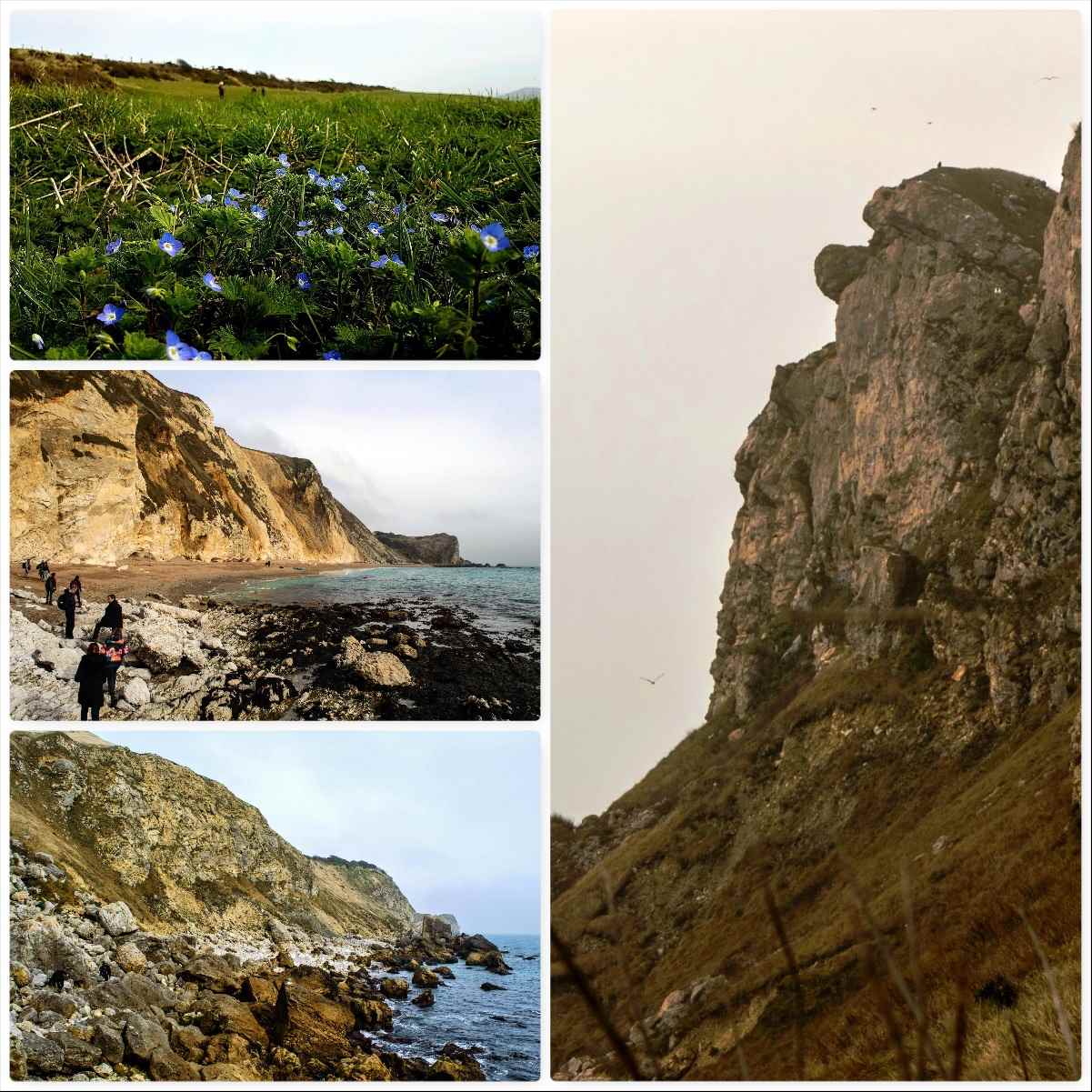 There were a number of kayakers on the water and they made for some lovely photography but I could see that the fog was starting to come in again. As it thickened up two beautiful yachts came out of Lulworth Cove and headed west along the coast. It was really difficult to photograph them with the fog and because they were both white but I think I got a decent shot in the end.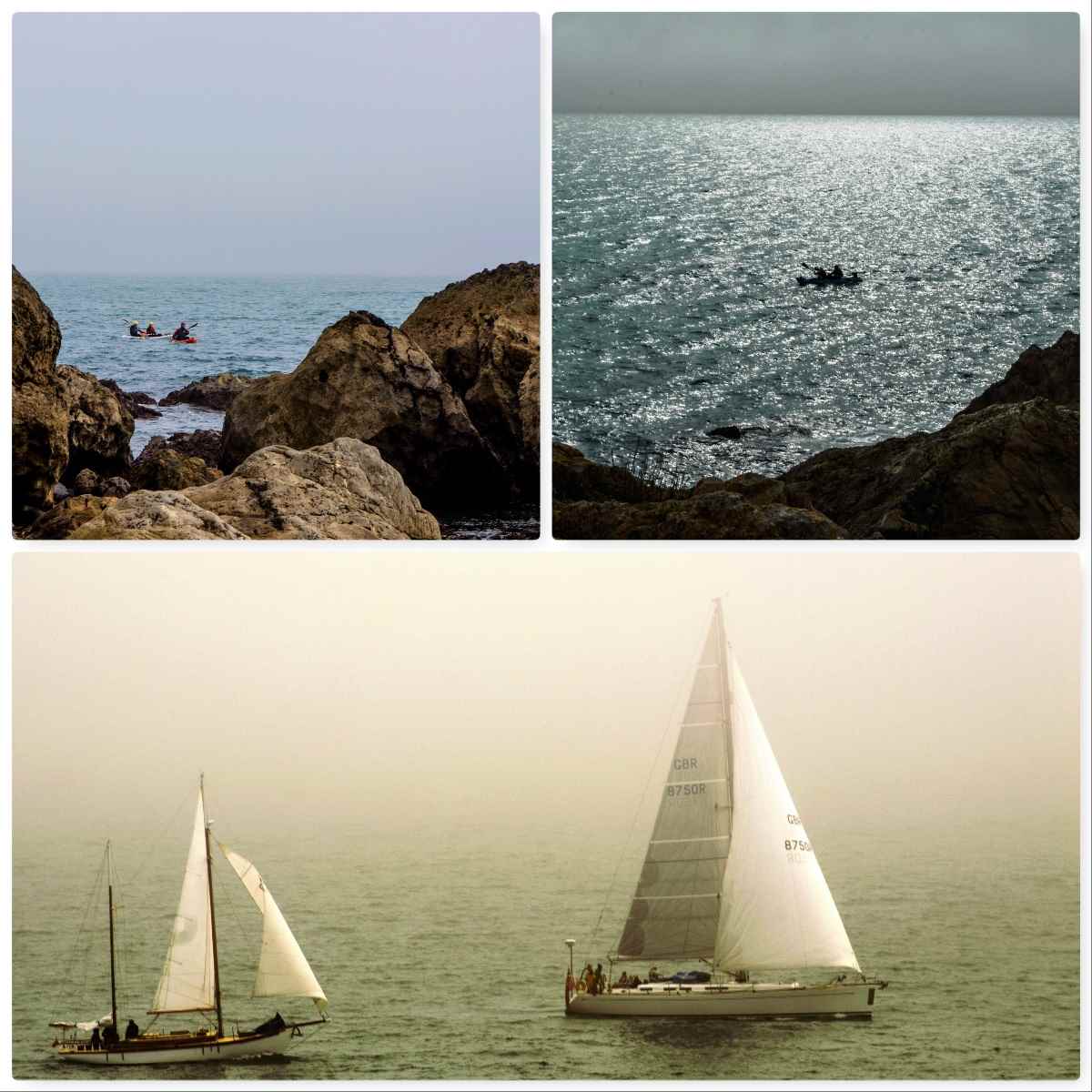 We tried to get all the way to the entrance of Lulworth Cove but it was just not possible. We found a section of Cliff that was easy to scramble up and were soon in Lulworth Cove once again.
I left the lads to potter around the village (code for pub) and spent a half hour down on the cove photographing it. The waves were non existent so I had to get down really low to get a half way decent shot (bottom picture).
We had an evening of watching rugby and trading grumps before heading back to camp. Somehow I ended up getting Stu to do 'shadows' in the tipi and when I looked at the picture below his shadow looked to me like a giant ginger bread man 🙂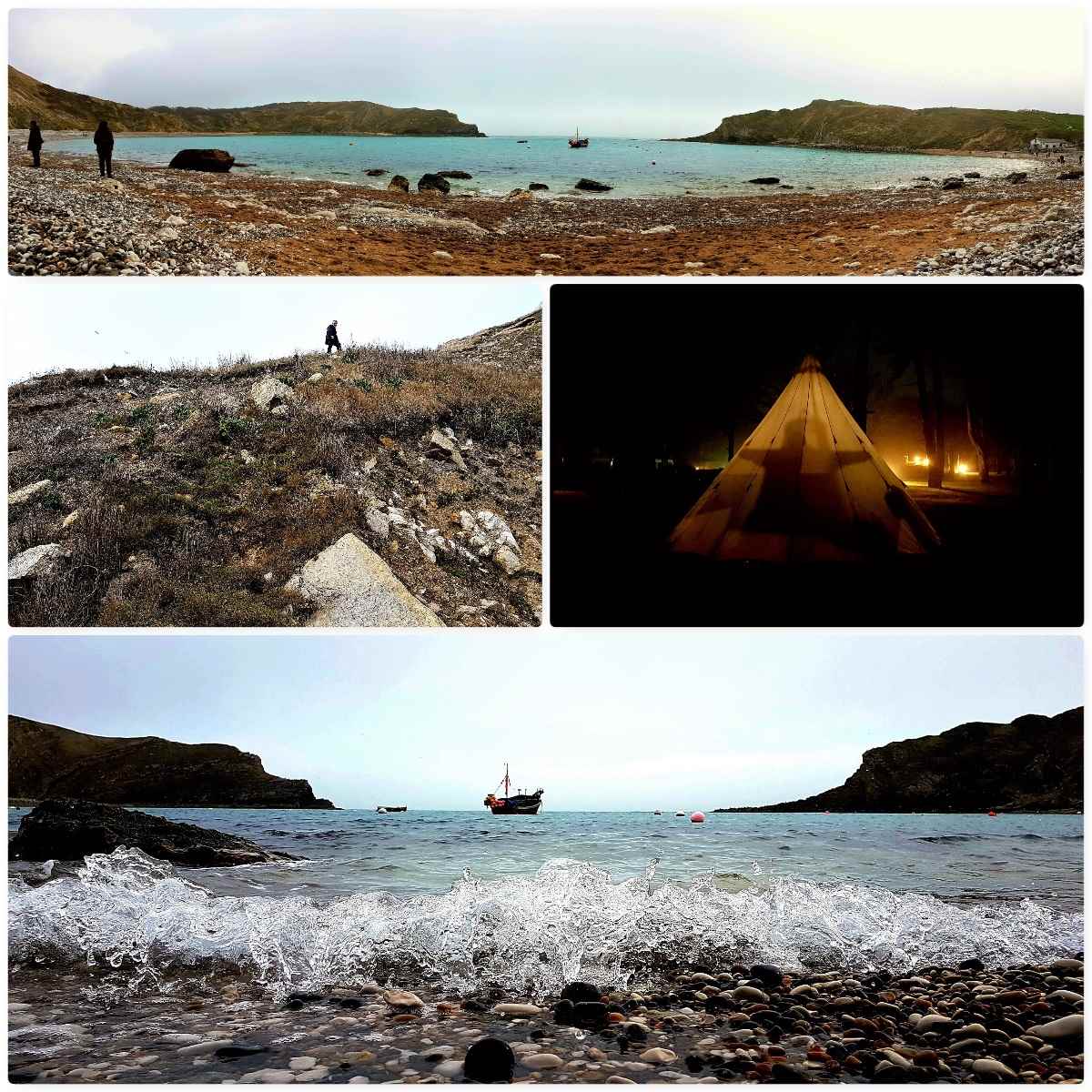 The Sunday
We had decided the night before to de-camp straight away and head on over to the New Forest on the Sunday morning. It did not take long to pack everything away (after cleaning of more Crow poo) however due to the rain overnight (Rick ended up a tad damp in the morning) we had to have Stu's VW van pulled off the campsite.
Once in the New Forest we stopped off in Lyndhurst for lunch and where I got myself a proper camp coffee pot for hanging over the fire – I did though leave it behind in the cafe and had to go running back 🙂
We drove onto the carpark by Beaulieu Rd Railway Station and headed off to the woods by Denny Lodge. There were plenty of ponies around and quite a few deer – though the first lot were in an enclosure (all stags in an enclosure called Stag Park). I spent some time making up some birch firelighters and looking for fungi and burrs.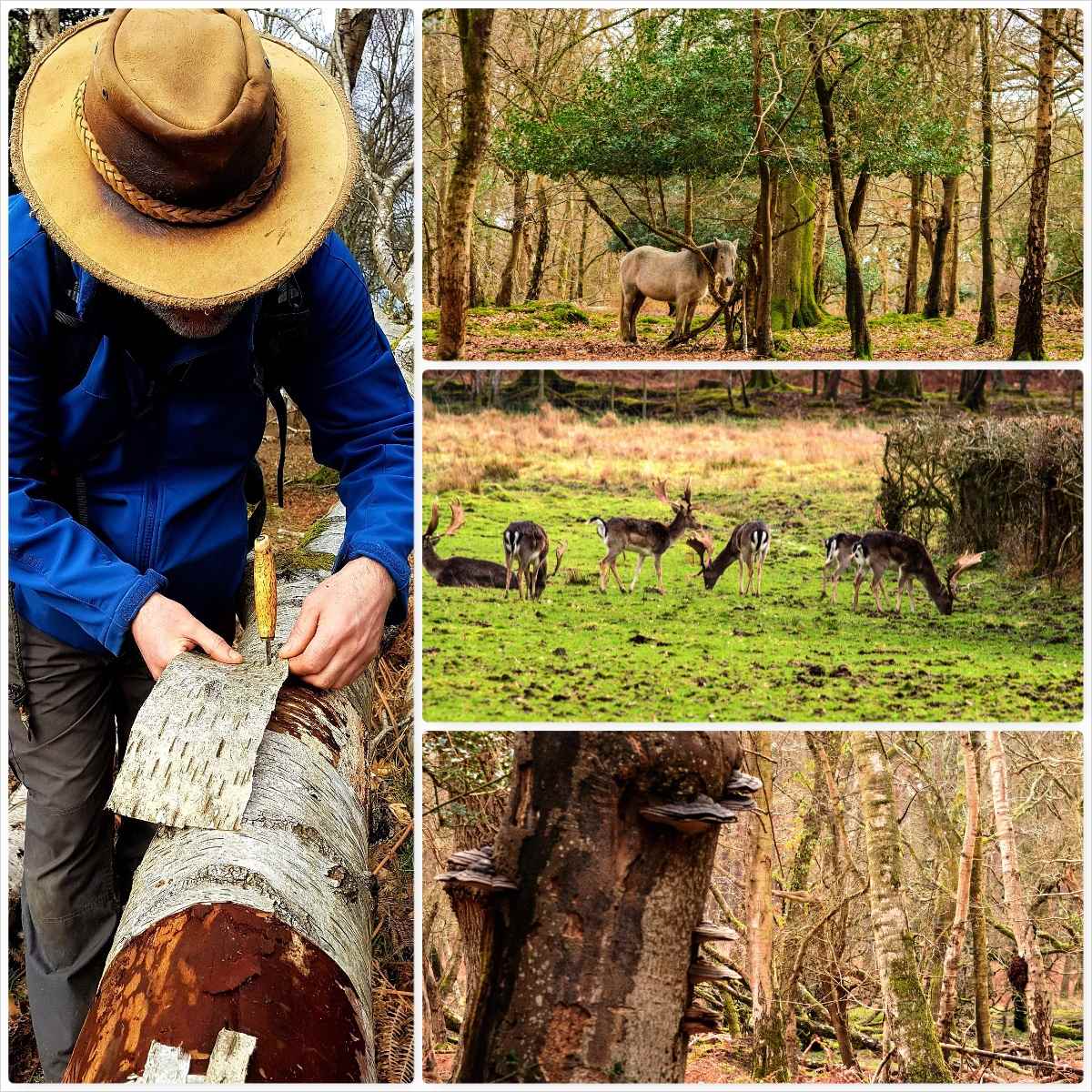 There was still plenty of standing water on the heathland so a detour here and there was required and just as we headed back to the van we spotted a herd of female deer in the open.
I took my time and got as close as I could to them. They were very flighty and soon they were off but I did manage to get a decent picture.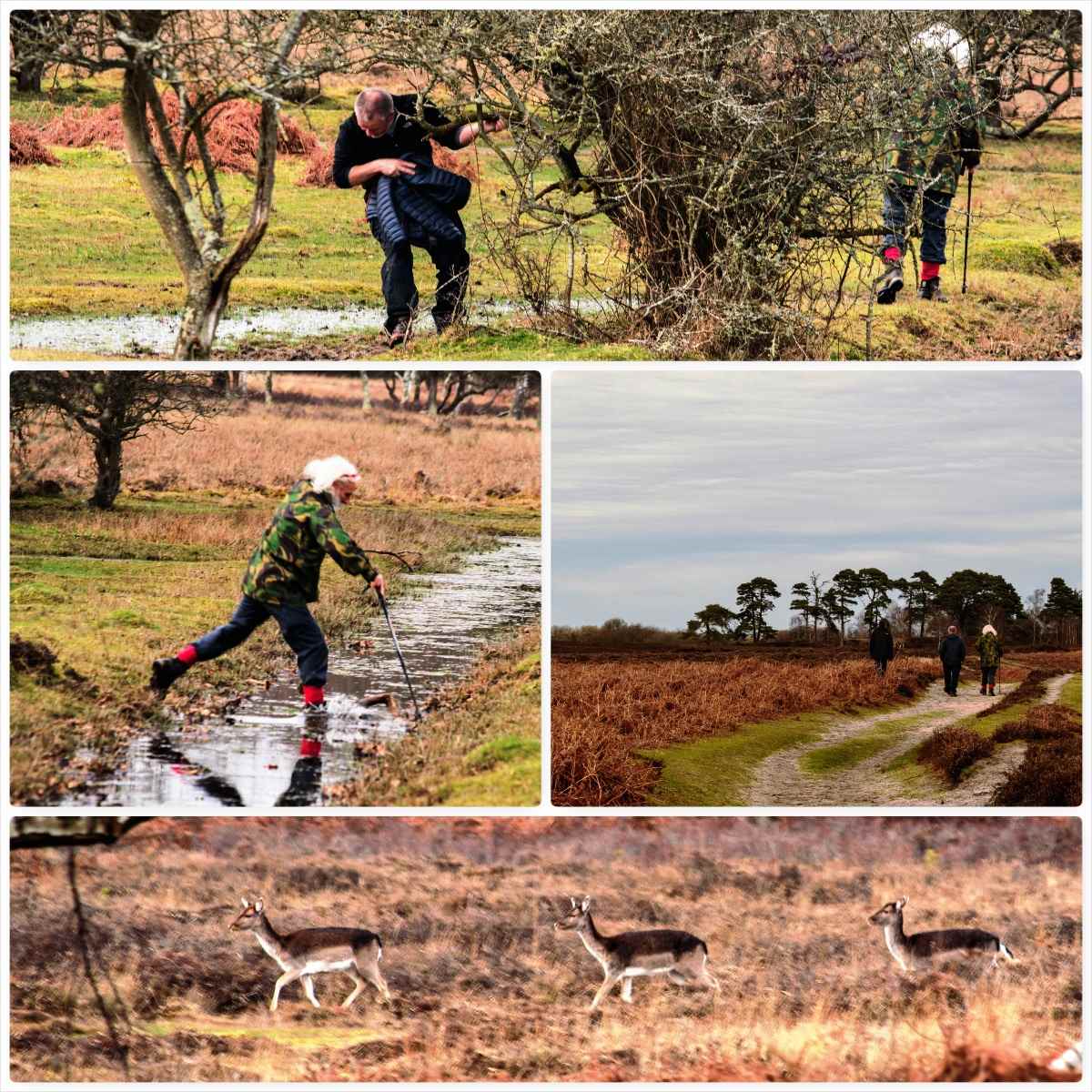 I liked the campsite in Durdle Door so much I am back down there in a weeks time with my family to stay at one of the camping pods they rent out – fancy a break from always having to put the tent up.
Thanks to Gordon for organising the weekend and for all my fellow Grumps for being ………well so Grumpy 🙂
Cheers
George